An Introduction to India
(thomas;2010-Jul-01)
India is a fascinating country. We came back from our first trip in 2004 with mixed feelings and decided to give it another try in 2009. That's when we got really hooked. We returned in 2013, 2015 and 2018 and memories of India are never far away from our minds.
Some background information and essays about our trips to India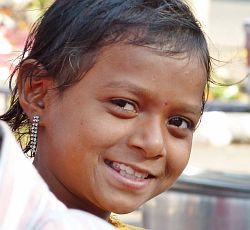 Young girl in Nashik
Check our India trips section for blog entries and lots of photos.
As ever, there are also the Index and the Map pages for this section.
---
$updated from: Background.htxt Wed 28 Nov 2018 11:11:28 trvl2 (By Vero and Thomas Lauer)$