Introduction
(vero;2017-Jan-31)
In search of the rain shadow, visiting old favourites and discovering new ones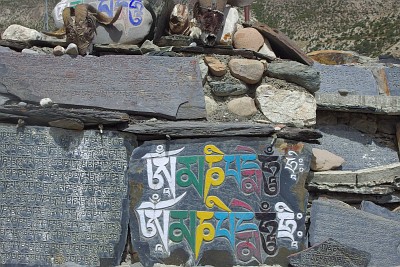 Mani wall near Braga on the upper route
After so many visits to Nepal, we wanted something different and decided to visit the country during the monsoon time. Having read in guide books that Manaslu and Annapurna were in the rain shadow of the Himalayas, we headed for this area and, hoping to catch the tail end of the rainy season, timed our trip to start at the end of August.
We completed a 35 days trek combining the restricted area of Manaslu and the well trodden Annapurna Circuit, ending in Pokhara and brought back many pictures and panoramas.
After a well deserved rest on the shores of Phewa Lake, we took a bus to Tansen.
And headed back to Kathmandu via Hetauda and Daman, a worthwhile detour which we enjoyed very much.
For more mountain experience we boarded our too familiar "Supper Express" bus to Jiri for a 15 day stint in the Everest foothills.
And finished our trip with a visit to Janakpur in the Terai and a few last days in Kathmandu.
We have a map detailing our trip and you can retrace our steps in the Blog and the Photos sections.
---
$updated from: Blog.htxt Fri 17 Mar 2017 15:48:23 trvl2 (By Vero and Thomas Lauer)$