Introduction
(vero;2017-Nov-23)
Maroc 2017
We started our six week trip in Gibraltar and arrived in Tangier by sea, a perfect introduction to Morocco. From there, we headed to the blue medina of Chefchaouen in the Rif mountains and continued to the capital Rabat on the Atlantic coast. Then came Meknes (with a great day trip to the Roman ruins of Volubilis) and Fez, both easily reached by train and a long night bus journey to Merzouga for a taste of Saharan desert at Erg Chebbi.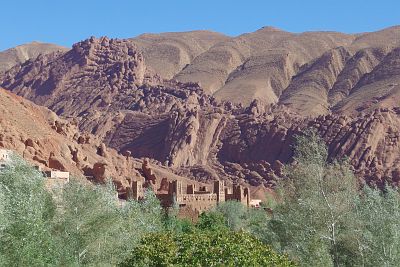 Dadès Gorge: the kasbah of Ait Arbi and the geological formation known as Pattes de Singe (Monkey's fingers)From there, we took the Route des Kasbahs skirting the southern side of the High Atlas and explored the Todra, Dadès and Drâa Valleys before heading to Taliouine and Taroudannt. We made a short visit to Essaouira on the Atlantic coast and spent a few days trekking in the High Atlas from Imlil before heading to Marrakesh to catch our flight back home.
We used public transport throughout, except for one day when we rented a car to explore the Drâa Valley from Ouarzazate.
You can retrace our route on this map showing our itinerary.
We have also a photobook browsable online about that trip. This looks especially good if you browse through it in Full Screen mode.
---
$updated from: Blog.htxt Sun 13 May 2018 14:45:27 trvl2 (By Vero and Thomas Lauer)$