Albert Kulumbegov
(thomas;2010-Jun-12)
Albert Kulumbegov: Helicopter Flight Engineer
Albert is not a Nepali, he's a Russian (hey, that was easy). In fact, he's not sure what he is: he was born 41 years ago in Gori in today's Georgia (incidentally, also the birthplace of one I.V. Dzhugashvili), but he trained as a pilot and flight engineer in Russia and was a total of 19 years with the Russian army. He told us, with a half-amused and half-sad smile, that you have to be at least 20 years with the army to qualify for a pension. After Albert was persuaded to leave the army, he did some civilian flying in Russia with crappy old Tupolev planes ("fixed wings", as he calls them somewhat superciliously: clearly only helicopters count as real men's toys). Luckily, he survived this period.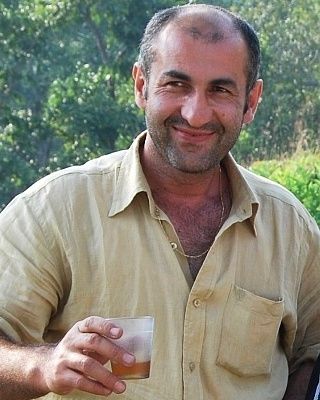 In 1994, he was asked by some buddies who had done a deal with a Nepalese company whether he would like to disassemble, transport and reassemble some helicopters — destination Nepal. He said yes, sure he would… and guess what, he stayed in Nepal! For the last 15 years he has flown, repaired (and very occasionally survived crashes in) a variety of Russian Mi-17 and Mi-8 helicopters and other, even more obscure flying machines.
We met Albert, his pilot and copilot (also Russians) and their huge Mi-8 helicopter at the Syangboche airstrip, about 300 metres above Namche (Thomas can't resist inspecting flying machinery when given half a chance). They were transporting loads of heavy supplies from Jiri, the most important roadhead for the Everest region, with about three to six flights per day, depending on the weather. One flight is worth roughly 3.6 tons of material and takes them 22 minutes up valley (ie from Jiri to Syangboche) and 17 minutes down — what took us an admittedly leisurely nine days of walking. Their round time including loading and (the much faster) unloading is slightly less than 90 minutes. They mostly transport construction material for lodges (plywood, rolls of cables, stoves…) and also, in the spring season, veritable mountains of gear for Everest Expeditions (the amount of stuff these expeditions seem to need is stupefying). He does a lot more flying than just the Jiri-Syangboche run: the crew often fly aid missions for the UN, mostly to western Nepal, and commercial charters to all parts of the country.
Albert (or Albertino, as he sometimes calls himself) is now perfectly settled in Nepal: he has long ago brought his wife (whom he married 19 years ago) and their two children over to Kathmandu; he has rented a big house in one of the posher developments around the capital and every now and then has a BBQ with his Nepalese neighbours. He is the archetypal Russian: when we visited him at his house, the first thing he brought out was a bottle of whisky and no amount of arguing on our part would convince him that we shouldn't (or wouldn't) start drinking in the middle of the day. Well, he's the sort of guy to whom you can't easily keep saying Njet and when we left some six hours later, the bottle was empty.
Albert loves photography and during his flights, he just sits in the helicopter with not a lot to do other than occasionally checking the instruments: over time, he has taken thousands of photographs, many of them stunning high-altitude close-ups of mountains and glaciers. Actually, this collection was the main reason we paid him a visit: being mountain lovers, we relished the idea of laying our hands on such a store of photographs. Perhaps Thomas could do a website specifically for Albert's photos — or even persuade a publisher to do a book?
Unfortunately, many of the photos, stunning as they look on a laptop screen, are not fit for large-scale publication. It is surprisingly difficult to produce non-blurred, in-focus shots when you sit in the cramped inside of a shaking, vibrating helicopter moving at 200km/h in front of a mountain face. Not to talk about the rotor blades or reflections and blemishes in the windows… And Albertino, while happy clicking away, has rarely made any records of the summits or glaciers or villages he has been busy photographing: with almost no context, it is next to impossible to establish the whereabouts of most of his shots.
Nevertheless, Thomas will carefully sift through his material and will put the most promising photos online. And Albert will continue to shoot Nepalese landscapes and mountains while airborne: he has promised to jot down the GPS coordinates of every photograph he takes;-)
So perhaps, over time, we can indeed dedicate a complete website to his photos?!
As a taster, here are two of his photographs (clicking opens a bigger version in a separate tab). The first is a shot of the Nuptse-Lhotse wall and the summit pyramid of Everest: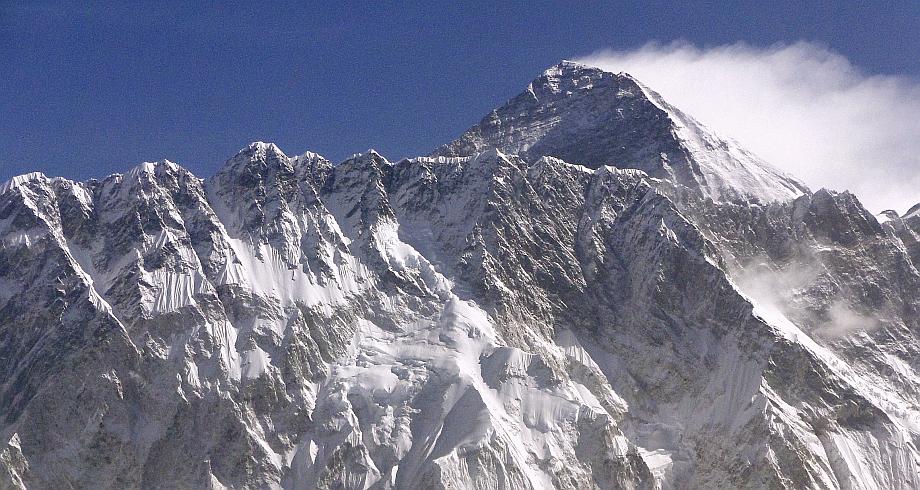 The second picture is stitched together from two shots and shows the airstrip of Syangboche with 9N-ADL to the left (that's Albert's Mi-8) and Kongde Ri in the background:

---
$updated from: Interesting People.htxt Fri 09 Aug 2013 14:18:03 trvl2 (By Vero and Thomas Lauer)$