A Visit to Chennai's High Court
(thomas;2015-May-18)
Every great Indian city has its High Court. These tend to be huge buildings, often made of red brick and originally erected by the British in the 19th century. The Mumbai High Court is quite attractive, as is the one in Hyderabad (google for images of these two: they are really beautiful buildings). As there's also a rather nice High Court in Chennai, we thought we'd have a closer look. Alas, official buildings in India are often hard to visit: if there's not a clearly-stated policy in triplicate expressly allowing a visit the police or any other uniformed Cerberus simply says No — and that is that. Exactly this happened when we entered the grounds of the Chennai High Court: we were stopped, after 20 metres, by two police officers (a man and a young woman). No! Visit impossible!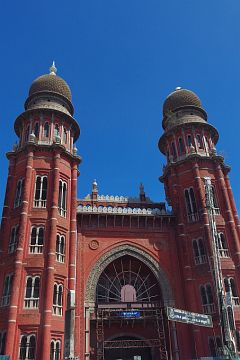 Side entrance to the Chennai High Court. Now there's a sign (in English) at the High Court entrance which states that entry to the buildings is allowed for "anybody" (that, we thought, included foreign tourists) provided the visitor registers beforehand at the Registrar (whatever that meant). So, after again studying that sign, we went back to the two officers and told them that they were simply wrong (many Indians have severe trouble in taking No! for an answer, so why should we?). We pointed to the sign and told them we can visit, provided we register at the Registrar. They still insisted that visiting the High Court was just not possible; however, we (especially Thomas) can be utterly stubborn and bloody-minded if we want to (although we always stay completely cool… hostility or even showing impatience is almost never a good idea in those situations). So we now had a classic case of an irresistible force (us) hitting an unmovable object (two actually).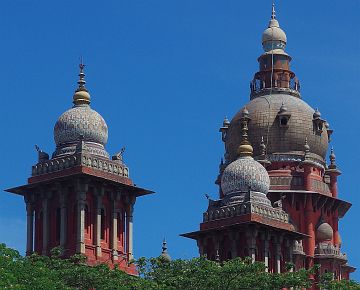 The big tower is the old lighthouse. When the officers realised that we would not go away (and also that this blasted sign indeed allows visits provided one registers) they changed tactics and told us that they had no idea what was meant by that word "Registrar" (perhaps they had indeed no idea as their English was a bit limited). So our next move was to ask for their superior officer. In India, this approach can be a double-edged sword as it implies that you think the officer in front of you is in some way not up to the job which in turn may well harden his opposition. However, these two were clearly out of their depths and so the four of us marched to the police station, luckily next door, to see their boss. (The whole business was at all times very civil and friendly.) The boss turned out to be another woman who, for a start, spoke much better English. When we explained what we wanted, she at first seemed inclined also to deny us entry. However, Vero then had the extremely bright idea to state that we were professional architects and as such extremely interested in the architecture of the old High Court buildings. This brazen lie impressed the boss mightily… and there was still that sign allowing entry. So she finally gave in and told us that, although she herself could not allow us entry, the young woman officer would escort us to the Chief Registrar's Office where the Chief Registrar would decide whether we could indeed visit the premises or not.
So the two of us plus police escort walked to this office. After some ten minutes of hushed discussions in the ante-rooms we were actually admitted to the inner sanctum, the Chief Registrar's Office. The Chief Registrar turned out to be a friendly elderly gentleman who spoke excellent English. He told us that, of course, visiting the High Court is absolutely no problem at all (so much for the "No! Visit impossible!"). And when he learnt that we were "architects" and "professionally interested" (obviously, we had to keep that useful cover) he went positively ballistic: he enthusiastically grabbed the phone receiver, called the Chief Building Engineer (who, it transpired, was also responsible for a wide-ranging programme of restoring the old 19th-century ceilings and parts of the walls) and summoned the poor guy to his office.
So it came to pass that the Chief Building Engineer of Chennai High Court, another very friendly man with excellent English, showed us everything we wanted to see, explained all about their restoration work and even walked us up the old tower-cum-lighthouse that forms the very centre of the High Court building. Almost the best part of this trip up the ancient lighthouse was our escort, the shy police woman, who was still with us. She had no idea that the tower had been a lighthouse and had never before been up there, so she was visible enjoying this whole unexpected excursion into the past. Happiness all round!
One thing that this episode brought home once again is the extremely deferential nature of Indian society. The two police officers, though not unfriendly, were completely dismissive: as foreign tourists we didn't register on any scale of importance. It was almost the same thing with their boss… until we told her we were professionals, architects to boot. This completely changed her idea of how to treat us. The young police woman who then escorted us had meanwhile turned from a determined nay-sayer into a shy and diffident creature. Her behaviour towards the Chief Registrar, when we finally were admitted, was even more bashful, so much so that we felt a certain awkwardness (he didn't, being used to this sort of thing). A very instructive afternoon, in more sense than one!
Want to read more? Go back to Temples Inside Out or go on to South Indian Thalis or go up to Blog
---
$updated from: Blog.htxt Wed 28 Nov 2018 11:11:27 trvl2 (By Vero and Thomas Lauer)$