Email Updates English
Following is the full text of all English email updates we sent during this trip. The texts are original copies, shown here as sent: typos, errors, warts and all (the same in French).
We've also included the pictures attached to the mails. Clicking a thumbnail will open a bigger version and use the left and right cursor keys to navigate from one picture to the other.
---
Subject:
Off we go
Date: Sun, 22 Feb 2015 13:49:59 +0000

Dear friends,

we're off again. Tomorrow we'll leave for Heathrow airport, to catch
our flights to Mumbai. As some of you know, we originally wanted to
visit the Philippines this spring... but when Vero looked up some
photos for the Indian part of our website, she started to daydream and
finally realised that she wanted, in the end, rather go to India than
the Philippines! It was not hard to convince Thomas that this was a
sound change of plan and so, here we go: two months through the
southernmost part of India, in a big sweep from Mumbai and the Arabian
Sea down to Cape Comorin (Indian Ocean) and then up again on the other
side to Chennai (Bay of Bengal).

(If you want to see the fruits of Vero's daydreaming, there are three galleries:
People of India: http://trvl2.com/Nindia13/photos/People_India
Interesting things we've picked up along the way:
http://trvl2.com/Nindia13/photos/Seen_in_India
Varanasi: http://trvl2.com/Nindia13/photos/Varanasi
All these photos were taken in 2013.)

Back to 2015. As ever, Vero has done a Google map with the detailed
itinerary, so have a look and follow us, if you want, step by step. Go
here for more:
http://trvl2.com/=si15

We will, of course, send our messages with impressions and
observations and hopefully also some photos. (It is AMAZING how hard
it is in India, a self-proclaimed high-tech leader, to upload photos:
often the USB ports are broken, sometimes there are none or perhaps
the internet is too slow. Not to talk about the regular power cuts...)

Well, that's it for the time being... more will follow once we're in India!

All the best

Thomas + Vero

--
Follow us on ~ Suivez nous sur http://trvl2.com/=si15

---
Subject:
Mumbai, Goa, Hampi, Hassan
Date: Tue, 10 Mar 2015 12:40:42 +0430

Dear friends,

we've just arrived in Mysore, the jewel of South India. All is well.
The reason why we're late with our first mail is that it's getting
quite hard to find an internet cafe in India. In the old days there
were plenty but we found not a single one in Hassan (from where we had
planned to send the first mail). These days, Indians use their smart
phones to browse the net, so internet cafes are really on the wane and
most cheap Indian hotels do not offer Wifi.

We started in Mumbai, where the weather was perfect: warm but not hot
and not nearly as humid as in May 2013. So we finally did what we
always do in big cities: take long walks. Mumbai is not a great beauty
but there are some worthwhile spots, eg the Dhobi Ghats, where
(almost) all the washing for Mumbai is done by a few hundred Dobhi
wallahs. Interesting place with friendly people showing us around
(this is very much on the Tourist Trail but it was late afternoon and
we were the only ones around). Then there is the tomb of Haji Ali on a
small island connected to the mainland by a long causeway: like all
Muslim sites very lively.

Another interesting experience was getting from the airport into town.
We landed 02:30, bleary eyed, and took a rickshaw to Andheri train
station where we took the first train to Churchgate (basically
Downtown). This was the 04:11 service... and sitting there in the
middle of the night in a gloomy Mumbai train station, with unseen
things rustling in the dark and waiting for a train had a certain
surreal quality. The actual train when it arrived (on time) was
already packed... but we plus our backpack (just one) somehow made it
into the coach. It is utterly unbelievable how many people are already
travelling through Mumbai at that time!

Next was Goa, reached by night train. Not the beaches though we did a
nice long walk along a rocky, secluded part of the beaches fringed by
coconut palms. Panjim (the state capital) and Old Goa were the main
draws: full of grand churches and basilicas and cathedral, Portuguese
style. With the exception of Bom Jesus in Old Goa, all these churches
are whitewashed which makes for a great contrast against the blue sky.
Bom Jesus, a huge brown laterite building, was by far the most visited
church, though a few others in Old Goa were almost empty. The churches
are still used but there are not so many Christians left (around 15%).
Goa feels much more "colonial" than other Indian places, mostly
because of the many churches and also because much of the secular
architecture has a distinct Southern European feel.

After Goa we travelled by night bus to Hampi which we already knew
from 2013. This was as impressive as it was 2 years ago: the vast area
full of ancient temples, halls, colonnaded bazaars, giant statues of
Hindu gods etc etc. All that in a fascinating landscape of red
boulders and lush, green banana plantations.

Another night train (no further night journeys for this trip:-)
brought us to Bangalore where we took a bus to Hassan, a midsize town
and base for the temples of Halebid and Belur. We did those as a
daytrip and what temples we found: these are about 900 years old,
incredibly well preserved and definitely South India's answer to the
Khajuraho temples! Without exaggeration, in terms of the sculptural
detail these are the most impressive temples we have so far seen in
India. They are not particularly huge but the soapstone used for the
exterior and most of the interior lends itself to fine, extremely
detailed carvings the like of which we have rarely seen anywhere in
the world. Add to this the skill of the Hoysala craftsmen at the
height of their powers and you get some truly spectacular temples. A
definitive MUST SEE!

Hassan itself was a typical, pleasant Indian town with very friendly
people (not many tourists stay there) and a very lively, colourful
vegetable market. There's an onion man seemingly buried under a huge
avalanche of, yes, onions; a banana man surrounded by hundreds and
hundreds of bunches of banana... you get the idea.

After Hassan we went to Sravanabelagola, a Jain pilgrimage site which
sports the highest monolithic statue of all of India (and perhaps the
world): a 17.5m high representation of a Jain deity, all naked and
staring determinedly into the far distance. We found it a tad less
impressive than the guide books implied but the setting on a big
granite hill only accessible barefoot via 700 steps (hot, hot on the
soles) is unforgettable. There are a few other Jain temples in the
vicinity and we spent a relaxed afternoon with exploring these. Again,
the people were extremely friendly and welcoming... most foreign
tourists visit these places only a whirlwind tours from either Mysore
or Bangalore. Staying there overnight in a Jain Dharmashala (basic
pilgrimage hostel) added to the attraction and was certainly a very
good idea.

Driving around the countryside in local buses is very pleasant: all
these places lie on a high plateau dotted with colourful villages,
many crops and all sorts of animals. Small temples abound and oxen and
their drivers do their very best to slow the already slow traffic to
almost a standstill. Very relaxing and pastoral.

Well, now we're in Mysore for the next 4 days and more details about
this famous place will follow in the next mail.

The weather has been good, not too hot or humid, though we had a
showery day in Goa. The food, as always, is great and seems to get
more spicy the further south we travel: good for Thomas who likes his
curries hot but less so for Vero though she gets used to it:-)

All the best, more in about 10 days' time.

Thomas and Vero
--
Follow us on ~ Suivez nous sur http://trvl2.com/=si15

---
Subject:
Mysore, Ooty, Kodai, Munnar, Cochin
Date: Sun, 22 Mar 2015 12:36:21 +0530

Dear friends,

we are now in Cochin, also known as Fort Kochi, and all is well. But
let's first return to Mysore.

The city with its wide avenues and big squares is compact and
enjoyable (not always a given with big Indian cities). Its various
neighbourhoods are also eminently explorable: there is a nice mix of
Hindu and Muslim households, sprinkled with Christians. The streets
are full with shops, workshops (we met a man doing elaborate inlay
work for furniture), a mix of living and working, all very lively and
enjoyable.

The other thing in Mysore is the Maharaja's palace. This is an
Indo-Saracen concoction built a little more than over 100 years ago by
an English architect, so it is historically not very significant. But
what a gaudy, colourful place it is! There are a few grand halls (the
Marriage Hall with a nice glass ceiling and the Grand Durbar Hall with
more columns than we could count). The audio tour is extremely good
but the whole visit is a bit too short. There are also the grounds
with elephants and all the usual Royal paraphernalia (brass tigers,
gardens, columns...). The whole is not bad but overall a little
underwhelming especially when compared to the grand palaces of
Rajasthan.

We also did a daytrip to Srirangapatnam, an island and fort in the
river Kaveri. It was there that Tipu Sultan, the great Southern thorn
in the British side, was finally beaten and killed by a British force
(incidentally, we saw his Royal outfit and weapons plus further
trophies just a few weeks back in Windsor castle). The main draw here
is Tipu's Summer Palace, a relatively small pleasure palace with
spectacular painted walls, showing his victories against the British,
his father Haider Ali's triumphal processions, Royal portraits etc
etc. Further on there is the Gumbaz, the grand mausoleum of Haider Ali
and Tipu.

From Mysore we took a bus to Ooty (in Tamil Nadu), probably the most
famous hill station in the Western Ghats of South India. Originally we
wanted to stay in Coonoor, a few miles away, but we had read in the
guidebooks that the drive from Ooty to Kodaikanal (another hill
station not on our itinerary) is superb. So we decided to stay just 1
day in Ooty and then continued to Kodai. The first part of the trip
was done with the famous Ooty toy train, which runs partly with an
ancient steam loco (these old engines are the only ones equipped with
the necessary rack-and-pinion mechanism needed to deal with the steep
gradients). From Coonoor the train filled with huge numbers of
standing passengers (in Ooty the passenger numbers are STRICTLY
controlled) which certainly added to the experience but not the
enjoyment.

The drive up from Palani is indeed one of the most scenic trips in all
of India, it climbs from around 500m up to 2150m with spectacular
views in all directions. The weather in Kodai was first cloudy but on
the second day we had a perfect blue sky and did a very satisfying
long walk through the lush and wooded countryside with views left
right up and down.

Finally, to round off our stay in the mountains (where it is quite
cold: mornings can be under 10C which is really BRRRR!) we continued
to Munnar (in Kerala), a big tea growing centre. The bus drive there
was among the worst we ever had: bad roads, bad bus and no suspension.
Plus we had seats in the rear... But hey, we got there!

The hills around Munnar are carpeted with tea bushes and there are
also coffee and cardamom plantations (actually, this was the first
time we saw cardamom plants in the wild: they look a little like a
cross between banana trees and marihuana plants. We also plucked some
of the pods, still green and tasting not very much like cardamom yet).
Again one day was spent with exploring the hilly countryside and the
plantations. Munnar was much less likeable as a town than Kodai: a
scruffy planter's town with too much traffic and noise. However, they
have one thing that we have never seen before in India: the use of
plastic bags is forbidden and they use paper bags instead.

In general, we have the feeling that Indian authorities on all levels
are waking up to the threat of rubbish. There are many signboards and
admonishing panels and Mysore was full with rubbish bins (which are
often a rarity). It will take a (long) while until the Indians
themselves will change their behaviour, throwing stuff out of bus or
car windows is still the preferred means of getting rid of garbage,
but it's a start and we all started at some point.

From Munnar we took a bus to Cochin. This is the place where Vasco da
Gama made landfall around 1500 and also where he died and was buried
(later his remains were removed to Portugal). The place has seen
Portuguese, Dutch and British domination in turn though the remains of
each of those powers are not as visible on the ground as the guide
books make you believe. There are some churches, ruins of the fort, a
Maharaja's palace and a synagogue and Jewish quarter. Cochin is quiet
and relaxed for an Indian town though the main reason for that is that
it's a museum-city-cum-tourist-trap: it is full of "homestays" and
"heritage" hotels, ridiculously expensive restaurants, so-called art
galleries and curio shops, mostly selling crap at absurdly inflated
prices. But it's not a bad place to get reacquainted with the heat and
spending a few days before hitting the road again.

One thing we found surprising in the South is the big number of
Christians. There are many, many churches and when there's a service
they are packed. There's also an unexpected connection to Syria: many
churches are Syrian Catholic or Syrian Orthodox. This is a remnant of
the days when people from Syria were actively working as missionaries
in South India.

The people in the south seem to be, so far, more friendly and
warm-hearted than in the north. It's early days so we will tell you
more later.

One final thing: the Keralans think their country is GOD'S OWN
COUNTRY. The reason we write this in caps is that they really, really
make sure you see this again and again and again. It almost seems to
be a form of brainwashing as the locals also repeat this as if it were
a mantra.

More will come in about 10 days' time.

Thomas + Vero

--
Follow us on ~ Suivez nous sur http://trvl2.com/=si15

---
Subject:
Allepey, Trivandrum, Kanyakumari, Madurai, Trichy
Date: Thu, 2 Apr 2015 16:12:30 +0530

Dear friends,

we're now in Tamil Nadu, in Trichy (Tiruchirappalli... this is one of
the shorter and more pronounceable names here: the Tamil Nadus could
compete with the Welsh in this respect). But back to GOD'S OWN
COUNTRY, back to Kerala.

Alas, we have to say that we are not at all convinced that Kerala is
indeed GOC. After we've been through the state we can say in all
honesty that it all went downhill, literally as well as figuratively,
after we left the tea slopes of Munnar. Cochin was not nearly as
"romantic" and charming as the books suggested. The famed backwaters
around Allepey were interesting but what can you do on water for hours
on end? Not much. And there are, of course, plenty of mosquitoes.
(What use has God for these?)

Trivandrum, finally, was a big, not overly friendly place with a
decrepit Maharaja's palace given to slow ruin and decay. There was
also a big and famous temple... but this was, alas, completely
off-limits to non-Hindus. The deep South is fervent Hindu country and
Kerala is dominated by a particularly conservative (not to say
unfriendly) bunch of Brahmins (this is also true, though to a lesser
extent, for Tamil Nadu, where you never know what to expect when you
enter a Hindu temple: some are welcoming and friendly, others seem to
go out of their way to make your visiting experience as miserable as
possible).

Kerala, in a word, left us pretty disappointed. We think that the
guidebook writers are simply way too enthusiastic about a place that
has, in the end, very little to offer in the way of real sights and
sites. A little like the southern half of Laos, actually.

A word about Keralan busdrivers. These are crazy, period. We have
witnessed many occasions when they were recklessly risking accidents
with others (especially pedestrians) just for the sake of not having
to slow down a little. We're not squeamish with these things but the
Kerala busdrivers scared us. And the bus station staff were reliably
unhelpful at best and unfriendly at worst.

Kanyakumari (Tamil Nadu) is the southernmost point of all of mainland
India. There you can stand on a bit of rock, stare left at the Bay of
Bengal, straightahead at the Indian Ocean and right at the Arabian
Sea. With clever positioning you can actually be, for a minute or so,
the southernmost person of all of India, with all the roughly
1.3billion mainland Indians north of you. The general atmosphere at
that point is emotional, playful, even excited: the Indians really
like this sort of thing and the situation reminded us of the
Yamuna/Ganges confluence in Allahabad.

Other than that there is very little to do in Kanyakumari. A temple, a
few churches, a small rock off the coast with a shrine... good for an
afternoon.

Next was Madurai, one of the big temple towns down south. The
Meenakshi temple is gigantic but as with so many of the great Hindu
temples foreigners can't see most of it. There is still something left
to see (not least the temple elephant) but the overall experience is
nevertheless a bit frustrating. The whole is not helped by some temple
officials (aka busybodies) who seem to think their job in life is to
make temple visits as unpleasant as they possibly can... not only for
foreigners but also for locals who are clearly more used to that sort
of thing than we are.

The Meenakshi temple is also a giant money machine, to an extent we
have not yet seen in India. It is even worse than some of the Thai
temples which can be pretty bad. Everything costs money, even things
which are normally free, like prasad (a little bit of sweetmeat given
to devotees after offerings). The whole was a pretty disgusting
spectacle, especially considering that many devotees are dirt-poor
whereas the temple brahmins all seemed quite well-oiled...

We have to say, though, that not all temples are like that. Many
smaller ones are much more friendly and relaxed. So we will perhaps
concentrate on those.

Trichy is an ugly, dusty, hot, unpleasant place. The touristic reason
to be here is another of those big temples, the Sri Rangam. And again,
the experience for us was more frustrating than enjoyable. All of the
famous temple entrance towers (21! They are called gopurams.) were
hidden under scaffolding, the main inner temple is closed to
non-Hindus and the rest is a chaotic, dusty jungle of stone columns,
dirt and people. (An aside: people have of course to get rid of their
shoes before entering any temple. This does not mean, though, that the
inside of temples is in any way clean(ish). It is not. The best (or
worst) we've seen in this respect was a temple with a cow and two
camels inside the main hall, the animals surrounded by puddles of piss
and some excrement. We found that a bit over the top, but the Indians
didn't seem to mind.)

There are loads more temples on our to-do list and we will see how
these pan out. Temple-wise, northern India was certainly easier and
more enjoyable...  here it's often hard travelling with very few
rewards. Perhaps it grows with time...

You can probably see that the deep South of India has left us, so far,
pretty unimpressed.

Well, at least we're fine, no problems to report. The heat and
especially the humidity is now getting up, this may be a problem for
the final three weeks. We'll see.

All the best

Thomas + Vero

-- Follow us on ~ Suivez nous sur http://trvl2.com/=si15

---
Subject:
Kumbakonam, Chidambaram, Pondicherry
Date: Sat, 11 Apr 2015 12:32:23 +0530

Dear friends,

we are now at the (ex-French colony and) seaside town of Pondicherry.
It is hot and humid here though not as bad as we imagined (partly
thanks to the French who, many years ago, planted all those trees
giving a lot of shade...). Pondy is a rather strange place: the French
quarter is quiet, orderly and almost devoid of any "Indian" activity
-- indeed it feels almost like a ghost town and only wakes up in the
evening when the whole town takes a stroll along the beach, enjoying
the sea breezes. On the other hand the Tamil quarter is as lively as
any Indian town... so whenever you cross the canal (the demarcating
line between the two parts) you almost leave one world and enter
another. Well, there's not much to see or do in Pondy, a few big
French churches, some colourful Hindu temples, the museum (whose
collection does give a new meaning to the word haphazard: it is so
eclectic that it's almost a highlight in itself).

There are many nice shops (leather goods, incense, oils, handicrafts,
silk, bookshops...) here though and one can easily while away a whole
day with visiting those and buying stuff. We had two pairs of leather
chappals (sandals) made to measure: fit perfectly and cost all of 800
rupees (around 13 US$) per pair.

After Trichy's heat and dust we went to Kumbakonam, a small, lively
and quite enjoyable town with many temples, none of them as big as
those in Madurai or Trichy but all very friendly and well worth a
visit. (By the way, small in the context of Indian towns means around
200.000 people... here a town with half a million is still "small".)
There are also 3 great World Heritage temple sites around Kumbakonam:
Gangaikondacholapuram ("the city of the Chola who conquered the
Ganges"), Thanjavur and Darasuram all of which we did as daytrips.
These temples are in the big league, but as they have World Heritage
status, they are not, like the Madurai or Trichy temples,
"devotionally" very active. So all 3 were unexpectedly trouble free
and actually quite pleasant. These temples are around 900 to 1000
years old and in some ways one can feel the weight of this age:
uncounted numbers of pilgrims rubbing and oiling the holy statues
makes them smooth and shiny (and the surroundings often grimy beyond
description). The sculptures, inside and outside, are mostly fine and
detailed though not comparable to the temples around Hassan we saw a
few weeks ago.

Chidambaram, by contrast, is a temple in heavy daily use but for once
it was not such a bad experience. The temple brahmins are not overly
pushy and half of the temple was a building site anyway. The fervour
and devoutness of the Hindu faithful is unbelievable here in the
south: one can almost feel their devotion when they kneel and pray or
prostrate themselves in front of a tiny black statue of Vishnu or
Ganesh only dimly visible through the haze of burning oil and incense.

By the way, we are really out of luck as to the great gopurams (temple
entrance towers) the south is so famed for: almost all the big ones
were "under wraps", being repainted (apparently every 12 years) or
renovated. These are great photo opportunities so it is a pity that we
could not see them in all their glory.

From Chidambaram we also undertook a daytrip to Tranquebar, a tiny
village on the coast that is (no joking) an ex-Danish colony... seems
to have been a free-for-all in the old days. There's a fort left, a
few colonial houses impeccably restored and whitewashed and also a few
beautifully preserved churches. The 2004 tsunami took an especially
high toll here, both in terms of human lives and property. But today,
it all looks very orderly and "Scandinavian".

One thing that is amazing us here in the south is the sheer number
(and size) of jeweller's shops. If you see a grand, ostentatious
building in a town it's bound to be a jeweller (in London it used to
be the banks, here it's the jewellery chains -- appropriately enough
as many Indians keep their savings in jewellery and gold). There are
two huge chains from the Alukkas family ("Jos" and "Joy") and also the
company Kalyan and they are almost everywhere.

Next we'll head back inland to a place called Tiruvannamalai (with
another big temple and a fort in Gingee as a daytrip). We will also
extend our itinerary (see the map at http://trvl2.com/=si15 ) to visit
a town called Vellore before the final push to Mamallapuram and
Chennai.

The next mail will come from either Chennai or from the UK. All is
well and after the rather depressing days in Trichy we are now much
more upbeat.

All the best

Thomas + Vero

--
Follow us on ~ Suivez nous sur http://trvl2.com/=si15

---
Subject:
Tiruvannamalai, Vellore, Mamallapuram, Chennai
Date: Sun, 3 May 2015 17:05:37 +0100

Dear friends,

this is the penultimate installment for the South India trip, covering
the final ten days. From Pondicherry we went to Tiruvannamalai, a
famous temple town with an extinct volcano in the backdrop (the cone
of the volcano is actually revered as a physical representation of the
God Shiva in his fiery aspect, a sort of gigantic lingam). The temple
itself is a pretty big affair and for once we were surprised: no pushy
brahmins, no trouble, no signs "FOR HINDUS ONLY!". So we really
enjoyed this temple... all the more since it is a beautiful specimen
(see photo 1).

We also did a day trip to Gingee fort, one of those huge Indian forts
in the middle of nowhere (think Chittor and you're not far off). This
was built on two impressive hills and many buildings are still in good
shape. The main trouble was that "impressive hill" means a lot of
climbing around and it was so hot that we were dripping wet even
before we arrived at the first of the two tops (see photo 2). But as
there was a breeze up there and much to explore, we were not
complaining!

Tiruvannamalai is also a lively, pleasant town: not too much hustle
and bustle, just enough to be enjoyable and interesting -- a little
like Hassan. Alas, that's not something we could say about Vellore,
the next stop on the trip. Main reason to go there is another fort,
smaller than Gingee and surrounded by a moat, located in the very city
centre. The fort is OK with huge granite walls, a 2km walk along the
ramparts and a lovely small temple with impressive sculpture (see
photo 3).

However, the town itself is one big shithole. It is hectic, dirty in
the extreme, with unfriendly people. It is also a hospital city
boasting one of the most famous hospitals of India... streets and
hotels are full with outpatients with various ailments and in various
states of treatment (eg people sit outside their hotel rooms with
drips and assorted bits of medical machinery still attached... this
made for some rather surreal sights).

We had real trouble finding a room in Vellore (second time this
happened in India: first time was in Vadodara), as the many Indian
travellers (patients as well as their companions) mean that the guest
houses -- of which there are hundreds! -- are not really that much
interested in accepting foreigners: for hotel owners there's a whole
lot more red tape to register a foreigner with the authorities than
there is for locals; foreigners are also known to have some strange
ideas, such as having clean bedsheets, or towels in the room, or an
uninterrupted supply of water. We left Vellore fast.

By contrast, Mamallapuram was a nice surprise. A small, almost quiet
village on the Bay of Bengal, it houses some of the most famous and
amazing bits of sculpture of all of India. "Bits", though, may be a
misnomer, as the biggest pieces are huge rocks covered with dozens of
figures and animals (see photo 4). There are also many temples carved
into the living rock and while these temples are smaller than those in
Ellora, the quality of the sculpture is astounding (see photo 5). In
fact, Mamallapuram is even today famous for the fineness of its
sculpture: the whole village is one big open-air sculpture shop with
stonemasons chiselling away in almost every other house.

Well, that leaves Chennai. This, alas, was a great disappointment. The
city seems to have been built with the idea that pedestrians are the
lowest scum on earth. We have rarely seen a place in India that is so
"un-walkable". OK, so none of the big Indian metropolises is very good
in this respect but Chennai is really, really bad. The one notable
exception is the area around the old British fort, St George, and
Georgetown, the town that sprang up around the fort.

(By the way, we have now seen the four biggest cities in India and if
pressed we could make up a list like this:
1. Delhi (New and Old) wins hands down.
2. Mumbai is a monster but it's not bad.
3. Kolkata is way behind Mumbai.
4. Chennai... the less said the better.)

Thomas was especially interested in Chennai's San Thome cathedral as
the original St Thomas (the guy who wouldn't believe anything unless
seen with his own eyes) was reputedly buried at a spot where the
cathedral was later erected. There is a tomb alright but it's a modern
affair (though the chamber was heavily air-conditioned: something not
to laugh at in Chennai); there were also a few bits of bone and the
tip of the lance that apparently killed the saint. However, in true
St-Thomas style, Thomas doubted.

Well, that concludes our reports from the road. We will put together
another mail next week with some general observations about South
India and this trip and will also include some more photos.

All the best

Thomas + Vero

--
Follow us on ~ Suivez nous sur http://trvl2.com/=si15

Click on a picture to view the whole gallery of pictures attached to the mails and navigate from one picture to the other using the left and right cursor keys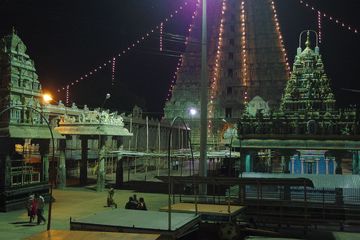 Tiruvannamalai: the Arunachaleshvara temple by night.
Gingee: view from the top of the fort.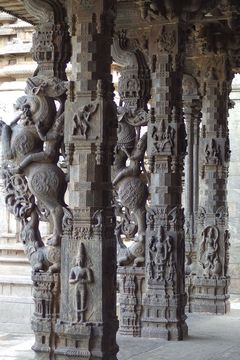 The Jalakanteshvara temple inside the fort of Vellore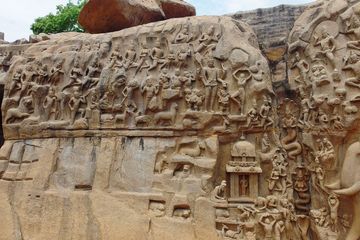 The sculpted relief at Mamallapuram depicting Bhagiratha penance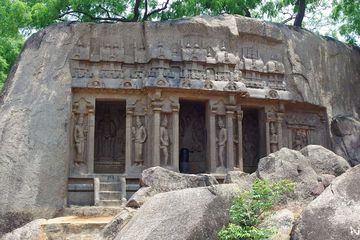 One of the many temples of Mamallapuram
---
Subject:
South India: Concluding Remarks, Photos (1)
Date: Fri, 15 May 2015 16:10:11 +0100

Dear friends,

this final email for our 2015 India trip will try to sum up the
various states we've visited. (India, like the US or Germany, is a
strongly federal country, with an ever-growing number of states: some
small like Goa, others huge, like Maharashtra. For a list see this
Wikipedia page:
http://en.wikipedia.org/wiki/List_of_states_and_territories_of_India_by_area
).

Goa may be small, but we found it more interesting than its
beach-beach-beach moniker may suggest. Yeah, the beaches are the main
draw for most tourists, but the state has had a rather chequered
history and as a result is quite varied. In fact, it's not unlike
parts of Europe where you can, within hours, drive through three or
four completely different cultures. We'll definitely head back to Goa
one of these days and give it more than the four days we spent there
this time.

Well, Karnataka we already knew from 2013 and it remains a jewel in
the crown. It's maybe not as flashy as Rajasthan but the state has an
interesting mix of top-notch Muslim and Hindu sites and sports quite
diverse cultures. The people are very friendly and lively without
being too much in-your-face. The ancient temples around Hassan have
been an eye-opener and Mysore is a real treat.

Kerala was a great disappointment, perhaps more so as all the
guidebooks are falling over themselves to praise its charms. Sure,
there was Munnar, the tea-growing village in the mountains, but even
that bears no comparison with the Tamil Nadu hill stations of Ooty and
Kodaikanal. Cochin was an OK place for a a few days, though far from
what we expected: the books fantasise about layer upon layer of
history... well, there's plenty more left of that in Goa than in
Cochin.

And that was it. The rest of Kerala is, in our view, pretty
forgettable. But here are a couple observations we made: Kerala was
long dominated by a Communist government and the Communists are still
a very strong force. There are many signboards with Communist slogans
all over the place and hoardings which show old Lenin and even some
with a broadly grinning Stalin (!). People are well-off here, there is
not much in the way of obvious poverty. (This is true, to a lesser
extent, for the whole of South India: the indescribable squalor that
is so easy to see in North India is much less common in the South.)
They also seemed somehow "happier" (perhaps less stressed) than people
in the north, although this is very hard to quantify.

Tamil Nadu was quite good. The hill stations are a treat and we should
have spent more time exploring them. By contrast, the main draw, the
big, famous temples like Madurai and Sriranga, were a great
disappointment. They are sordid, money-grabbing affairs dominated by a
bunch of pigheaded Brahmins (OK, so we are exaggerating a little...
but these guys are really hard to bear). In this regard, the big Shiva
temple of Tiruvannamalai was the exception which proved the rule.

By contrast the smaller, less well-known temples have, without fail,
been a joy to visit and explore. The temple Brahmins there are perhaps
a bit more "parochial" but that is all to their advantage. They are
much more friendly than their brethren in the big temples. And, just
to remind you, we're not just talking about the way foreign tourists
are sometimes treated... locals are just as often on the receiving end
of some Brahmin abrasiveness. In fact, given the extremely stratified
nature of Indian society, it is much harder for them to do something
about what they perceive as mistreatment or abuse. Indians, as a rule,
do what they are told and accept what comes their way without
demurring, however senseless, pointless, stupid, idiotic it may be.

Heat and humidity started to be a problem in Tamil Nadu... though this
has of course nothing to do with the state.

In sum, we should have stayed a bit longer in Goa and the hill
stations, should have skipped most of Kerala and perhaps started a bit
earlier in February so that we could have avoided some of the April
heat. Then again, travelling in low season has its own advantages and
is something we are definitely enjoying.

We also include a few photos... not of the normal "sightseeing"
variety though. Rather we'd like to show some Indian people as we saw
them. (There are so many photos, in fact, that we will send another
mail with a second batch tomorrow. This will also include some
interesting words.)

1. A group of young dhobi-wallahs in Mumbai's dhobi ghats.
2. Taking selfies is an art form in India. Actually, some may say it's
an obsession: in some places, eg the Goan churches, it is explicitly
forbidden to take pictures of oneself or other persons (not that
anyone cares).
3. A couple watching a Passion Play in Panjim, Goa. The play was
staged in front of the great Portuguese cathedral in Panjim; it was
closely followed by an attentive crowd, not all of them Christians.
4. Vegetable sellers in Hassan (note the wall of cauliflowers on the
right hand side).
5. A group of young women (and some of their children) worshipping a
Shiva lingam in the temple in Belur. Incidentally, this photo also
shows one of the nice touches in the South: many women, young and old,
adorn their hair with small flower garlands.
6. A street festival in Mysore: one of the drummers is having a really
great time.

More photos will follow in tomorrow's mail.

All the best

Thomas + Vero

--
Follow us on ~ Suivez nous sur http://trvl2.com/=si15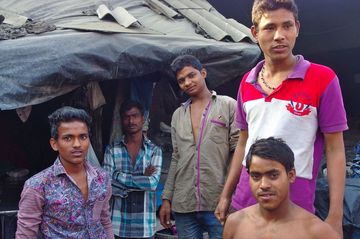 Mumbai: a group of young dhobi-wallahs in the dhobi ghats.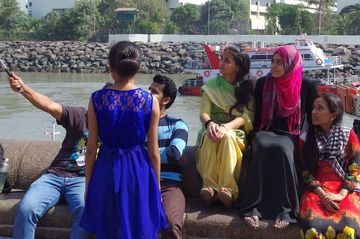 Taking selfies is an art form in India. Actually, some may say it is an obsession: in some places, eg the Goan churches, it is explicitly forbidden to take pictures of oneself or other persons (not that anyone cares).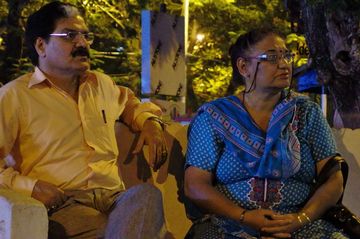 A couple watching a Passion Play in Panjim, Goa. The play was staged in front of the great Portuguese cathedral in Panjim; it was closely followed by an attentive crowd, not all of them Christians.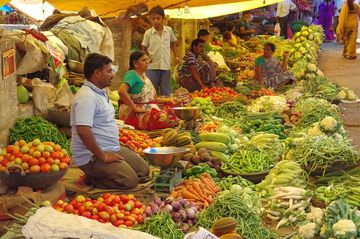 Vegetable sellers in Hassan (note the wall of cauliflowers on the right hand side).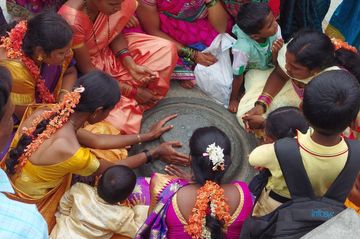 A group of young women (and some of their children) worshipping a Shiva lingam in the temple in Belur. Incidentally, this photo also shows one of the nice touches in the South: many women, young and old, adorn their hair with small flower garlands.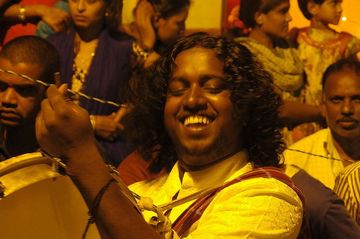 A street festival in Mysore: one of the drummers is having a really great time.
---
Subject:
South India Photos (2)
Date: Sat, 16 May 2015 13:17:17 +0100

Dear friends,

as promised, here's Photos part 2, with some more pics and a few
strange words. First the photos:

1. Chai (tea) is everywhere in India and everybody drinks chai
(although coffee is winning over many people these days).
2. Two devotees: a quick dash into the temple for a few minutes of
worship before lunch.
3. Three beauties (four, if you look closely). We met these girls,
Nasreen, Abi and Sharmi, on the rock fort of Trichy. They were a quite
lively, almost mischievous bunch (especially Sharmi, the grinning
Muslim girl on the right) and VERY interested in all our doings.
4. Sadhus (holy men) are a common sight all over India, but they are
especially prevalent in the big temple cities of the south.
5. A priest in front of his rock-cut temple (Mamallapuram). The deity
in the background is in fact good old elephant-headed Ganesh.
6. On our way to Chennai airport: a family travelling home in the
local train. (The doors, by the way, are open all the time, even when
the train is moving.)

Last but not least, here are some English words which are, in fact, of
Indian origin. Some sound so unbelievably English that you may not
believe us... but all these have indeed Indian roots! We picked most
of them up during our travels or while reading background material.

Blighty: Anglo-Indian corruption of Urdu "bilayati" (district). (For
non-Brits: "Blighty" was soldiers' slang for home, ie Great Britain.
It is still used today among Brits when abroad and referring,
sometimes a wee bit homesick, to the UK.)

Catamaran: from Tamil "kattumaram" (tied wood).

Cot: from Hindi "khat" (bedstead).

Juggernaut: from Hindi "Jagannath" (a fearsome Hindu god). This word
has an interesting etymology: it refers to the (often wooden) temple
car of the god which is such a massive and heavy contraption that,
once in motion, can't be stopped easily and will crush whatever and
whoever gets in its way. We've seen many such cars in India and Nepal
(they are often "parked" in front of the temple), a few actually in
motion during festivals -- and this is indeed a terrifying spectacle,
especially when you're standing in the front row and the car, hauled
by shouting, sweating, half-crazed devotees, thunders past you at high
speed.

Loot: from Hindi "lut" (booty).

Punch: from Hindi "panch" (five), after the five ingredients (alcohol,
sugar, lemon, water, and spices) of a real good punch.

Thug: from Hindi "thuggee" (thief). Thuggee was a 17th to 19th century
semi-secret Indian fraternity who were engaged in robbing (and often
killing) fellow travellers.

There are many, many more such words... if this small collection has
whetted your appetite, there is always the Hobson-Jobson, a "Glossary
of Colloquial Anglo-Indian Words". This excellent book, published in
1903, has more than 1000 pages (ie loads of strange words to explore!)
and can be read and/or downloaded here:
https://archive.org/details/hobsonjobson029985mbp

And that was that! We are currently putting photos and some text on
our website... there will be something to see sometime next week when
we may post another short message.

All the best

Thomas + Vero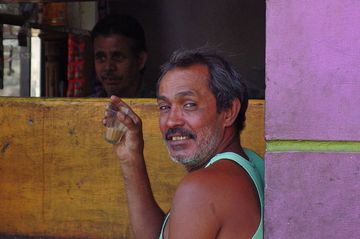 Chai (tea) is everywhere in India and everybody drinks chai (although coffee is winning over many people these days).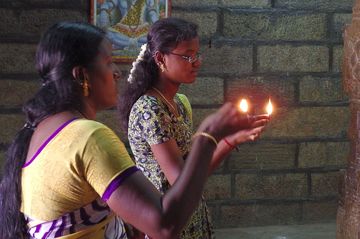 Two devotees: a quick dash into the temple for a few minutes of worship before lunch.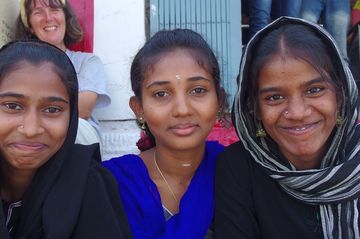 Three beauties (four, if you look closely). We met these girls, Nasreen, Abi and Sharmi, on the rock fort of Trichy. They were a quite lively, almost mischievous bunch (especially Sharmi, the grinning Muslim girl on the right) and VERY interested in all our doings.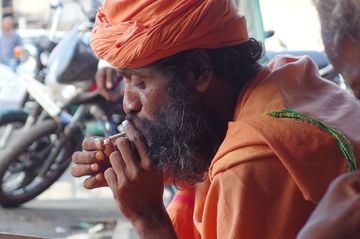 Sadhus (holy men) are a common sight all over India, but they are especially prevalent in the big temple cities of the south.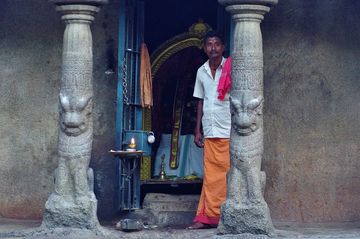 A priest in front of his rock-cut temple (Mamallapuram). The deity in the background is in fact good old elephant-headed Ganesh.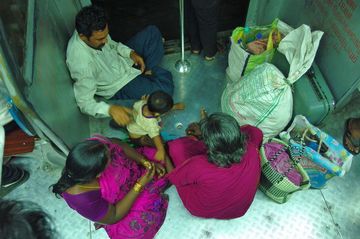 On our way to Chennai airport: a family travelling home in the local train. (The doors, by the way, are open all the time, even when the train is moving.)
---
$updated from: Email Updates.htxt Wed 28 Nov 2018 11:11:27 trvl2 (By Vero and Thomas Lauer)$