Small Fish Big Fish
(thomas;2015-May-23)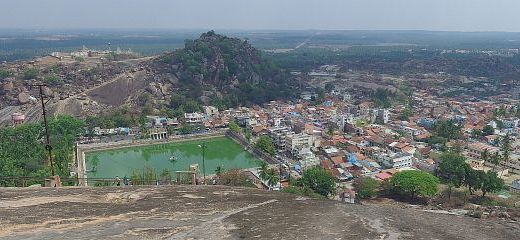 The village of Shravana Belagola In India, there are two questions everybody asks you. The first is "What is your name?" and the second "What is your country?". Or, of course, the other way round. When we have answered the country question for the umpteenth time, we sometimes say that we are from Belgium or from some other, even more unknown place, just for the fun of it. (We've so far met about four or five Indians who knew and could locate Belgium.) As to names, Vero is Maria (Veronique is just too complicated) and Thomas is Thomas. Well, normally.
One of these days, we were in Shravana Belagola, near Hassan in Karnataka, sitting next to a Jain temple (there are many in that village) and resting for a while. A small girl of perhaps eight years came along, looked us quizzically up and down and finally said to me (Thomas) "Hi! What's your name?" (The Indians pronounce their Hi's always very broadly so it sounds exactly like the first part of the German word "Hai-fisch" — literally shark-fish). On the spur of the moment, I shot back the single word "Fish!". This she took without comment, although she seemed to frown a little. Then she fired off her next question: "What is the name of your father?" I answered, completely straight-faced, "Big Fish!" Again, she took that without comment and asked "What is the name of your mother?" (This line of questioning is not unusual in India — people also ask about your job and salary, religion and almost everything else.)
Well, of course I had to answer "Small fish!" Now, with Vero at the point of bursting with laughter, the girl realised that I had pulled her leg all along. She gave me a supercilious nod, turned on her heels and walked away, prouder than the Queen of Sheba.
Want to read more? Go back to Ooty's Toy Train or go on to Kerala or God's Own Country or go up to Blog
---
$updated from: Blog.htxt Wed 28 Nov 2018 11:11:27 trvl2 (By Vero and Thomas Lauer)$