Kerala or God's Own Country
(thomas;2015-May-20)
One reason why we very much wanted to visit southern India was the state of Kerala. Among (some) travellers, Kerala has attained almost mythical status (like, for some other travellers, Nepal has…). The guidebooks are also gushing, so we thought we had better check it out.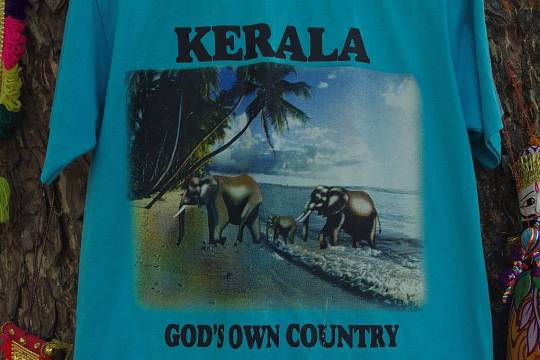 Cochin: God's own T-Shirt (Aside: a few years ago, somewhere in India or Nepal, we met a young guy coming up from a few weeks in Kerala. His legs were totally mosquito-bitten, such as we have rarely seen before or after. But he was all over the place about the beauty of the place and how nice the backwaters are. Well, back then we thought that if he so positive after being half-eaten by the Keralan mosquitoes this must be a wonderful place indeed. Well…)
We entered the state from the Tamil Nadu hill stations of Ooty and Kodaikanal, but we already had, in Ooty, a discussion with a local from Kerala about his home state. He was, very earnestly, insisting that Kerala is God's Own Country. We thought this to be just a figure of speech but we were soon disabused: once you actually enter the state you simply can't miss the signs, the posters, the stickers on local cars, even the printed T-shirts: KERALA -- GOD'S OWN COUNTRY! To be honest, after a while this constant barrage starts to grate a little.
So the Keralans really, really mean it: theirs is God's own country. When we asked about how it could be that there are at least two "God's own countries", ie Kerala and the US of A, they refused to believe that any other country could possibly earn itself this sobriquet. Of course, there can ever be only one GOC! Well, yes, that's clear.
Given the profusion of gods in India, we also asked them, if Kerala is indeed God's own country, which God's exactly? Shiva, Vishnu, Brahma? Or perhaps Ganesh? They found this line of questioning flippant and not even worth of an answer (it was, of course, a flippant question, but after a while this GOC business really started to get on our nerves).
Munnar, the first Keralan town we visited, was not exactly a godly abode. It claims to be a hill station (a transparent attempt to bring in the tourist rupees…), but it's rather a dirty, dusty, hectic Indian town with way too much traffic, not at all comparable to the hill stations on the Tamil Nadu side of the mountains. Well, at least there are a few nice walks in the vicinity, through tea plantations and cardamom estates, so all was not lost.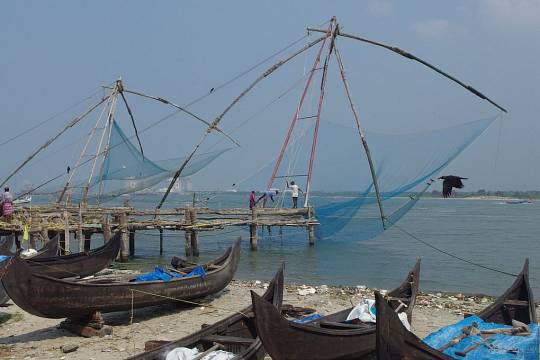 Cochin: Chinese fishing nets Next stop was Cochin, also know as Fort Kochi. This was OK, although we found the promised "layers and layers of history" a bit thin on the ground (there's actually more of that in Goa). There's the Jewish quarter (alas overflowing with antique and souvenir shops), there are the famous Chinese nets and there's the old Royal palace. Not bad and we did spend a few enjoyable days there, but we found it not nearly as great as the guidebooks implied.
Then it was the turn of Alleppey, one of the the starting points for the famed backwater cruises. We duly spent a day on the water. Again, this was an interesting outing but unfortunately not the eye-opener we had expected. And alas, from there it went completely downhill. Trivandrum, the state capital, is an utterly forgettable place, hot and dusty and traffic-choked. Sure, there's a large and famous Hindu temple there (by the way, this was the only big temple we saw in God's own country… no comparison to Karnataka or Tamil Nadu where temples, great and small, abound). However, the whole temple precinct was strictly Hindu-only. The Royal palace in Trivandrum is at best a bad joke — a dusty, run-down, half-decaying collection of uninteresting rooms: there's absolutely no reason to spend even 50 Rs for the entrance fee.
We also found many Keralans to be a little unfriendly. In general, south Indians are a good bit more friendly than their northern brethren but Kerala was a bit of an exception. Another thing we noted is that the bus drivers are a crazy bunch of maniacs. OK, so most Indian bus drivers are no slouches — but the Keralan drivers are frighteningly special: they honk and they perhaps honk again and then they simply race on. No braking ever! No quarter given!
We have seen, especially near bus stations, quite a few scenes (and been involved in one or two) where pedestrians (a lowly form of life all over India anyway) had to literally leap out of harm's way. The drivers simply honk and pray… we found that pretty scary.
And that was it. That was Kerala. We can safely say that we are in no great hurry to return to God's own country. By contrast, we did enjoy Tamil Nadu and, even more so, Karnataka. The latter is, in our opinion, the most varied, the most interesting and also the friendliest state in southern India.
(Perhaps we should add that this rather uninviting assessment of the state of Kerala is based on our — purely touristic — experiences. Since independence, Kerala, like other southern states, has been well-governed, even when the state government was in Communist hands (the Communists are still a strong force in Kerala). The state is well-known for having an admirable record in matters of education and health, among other things. There is less of the abject poverty that is so easy to see in north India; in fact, all southern states gave us the feeling that the majority of people is relatively well-off.
For us as tourists it boiled down to the simple fact that in Kerala there is just nothing much to see on the ground.)
Want to read more? Go back to Small Fish Big Fish or go on to Temples Inside Out or go up to Blog
---
$updated from: Blog.htxt Mon 20 Nov 2017 18:02:39 trvl2 (By Vero and Thomas Lauer)$