Cameron Highlands Jungle Walks
(thomas;2099-Jul-11)
The Cameron Highlands are a highland plateau located in the western part of the Malaysian peninsula, not far from a town called Ipoh. They are named after British surveyor William Cameron, who, in 1885, was the first Westerner to survey and map the region.
As with many high places in the tropics, the British transformed the area, during the 1920s, into a typical hill resort, with houses, schools and churches in the distinctive English colonial style. The three main villages (Tanah Rata, Brinchang and Ringlet) are located at an altitude of 1200 to 1500m but the peaks and summits reach over 2000m. The climate is quite cool, with daytime temperatures rarely approaching 25C. When compared to the hot humidity of the plains, it easy to see why many Malaysians like to come up there for holidays or short breaks (and weddings). Actually, we found the Highlands a bit on the cool side, especially when it rained (as it did quite regularly, as in the rest of Malaysia).
The main attraction of and in the Cameron Highlands is nature: there are picturesque tea plantations (see The BOH Tea Plantation), vast fruit orchards, active bee farms… all of them open to visitors. There are also mountains to climb and hillsides to explore. To that end, the area is crisscrossed by a network of hikes, the aptly named Jungle Walks. A couple of these are short and sweet (though still not for everyone), but most are strenuous and pretty tough.
These walks mostly start in one of the villages but they all enter the jungle quite quickly. And when we say "jungle" we mean it: the paths are steep and narrow, with a bare minimum of "wiggle room", and weave and wend their ways left and right, up and down, through some pretty impressive and at times almost impenetrable rain forest.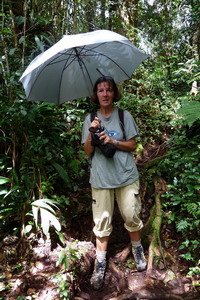 We did four or five of the more difficult walks (it's hard to count them exactly, as most of the walks, at some point, intersect or merge with other walks). The potential to get lost is quite high, as the routes are not always clearly marked. What's more, the Cameron Highlands tourism authority seems to think that maps for (or indeed any sort of useful information about) the walks is not necessary — probably because they're not often tackled by locals anyway: most people we met on the trails were foreigners, like us. Luckily we had a rough map in our guide book and also a compass.
So, with the path being often not very clear and sometimes overgrown, once you're surrounded by the dense, green jungle, there's a definite sense of adventure. This sense is enhanced by the many strange sounds you can hear: mostly it's birds or unseen small animals (perhaps snakes?) scurrying through the undergrowth but sometimes there are also bigger creatures, like monkeys. To actually see those animals is nearly impossible though, because the forest is often so incredibly dense (as Geoff Dyer once wrote: "foliage so dense the trees lost track of whose leaves were whose") that even after a few metres it's hard to make out anything very clearly or sometimes at all: it's all green, uncounted and uncountable shades of green.
Often, when the terrain gets really steep, the trail, such as there is, simply disappears and is replaced by a tangled mess of branches and mossy roots and jungle vines, some as thick as a human arm. This is when things start to get interesting: proper walking, on two legs, turns fast into scrambling indecorously on all fours or balancing precariously over small, shaky branches or crawling underneath a giant knotty root system. Route finding gets increasingly hairy as well and somehow even the various jungle sounds seem to grow a little more threatening.
But that's exactly why these jungle walks are so exhilarating: once you've done a couple, without running into a tiger or a python, you're hooked and you want more.
Unless, of course, you get wet. We got a ROYAL soaking during our third walk when it started to rain (luckily just after we had reached Gunung Beremban, at 1812m our summit for the day) and just didn't stop. Normally, the rains go on for perhaps 15 minutes or at most half an hour. Not this time: after waiting for what seemed an eternity under some plastic sheets and an umbrella (no, really: thoughtfully, we had brought the famous Singapore brolly with us), we decided to tackle the steep trails back down anyway. The path, when there was one, had already turned into a quagmire, a series of connected mud baths and we were wet to the skin within minutes. There was water everywhere, whole torrents sometimes, and with the terrain being rather difficult and slippery, there was just no way of avoiding the water, the morass, the dirt.
Oh, we've had our fair share of torrential downpours in Wales (the Brecon Beacons and the area around Capel Curig being our preferred stomping grounds there) but this was nothing like anything we have ever experienced in Wales (or, for that matter, anywhere on the British Isles). After a while, when all and everything was dripping wet anyway (including our walking boots), we actually started to almost enjoy this crazy downhill romp.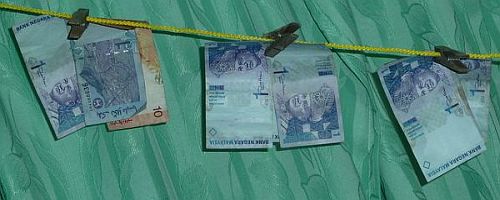 The deluge didn't stop for a long while and even when the rain finally seemed to get somewhat lighter, the trees, being at least as wet as we were, continued to drip and drop. When we finally cleared the jungle and arrived back in the outskirts of Tanah Rata, where our guest house was located, there was not a single dry fibre on us. The boots, filled with water, were squeaking ominously and even the notes of Malaysian money in Thomas' purse were drenched. We hung the money out to dry (see pic) and, after two days, also got the boots almost dry, with copious amounts of newspaper.
It all sounds quite funny now, and we're definitely glad we went through that experience… but during these moments — when we left the rain forest (now we know what that moniker means) — we were probably not the happiest two walkers on the planet. But that's life: some you win, some you lose.
---
$updated from: Blog.htxt Fri 09 Aug 2013 14:18:02 trvl2 (By Vero and Thomas Lauer)$