Night Markets and Foodcourts
(thomas;2099-Jul-11)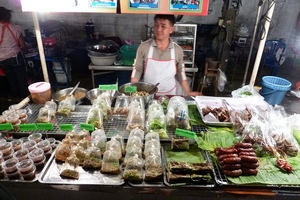 Thailand is the country of the night market (among other things, of course), although other countries in SE Asia, like Cambodia or Laos, have night markets as well, albeit smaller ones with less choice. If you've never been there, a night market works like this: starting at around four in the afternoon, a street or two (often long ones) in the city centre are cleared of cars, bikes, lorries etc and people begin to put up stalls, some small and simple, others large and sophisticated. Many of these people have a day job and their night market stall is just a way to supplement the family income — so frequently the whole family, granny and daughter and nephew, is there and helping out.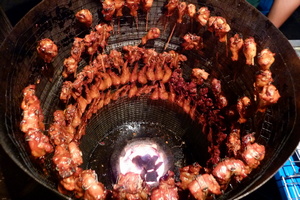 There are stalls for practically everything, but in touristy regions stuff like souvenirs, bric-a-brac and cheap Chinese imports (think electronics and sunglasses) dominates. In less touristy areas, there's a lot of clothing and cosmetics. There are also stands where you can have a foot massage, your hair done, get a new fingernail look and so on.
The whole scene, once the sun has set, is one of many lights, of laughter and colours, sounds and smells.

And this hustle and bustle goes on for many hours: some of the bigger markets only shut down in the small hours of the morning. In a word, a night market is a lovely way to spend a whole evening, so one of the first things we establish when arriving in a new town or city in Thailand is the location of the night market (big towns actually have two or even three night markets).
We're keen on night markets because, besides all the non-food activity, they always sport many, many food stalls. (No wonder: wherever Thai people meet, some sort of food stall or snack outlet is never very far — a Thai without a snack is like a tourist without a camera.) These food outlets offer all sorts of delicacies, some sweet, some savoury. For instance, in the sweet department you will find freshly peeled and cut fruits or even fruits salads, crêpe-like pancakes and waffles, dumplings with a sweet filling, sticky rice mixed with thick sugary coconut milk and much more.
The savoury bits include all sorts of noodle soup (of which more in a moment), creamy rice puddings (these also in sweet varieties), omelettes with mussels or cooked fish, bits and pieces of spit-roasted chicken (also whole), chargrilled fish and pork pieces (including fabulous pork scratchings), prawns, sweet-and-sour or hot-and-spicy stews of vegetables or meat… in short, everything imaginable. (Imaginable means just that: they also have fried bamboo worms, grilled spiders, roasted cockroaches… see this delightful introduction to healthy insect munching.)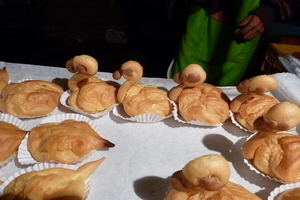 Now some stalls sell these things to Thais which take them home for dinner, very much like a takeaway in the UK. Everything sold there, from soups to stews and even soft drinks with crushed ice, is put into plastic bags. To that end, the Thais have dozens, if not hundreds, of different sizes and shapes of plastic bags: tiny ones, smaller than a matchbox, for hot chili sauce; bigger, square ones for servings of plain or sticky rice; oblong ones for soups or stews etc. The bags, once filled, are tied expertly with a thin red or yellow elastic: a waterproof (we can vouch for that) but easy to remove way of sealing the food.
Watching Thais in their hundreds strolling across these market, checking and choosing stuff, we sometimes have the feeling they themselves never ever cook at home. And why should they? These stalls sell stuff that's freshly prepared, often while the customer is watching; the food is always tasty (and anyway, customers can tell the cook how they like their meal) and last but not least it's cheap, probably cheaper than if prepared at home. The latter may sound incredible but it's true: the food in these markets is so cheap that cooking on your own would cost more, money- and time-wise. Two people can have a full meal for around 120 baht, that's four dollars.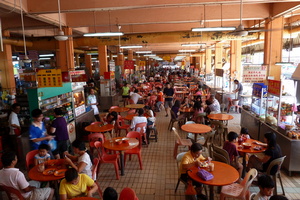 For us, the main attraction lies with those food stalls that have a few tables and chairs arranged in the background. Not all have that and in some markets it's actually hard to find a place to sit down and have a meal. But normally, about half of all the stalls are prepared to serve food for immediate consumption, to locals and tourists alike (though we have to say that many Westerners seem to prefer the blander but supposedly safe(r) fare in tourist restaurants).
That's where the noodle soup comes in: we almost always have a soup, some rice and perhaps some grilled chicken or an omelette for dinner. The sheer diversity in the noodle soup business is hard to believe: there's pork, beef, chicken, several varieties of fish, prawns and even oysters; there are rice noodles (white) or egg noodles (yellow); some noodles are thin, others broad and flat; some are dry, others wet. Then there are the spices and vegetables added by the cook: more variety.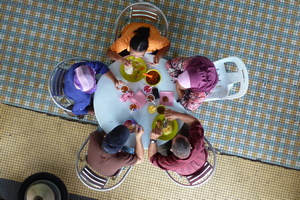 And last but not least, on the table there's invariably a collection of at least five or six pots and bottles with condiments. Thai food always involves a complex mix of the four basic tastes: sweet, salty, sour and bitter. So on the table you'll find fish paste and soy sauce, plain sugar, crushed chilies and chili paste, thinly-cut chili slices in a weak vinegar brine and freshly crushed peanuts. You simply put or pour whatever you want into the steaming hot noodle soup, stir thoroughly and enjoy. We can honestly say that, despite having had hundreds of fills of noodle soups all over SE Asia, not two have tasted alike.
In Malaysia and Singapore the night market situation is slightly different. Oh, there are very lively night markets there as well, though perhaps not as many as in Thailand. However, these markets tend to concentrate on non-food products. However, the Malaysians and Singaporeans instead have the ubiquitous foodcourt.
This is a large hall, or even a multistorey building, with many fixed stalls. The variety of dishes on offer is mind-boggling: several kinds of Chinese cuisine, all sorts of Indian and Malay dishes (Nasi Goreng and the like, mostly Halal) and even pizza and other Western food (many foodcourts have at least a couple of fast food outlets, like KFC or McDonald's). Again, the food is prepared to order, steaming hot, cheap and tasty. And it is, if that's possible, even better than in Thailand: some of the best Tom Yam soup we ever had came from a Malaysian foodcourt.
---
$updated from: Blog.htxt Fri 09 Aug 2013 14:18:02 trvl2 (By Vero and Thomas Lauer)$