Cobras and Other Creatures
(thomas;2099-Jul-11)
It's easy to run into exotic animals when you're travelling around exotic places. Unfortunately, it's much harder to actually captivate them inside the camera: either the animal is already gone when the shutter opens or it moves too fast, producing a blurry something, or there's simply not enough light.
However, sometimes the photographer strikes gold and gets a superb snap. So here are a few snaps from various places in SE Asia, all taken live and on the spot, without much preparation.
Some even have an intriguing story with them!
---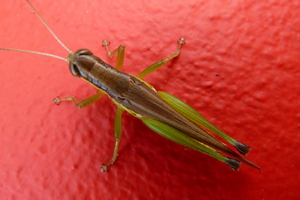 Nong Khai, north-east Thailand: the red external wall of a Vietnamese/Chinese temple. On the wall, a green grasshopper which would just not keep still. (There was no grass at all but it was still hopping around.) After many a fruitless attempt we finally got a reasonable snap.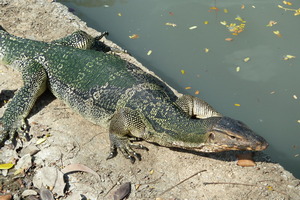 Bangkok, Thailand: a pretty big Monitor Lizard waddling slowly towards its favourite pond. This was in Lumbini Park, one of the few green spaces in the city centre, and there are quite some of these lizards around though many are a lot smaller than this beauty.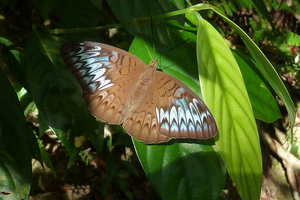 Penang National Park, Malaysia: a butterfly, getting a tan in the jungle. This snap was taken on the island of Penang. There's a small but interesting National Park near the village of Teluk Bahang and we walked through the park for two days. We also spotted a Giant Monitor Lizard (it was really impressive, about three feet long) but the beast was far to swift for us: it had already disappeared in the undergrowth before we even had the camera out.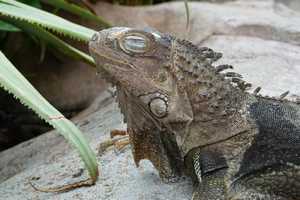 Kuala Lumpur, Malaysia: later we got this nice Monitor Lizard, more or less at the foot of the KL Telecoms Tower, staring up and wondering whether or how it'll ever make it to the top.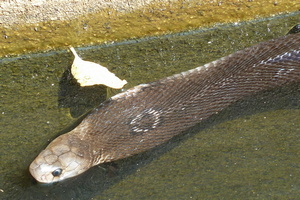 Phnom Santuk, Cambodia: this is a Monocled Cobra. We ran into it while visiting a large Buddhist monastery (called Wat Santuk) on top of a hill (Phnom) in Cambodia. The serpent was just lazing it in the sun and the warm water. Thomas took this snap in macro mode, so he got pretty close… although he had some fuzzy idea that the animal might be venomous. When he later learned that this lovely specimen was a Monocled Cobra, one of the most dangerous snakes around, he belatedly broke into a sort of cold sweat.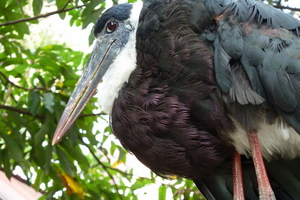 Vientiane, Laos: Hey you! Waddaya want?!

That's a Leptoptilos stork (we're no experts though so if you know better just drop us a note) and we spotted it in Wat Si Muang. It was standing on top of small rock, a bit hidden behind the main temple. The bird just stood there, motionless, and stared, with this inimitable mixture of disdain and wariness, at the surroundings.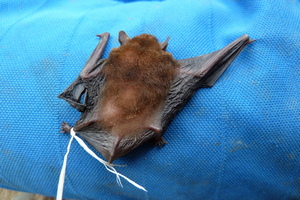 Near Vang Vieng, Laos: a tiny bat, caught by a group of kids in a village near Vang Vieng. The poor animal was their playmate (well, sort of) and we're not sure it survived in this role for very long. Note the tiny white string around one of the hind legs: this was its chain.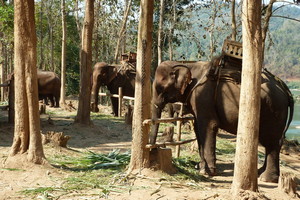 Near Luang Prabang, Laos: we stumbled, just by chance, into this elephant camp near the river Nam Khan, about six or seven kilometres outside of Luang Prabang, while we were looking for the grave of Henri Mouhot, the French "discoverer" of the Angkor ruins. The elephants (around a dozen) live in the camp between assignments: either for a forest trek or, increasingly, to teach curious tourists in a few hours how to be a mahout.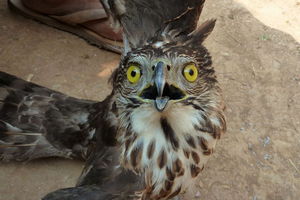 Nong Khiaw, Laos: a sad story, this. We were walking out of town along the Nam Ou river and suddenly saw a man with a bird, squatting in front of his house. At first we thought it was a just a chicken but when we came nearer we realised that it was a bird of prey. The man was a hunter (not by profession, just in his spare time) and he had shot down this bird with just his bow and arrow: there were traces of blood on the bird's belly and legs.

The bird looked at us, with one clear message in its eyes: get me outta here — AND QUICK! Of course, we couldn't, all the more because the happy hunter had already planned to have the poor bird for dinner: his wife was already busy cleaning her pots. These are moments that are impossible to forget.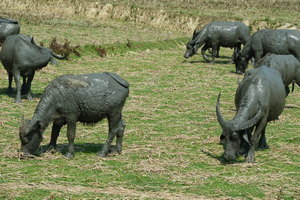 Near Muang Ngoi, Laos: a group of cattle, in a rice paddy lying fallow in the vicinity of Muang Ngoi (on the Nam Ou river). The animals had just taken a long and relaxing mud bath (some people pay loads of money for that) and were now grazing at their leisure in the fields.
---
$updated from: Blog.htxt Fri 09 Aug 2013 14:18:02 trvl2 (By Vero and Thomas Lauer)$