Introduction
(thomas;2012-Jul-11)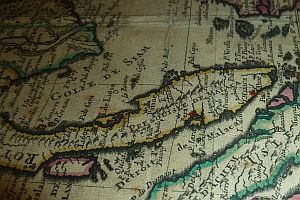 Ancient seafarers' map of SE Asia on display in the National Museum of Malaysia in Kuala LumpurThis ancient French map shows part of the region we have travelled through during our Calamyti trip, especially the Malaysian and Cambodian bits, separated by the Gulf of Siam, with Siam (Thailand) being further to the north.
You can check our itinerary with this Google Map, prepared by Vero.
See the Blog section for stories from our trip, budget information and more,
And we have an online photobook. This looks especially good if you browse through it in Full Screen mode.
---
$updated from: Blog.htxt Fri 15 May 2020 14:57:27 trvl2 (By Vero and Thomas Lauer)$