Introduction
(vero;2019-Nov-23)
The plan for 2019 was to go to Georgia and Armenia but as things go, Vero came across a guidebook about Romania and Bulgaria in the library and all plans were pushed aside. Romania had been looming in the back of her mind for a while and what she read about Bulgaria sounded quite good too, so all plans got tossed away: Romania and Bulgaria it would be and we would start the trip in Budapest as an extra treat.
Our main focus was Romania where we spent four weeks exploring the rural northern regions of Maramures and Bucovina followed by Transylvania, Wallachia and Bucharest. We were in Bulgaria for only ten days but were quite convinced by what we saw and will surely come back soon for more. Actually we were a bit surprised to discover two neighbouring countries so different from each other but we must confess that we did not know much about this part of Europe before leaving. This made this trip so special: learning about the region's history and culture was a very rewarding experience.
We travelled by public transport during the whole trip and it worked very well for us. We were not quite sure about exploring Maramures and Bucovina without a car and considered renting one for a while but we're glad we did not: we walked a lot, hitch-hiked a bit and managed to see everything we wanted. This even made the experience more intense and unforgettable, we have great memories of Maramures, walking from one village to the other, meeting people and watching rural life unfold before us.
You can retrace our route on this map showing our itinerary.
See the Blog section for some stories and trip details
We have many pictures to share in the Photos section.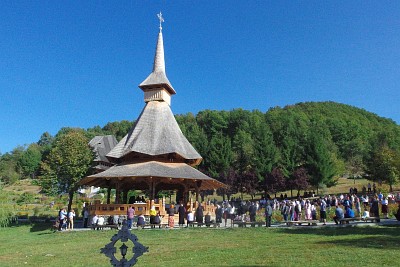 Romania - Open air Sunday service at Bārsana Monastery in Maramures.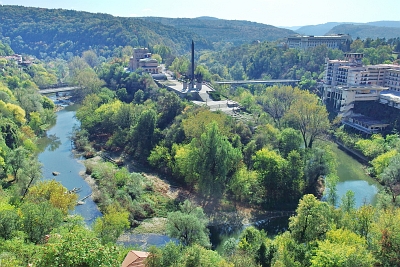 Bulgaria - The medieval town of Veliko Tarnovo has been built around bends of the Yantra river. View of the Asenevtsi Monument and the State Art Museum.
---
$updated from: Blog.htxt Fri 15 May 2020 14:57:26 trvl2 (By Vero and Thomas Lauer)$