Introduction
(vero;2019-Nov-23)
It's a long way to Ani…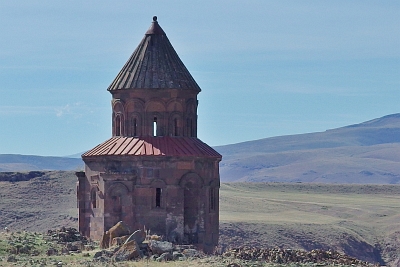 Ani: the church of St Gregory of the Abughamrentz, built 994 AD.Ani was once a mighty city, now reduced to some powerful ruins near the Armenian border. The place had been in our mind for a long time: we had it on the map as we were planning our TISL trip in 2006, but we did not make it back then, it would have meant too big a detour and the cold weather (March) was not too engaging. In the end it took us nine years to go there.
Our 2015 itinerary has been built around our ultimate wish to see the ruins of Ani and it was well worth the long bus journeys to get there! We started in Antalya, visited Konya on our way to Cappadocia, our favourite region in Turkey, where we spent ten fantastic days. Then we made our way across the Anatolian plateau, stopping in Erzurum before heading to Kars, the nearest city to the ruins of Ani. We made our way back to Istanbul by following a part of the Black Sea coast and visiting the Anatolian towns of Tokat, Amasya, Safranbolu and Iznik. To finish in style, we arrived in Istanbul by boat, crossing the Sea of Marmara from Yalova with great views of the city skyline to reward us.
You can retrace our route on this map showing our itinerary.
See the Blog section for some stories and trip details
We have many pictures to share in the Photos section.
Finally, we have a full site map of all Turkey 2015 pages; the other sections have local maps (see Blog Map and Photos Map and index pages (see Blog Index and Photos Index).
---
$updated from: Blog.htxt Fri 15 May 2020 14:57:27 trvl2 (By Vero and Thomas Lauer)$