Trip Report and Budget
(vero;2019-Nov-13)
Itinerary and overall budget
We covered a lot of ground during this trip (around 3400 kilometres in 39 days): from Antalya to the Armenian border and back to Istanbul, using public transport all the way.
After a few days in Antalya, a pleasant town with a great museum and the roman ruins of Perge nearby, we went to Side where we took a bus to Konya. Next stop was Cappadocia where we spent ten superb days exploring the valleys around Göreme. We reached Erzurum with a night bus and eventually made it to Kars, the town nearest to the ruins of Ani.
We made our way back by following the shores of the Black Sea and making some forays inland to the towns of Amasya, Tokat, Safranbolu and Iznik. We arrived in Istanbul with a ferry, crossing the Sea of Marmara, a great way to approach the city with views guaranteed.
We managed on a daily budget of 125TL (28£/38€) for the two of us. Half of the total budget was for accommodation, the second highest expense block being unsurprisingly transport with 23% of the total budget.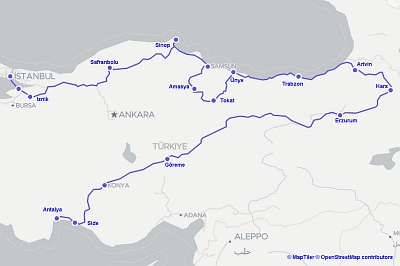 Our itinerary (© MapTiler © OpenStreetMap contributors).
Accommodation: our most expensive room was in Istanbul where we paid 150 TL for a standard double room with bathroom at the Blue Istanbul Hotel. The cheapest one was in Amasya where we paid 40 TL for a room with shared bathroom in an old hotel with faded charm which did the job. We tend to frequent cheap hotels and do not mind if there is no WIFI, no towels or a shared bathroom. Note also that we never have breakfast, which explains the relative average low price of 65 TL (20€) compared to the budget indicated in the 2015 Lonely Planet of 90-180 TL for a double room.
Food: food is good and cheap in Turkey. We spent an average of 15.5 TL (5€) per day for the both of us. This is cheap, but bear in mind that we have snacks for lunch and hardly go to tourist restaurants in the evening, favouring local eateries. We do not drink alcohol and do not indulge on sweets. crisps or similar stuff, purify our water and if buying a fizzy drink, stick to the local brands. The food budget was also kept low by the fact that our pension in Cappadocia allowed self-catering, which we did for ten days.
Fees: we did not spend much, regional museums are relatively cheap (around 5-10 TL), we paid 20 TL for the open-air museum in Göreme and purchased a three-days Museum Pass for Istanbul at the price of 85 TL (26€). Please check our comment below for more details about the Museum Pass and note that all prices are per person.
Istanbul Museum Pass: looking for infos about the Museum Pass, we have noticed that its price has now (2019) increased to 220TL with a longer validity of five days, which is still good value, particularly if you consider the individual prices of each museum. This translate to 35€ at the 2019 rate and would have amounted to 72€ in 2015: proof of the strong devaluation of the Turkish Lira in the last four years. However be aware that not all museums are covered by the Museum Pass, check the list on this helpful website. And also make sure that you do not mix it up with the Istanbul Tourist Pass which is much more expensive and has to be ordered online but includes many more things like transport, private museums, guided tours and hop-on-hop-off buses…
Want to read more? Go back to Introduction or go on to Antalya: a Modern Ancient City or go up to Blog
---
$updated from: Blog.htxt Mon 03 May 2021 16:08:29 trvl2 (By Vero and Thomas Lauer)$