Göreme to Ortahisar: Meskendir valley and Hallaç Monastery
(vero;2020-May-20)
There are two obvious routes to hike from Göreme to Ortahisar (three if you count the road…). The first route could be via the Meskendir valley: starting from Göreme find your way to the start point of the Rose valley via the dove complex (a collection of rock-hewn dovecotes) and follow the Meskendir valley, eventually finishing at the road leading to the Aktepe Hill View Point. The second route could be via the ridge running west of the main road to Ortahisar: start from the Hidden Church and follow the trail affording views of the Open Air Museum and ending on the D302. Cross this road to enter Ortahisar and find your way to the castle. Whatever route you take, make sure to make a detour to the Hallaç Monastery. See the map showing the area between Göreme and Ortahisar below the photo gallery for planning purposes.
There are also nice walks to do from Ortahisar following trails to Ibrahimpaşa or Ürgüp (quite rewarding via the Pancarlık Church). A nice itinerary for a long walk would be starting in Göreme, following the Zemi valley to the D302, continuing to Ibrahimpaşa and Ortahisar and returning to Göreme via one of the two routes mentioned above.
Snapshot of the
map showing the area between Göreme and Ortahisar
To expand the snapshot to a complete full size map, simply click on the picture. This will open the map in a separate tab: click again to navigate in the full map using the bottom and right scrollbars.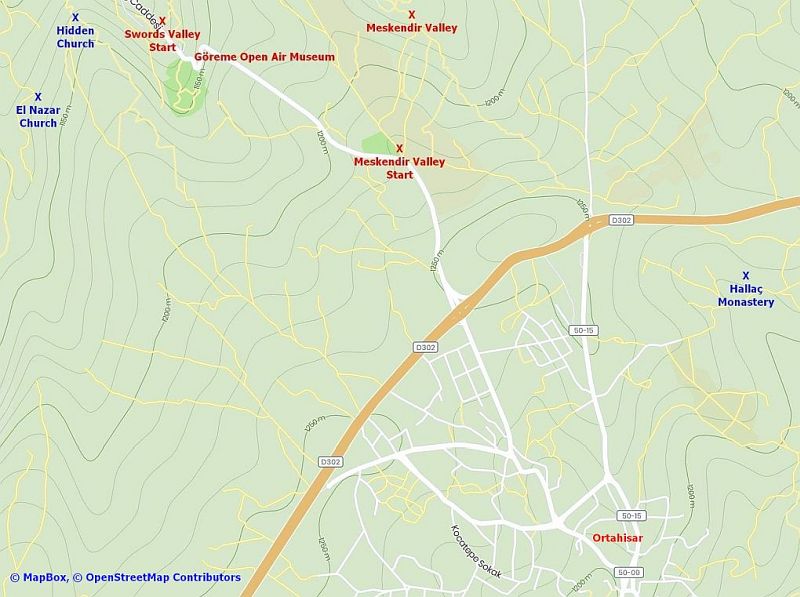 Go back to Göreme to Uçhisar: Love, Pigeon and Zemi valleys or go on to East of Göreme: Red and Rose valleys, White Mountain and Zelve or go up to Valleys of Cappadocia
---
$updated from: Valleys of Cappadocia.htxt Mon 03 May 2021 16:08:29 trvl2 (By Vero and Thomas Lauer)$