Third Time Cappadocia
(vero;2020-May-10)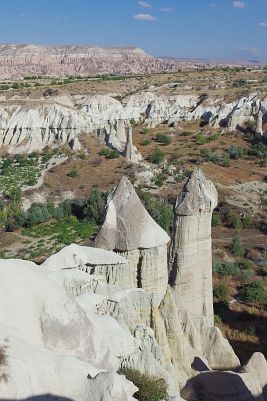 This is Cappadocia. We first visited Cappadocia in 2005. It was end of April, the weather was mixed but we immediately fell in love with the region. It was a welcome break after several weeks of exciting but sometimes tiring travel in the Middle-East and we enjoyed the rural setting and the gorgeous landscape of the area. We based ourselves at first in Ortahisar, a pleasant and peaceful village with not many tourists. This was a good choice but as we did not have a car, its position on the fringes of the Göreme National Park made it a bit difficult for us to explore valleys around Uçhisar or Çavuşin and led us to move to the village of Göreme for our two final days.
Our second visit was one year later in June 2006 and we stayed in Göreme for ten days which we spent exploring the area to the full under the best of weather. And then came our third visit during our Turkey 2015 trip: ten superb days in the month of October.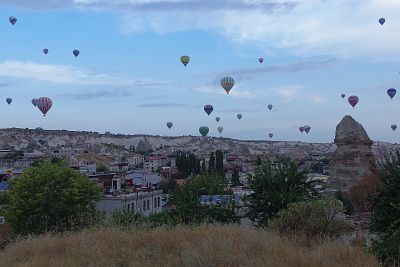 Göreme: hot air balloons in the early morning rush hour.We based ourselves in Göreme once again and after nine years of absence had a real shock as we arrived: the village was packed with hundreds of Chinese tourists. We soon found out that we had arrived in the midst of the so-called Chinese National Day Golden Week: just a case of bad luck. Fortunately we managed to find a friendly pension, not very flashy, but perfect for us just because of this and where we were the only customers for most of the time.
The Chinese tourists were quite interesting to watch: they seemed quite well-off, travelling mostly in small independent groups, often women only, most of them really pretty and amazingly elegant. Three Chinese girls stayed for three days in our pension: the one they had booked could not accommodate them, so they came to us as an "overspill". We had a chat with them and we learnt that the sudden craze for Cappadocia came from a TV show in China which featured the area and fascinated the viewers. Their holiday was really hectic: arrival in Ankara, Cappadocia, night bus to Antalya, Fethiye for a cruise on the Mediterranean, Ephesus and finally Istanbul for the flight back home, all this in eleven days. What we found amazing was that they were not in organised groups: nearly all of them had booked the flights, Turkish transport, hotels and activities independently from home on the internet. They had a full programme organised like a clockwork: trips in mini-buses to the museums and underground cities of Cappadocia, quad tours around Göreme, a morning hot-air balloon flight, there was hardly time for a break.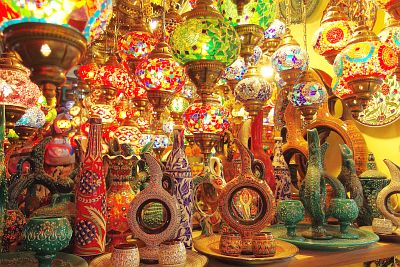 A colourful and tempting shop in Göreme.We witnessed real dramas like this woman in tears and near a nervous break-down: the weather would not permit her balloon flight of a lifetime and she had just realised that there was no way to reschedule, everything being fully booked for the next days anyway. The balloon flights are really the big thing: even for us it was a treat to see them rising to the skies in the morning, quite a sight. Our host told us that in the super high season like this, there could be as many as 150 balloons flying in a day, with an average of 20 people on board. Depending on the company and how many people are in the basket such a ride can cost anywhere between 130-180 Euros (US$145-200) per person… There is indeed a lot of business to be done in Cappadocia, much more than ten years ago!
Fortunately the Chinese visitors were just a blip: most of them departed after the first three days and Göreme gradually came back to sanity regaining slowly a bit of its past laid-back backpacker atmosphere. In the end, they were not much of a nuisance to us: they were busy all day, dashing in vans from one attraction to the other, hiking was not on their list of things to do which meant that we were quite alone wandering through the many valleys. The only thing we did not like at all was the quads business, but they stayed away from the valleys, speeding and roaring only between Çavuşin and Göreme where we would encounter them on our way back to the pension. This was bad enough and we really hope that it will not worsen.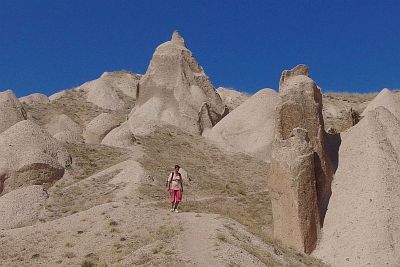 Hiking down to Rose valley from the White Mountain.
All this set aside, we still believe that for people like us without their own transportation, Göreme is the best place to base oneself, its main assets being its central location and good public transport connections.
Hiking in Cappadocia
As far as we're concerned, Cappadocia's main draw is to hike through its magic landscape, exploring its valleys with the added pleasure of discovering dovecotes and churches on the way. Following the trails is not always obvious and one might often end up more than once at the end of a valley with no exit to the top. In that case, there is no other way than retracing one's steps and take a different direction at the next fork in the path. There are no real good maps available that we know of for the region but we always managed to find our way. We have used a smartphone with GPS and offline maps from OsmAnd (which we highly recommend) for the first time in 2015 and they proved most useful, we would not go without them anymore.
We have prepared some maps for planning purposes only as they have no scale and the trails shown on them are not always reliable. But they provide an idea of the many possibilities existing and may be useful to put our favourite walks listed below "on the map". You can access them via the link provided after each walk suggestion. It will open a map showing the area of the walk in a separate tab: once opened, click on the map to view it in full size and navigate using the bottom and right scrollbars.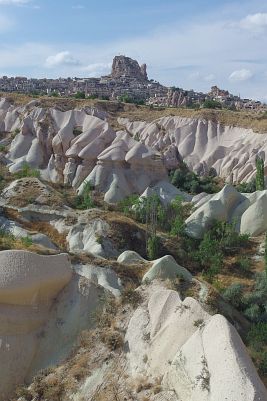 View of Uçhisar and its rock-castle as seen from the top of Zemi valley.
Some of our favourite walks from Göreme:
The region extends to the Zelve Open Air Museum, the fairy chimneys of Paşabaği and the Dervent valley, sometimes quite far away from Göreme but we have managed to explore everything on foot although we have cheated a few times and done some hitch-hiking to reduce distances: for example between the Dervent valley and the Zelve/Paşabaği area, from Uçhisar to Ibrahimpaşa, or back from Ürgüp to Göreme; we never had to wait long for a lift.
Don't forget to check our photo galleries centred on three areas around Göreme:
Want to read more? Go back to Antalya: a Modern Ancient City or go on to Third Time Cappadocia or go up to Blog
---
$updated from: Blog.htxt Mon 03 May 2021 16:08:29 trvl2 (By Vero and Thomas Lauer)$