East of Göreme: Red and Rose valleys, White Mountain and Zelve
(vero;2020-May-20)
The main feature east of Göreme is the White Moutain. There are many routes to get there: the Red, Rose and Meskendir valleys all end on this plateau. Following the trails is not always obvious and one might end up more than once at the end of a valley with no exit to the top. In that case, there is no other way than retracing one's steps and take a different direction at the first fork you encounter. A smartphone with GPS and offline maps from OsmAnd (which we recommend highly) is most useful in that area. The region is wide and extends to the Zelve Open Air Museum, the fairy chimneys of Paşabaği and the Dervent valley. We have explored all the area on foot but have sometimes done some hitch-hiking to reduce distances, for example between the Dervent valley and the Zelve/Paşabaği area. See the map showing the area east of Göreme below the photo gallery for planning purposes.
Snapshot of the
map showing the area east of Göreme
To expand the snapshot to a complete full size map, simply click on the picture. This will open the map in a separate tab: click again to navigate in the full map using the bottom and right scrollbars.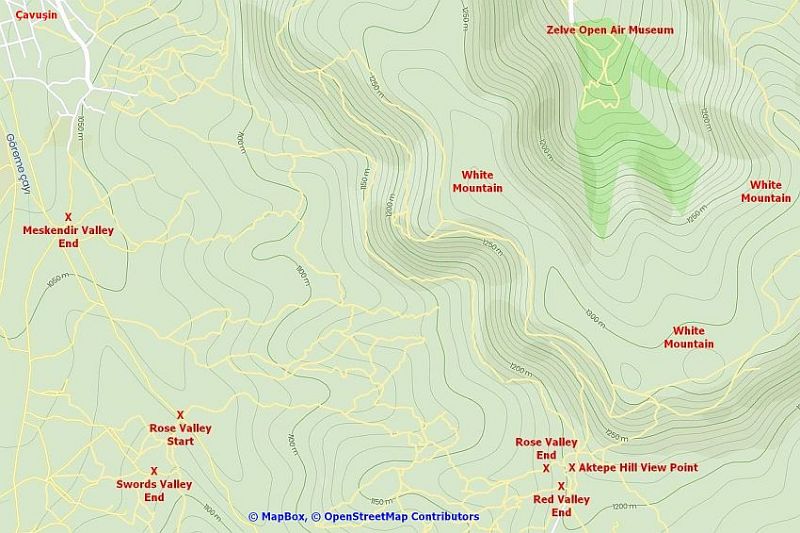 Go back to Göreme to Ortahisar: Meskendir valley and Hallaç Monastery or go on to Panoramas of Cappadocia or go up to Valleys of Cappadocia
---
$updated from: Valleys of Cappadocia.htxt Mon 03 May 2021 16:08:29 trvl2 (By Vero and Thomas Lauer)$