Introduction
(vero;2018-Sep-22)
Three weeks in Sri Lanka followed by five weeks travelling overland from Mumbai to Delhi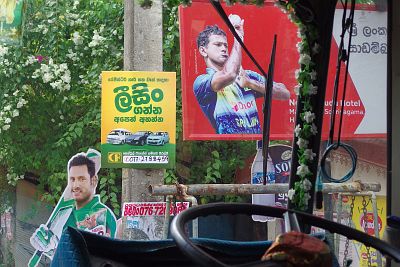 Street view from the inside of a tuk-tuk in Sri Lanka, a country where cricket players are stars and national heroes.We gave this trip the code name of Hanuman in honour of the eponymous Monkey God. A key figure of the Ramayana, he crossed the strait of water between India and Lanka in one giant leap to free Sita, wife of Rama, who was being held captive by Ravana, the demon king of Lanka.
We would have loved to follow his steps and do the crossing by boat, but there are unfortunately no ferry services between India and Sri Lanka, so we had to make do with flying.
After landing in Colombo, we spent a few days on the western coast in Negombo and Galle before turning inland to the hill country, its green slopes, tea plantations and scenic train rides. We continued to Kandy and the ancient cities of Sigiriya, Polonnaruwa and Anuradhapura before heading north to the Jaffna peninsula and returning to Negombo for our flight to Mumbai.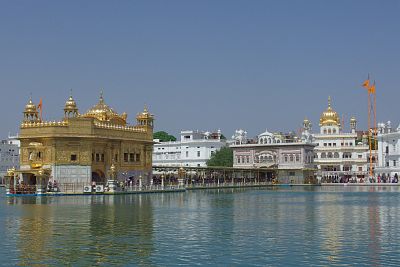 The Golden Temple in Amritsar: the holiest temple and the most important pilgrimage site of Sikhism.
From Mumbai we boarded a night train to Bhavnagar (Gujarat) and started our journey through the Saurashtra peninsula: we visited the Jain temples of Palitana, the island of Diu, the amazing shipyards of Veraval, Junagadh and more Jain temples on Girnar Hill. After Ahmedabad and the famous Sun temple of Modhera we continued to Rajasthan which we knew already from previous trips. We returned to Udaipur which we enjoyed as much as before but Jodhpur, Jaisalmer and Bikaner were a bit of a letdown. We were determined to see Amritsar even at the price of a long bus journey from Bikaner stopping en route in Ganganagar and Faridkot: a few tiring days but well worth it.
You can retrace our route on this map showing our itinerary.
See the Blog section for some stories and trip details
We have many pictures to share in the Photos section.
---
$updated from: Blog.htxt Fri 15 May 2020 14:57:26 trvl2 (By Vero and Thomas Lauer)$