Introduction
(thomas;2010-Feb-05)
We spent three full months in Nepal in 2010 and, as usual, most of that up in the mountains: the first, longer part (March, April), on the high ridges and glacier valleys above Namche Bazaar; after that, beginning of May, a couple of weeks in and around the Annapurna sanctuary (where, by then, it was quite a bit warmer but also wetter).
We have some reports (see Blog) and pictures (see Photos) with impressive panoramas.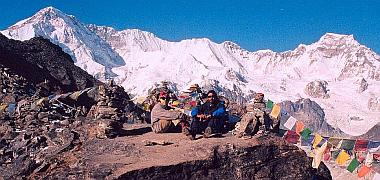 To give you a rough idea what we have done this time round in the Everest region we have prepared a very quick-and-dirty Google map with the approach routes.
We also have some Background information: see for instance our links to more detailed contour maps. Although these were made for our 2008 Everest trip, they should give you a pretty good idea as to what we did and where we have been this time.
For those brave souls whose appetite we've whetted and who would like to go on a Nepalese trek on their own, there is some practical information about the country and about trekking.
And there is of course the internet: if you search for any of the village or valley names we mention(ed) you will find a wealth of information and also some tempting visuals. A good starting point for armchair-trekking the Everest region would be https://explore.glacierworks.org/en/ . There's another site with a giant Everest panorama that allows to move around and zoom in almost at will. And there are many, many others: google for "Khumbu" and "trekking" and you will be showered with answers. Last but not least we have a small assortment of worthwhile Nepal Links.
Finally, we have a full site map of all Nepal 2010 pages; the other sections have local maps (see Blog Map, Photos Map and Background Map) and index pages (see Blog Index, Photos Index and Background Index).
---
$updated from: Blog.htxt Fri 15 May 2020 14:57:27 trvl2 (By Vero and Thomas Lauer)$