Introduction
(vero;2015-May-03)
Down to the tip of India and up again…
We started our trip in Mumbai, our second visit to this vibrant city, and made our way to Chennai in two months. The first half of the trip was very exciting. We found the Christian heritage of Goa quite impressive and really enjoyed the parts of Karnataka we visited: Hampi, Hassan and the temples of Belur and Halebid, and last but not least Mysore.
From there, we moved on to the Western Ghats for great hikes and rewarding landscapes among tea and cardamom plantations. But after this roaring start, arriving in Kerala felt very much like an anticlimax: uninspiring sites, not very friendly people and really not enough to see on the ground to our taste. Somehow Kerala did not work its magic on us.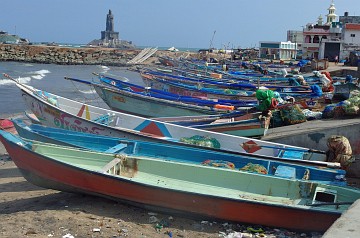 Kanyakumari, the southernmost point in India
So we were glad to move on to Tamil Nadu and tour the many grand temples dotting this state, taking in a few forts on the way before finishing our trip in Chennai, India's 4th megalopolis.
---
$updated from: Blog.htxt Fri 15 May 2020 14:57:27 trvl2 (By Vero and Thomas Lauer)$