Vero and Thomas' Travels
Hello and welcome!
This website is our on-going attempt at preserving and sharing our trips, all the wonderful impressions, the memorable moments and the odd opinionated observation, with friends, relatives or indeed anyone who is interested.
Latest additions to the site are reports from our last trip, code-named Robust 2019 for ROmania, BUlgaria and BudapeST, all new destinations for us which we explored by public transport in the autumn of 2019. Furthermore, we have used our grounding during the COVID-19 pandemic to retrace our 2015 trip to Turkey, have a look at our Turkey 2015 pages for a few stories and many photos.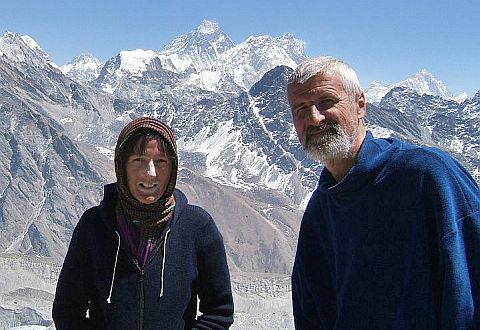 V+T in front of Everest, March 2010
For each trip (starting 2010), we have blogs, emails written on the road and sections with photographs and further background information about the countries and regions we're currently visiting or have seen.
Blog entries, emails and pictures re our earlier trips, between 2003 and 2009 can be found on Thomas' website.
The map below gives you a rough idea of our long distance travels, and yes, there is a pattern: we do like Asia! You can view the map below and individual maps of most our long distance trips in detail on the Travellers Point Website.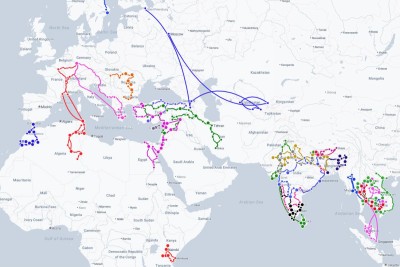 Thomas and Vero's travels, not including"home trips" in neighbouring Europe. And yes, we do like Asia (© MapTiler © OpenStreetMap contributors).
A few general questions you might have are perchance answered on the FAQs page. There is also a page with links to some interesting sites which we ourselves visit every now and then. Last but not least, if you want to get in touch, see the Contact page. We read all mails we receive (though not necessarily in a very speedily manner) and we appreciate any kind of feedback; however, we're especially keen to hear from you if you spot an error or an omission or if you have a suggestion.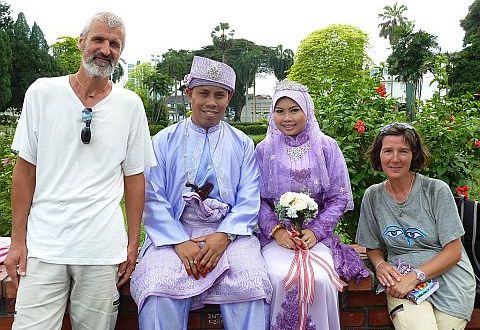 V+T wishing a Malay bride and groom all the best, Ipoh December 2011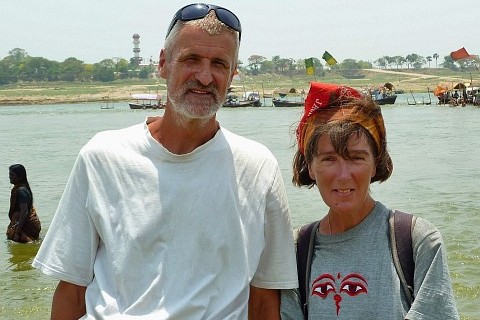 V+T after taking a perfunctory bath in the Ganges at its confluence with the Yamuna, Allahabad May 2013
A few notable things: every page has Path and Tags information at the very top. The Path link brings up a map of the section you're currently browsing; it is followed by the trail of pages that led to the current page. The Tags link opens a page with all defined tags, whereas the tag links themselves show an index page for that tag. Below these links is the main menu: its top level should work with all browsers but the submenus do require Javascript to be enabled in your browser.
Our multimedia stuff (ie slideshows, photo galleries, videos and podcasts) as well as the dropdown menus use HTML5 and Javascript. If you don't see what you think you should see please check whether you have a modern browser and make sure Javascript is enabled in your browser. If you have security concerns re Javascript, our use of Javascript is safe… but of course that's also what the baddies will tell you:-).
NOTE FOR USERS OF MICROSOFT'S INTERNET EXPLORER: If you use an ancient version of this (version 8 or even older) and the menus look weird or out of place, try to switch off the so-called "Compatibility" or "Quirks" mode. As the name implies, this mode cajoles Microsoft browsers into behaving like their stone-age IE6 forefather. Sigh…
Additionally, these old Internet Explorer versions do not support HTML5 video capabilities, so you won't be able to watch any of the videos on this site. If you use such an old browser, perhaps now is the time to get a decent web browser like Mozilla Firefox or Google Chrome.)
Have fun!
---
$updated from: Welcome.htxt Fri 15 May 2020 14:57:28 trvl2 (By Vero and Thomas Lauer)$