An Introduction to Nepal
(thomas;2010-Jul-01)
Nepal is one of our favourite countries. Our first visit was in 1994 and since then, we have kept coming back every three years or so. No wonder that we have a lot to share about this country.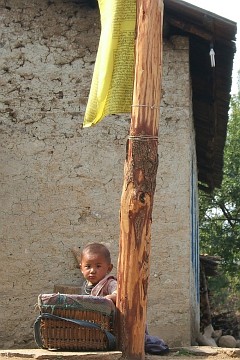 Child in a village along the trekWe have some background information and essays about our many trips to Nepal:
Check also our Nepal trips section for blog entries and lots of photos:
In 2010, we made a 50 days trek in the Everest and Arun Valleys, an unforgettable experience.
Our Nindia 2013 trip combined India and Nepal. We returned to the Everest region and visited Janakpur, Tansen and Lumbini on our way to / from India. Check our mails sent from the road and a photo reportage on Nepal's lost railway.
Our latest trip, Nepal 2016, saw us trekking the Manaslu and Annapurna Circuits, returning to Janakpur and Tansen and visiting Daman.
As ever, there are also the Index and the Map pages for this section.
---
$updated from: Background.htxt Fri 15 May 2020 14:57:27 trvl2 (By Vero and Thomas Lauer)$