Bucovina by Local Bus
(vero;2020-March-21)
Make sure to check our photo gallery for pictures of Bucovina's painted churches.
Our next stop after Vadu Izei was Gura Humorului in Bucovina. We had spent our last day in Maramureş visiting Sighetu Marmaţiei and had gone to the bus station to inquire about buses to Gura without any real success: we were told that there was a bus, but nobody could tell us when… We eventually spotted a small poster from a transport company stating a departure at 10am but were not sure whether this was a current schedule. We voiced our concerns to Florin, our friendly host at Casa Muntean pension who told us not to worry: he assured us that there was a bus driving through Vadu Izei at around 8am and that he would call the driver upfront and ask him to stop for us.
Prislop Pass, Humor and Voronet Monasteries

The view from Prislop Pass (1416 m)
We were ready to go by 7.30am the next morning and indeed, Florin phoned the bus driver before we left, drove us to the main road where he waited with us and flagged down the bus as it approached. We stepped in quickly and were quite taken aback: this was a minibus coming from Baia Mare, bound to Suceava, and it was full to the brim, not a free seat in sight. We must have looked a bit bewildered struggling with our bags as we stumbled into the bus. But some friendly passengers gestured that we should not worry, one man gave up his seat for Vero signalling he was descending at Sighetu. He was not the only one: when the minibus reached the station, there were only three other passengers left in the bus with us. We grabbed the front seats and had a very enjoyable journey (60 Lei per person). The first leg until Borşa was nothing to write home about, the villages and towns along the way quite dull, but then it got much better when we started the ascent to the Prislop Pass and great views unfolded as we gained altitude. The driver stopped for a break at a restaurant just after the pass but we decided to skip lunch: we hurried back the one kilometer up to the pass (1416 m) to enjoy the views and take a few pictures. It was really cold and windy but well worth it. The drive got very scenic after the pass, passing through picturesque villages featuring well-kept houses adorned with geometric patterns, flowered verandas and colourful gardens. There were many stork nests on church spires and electric poles.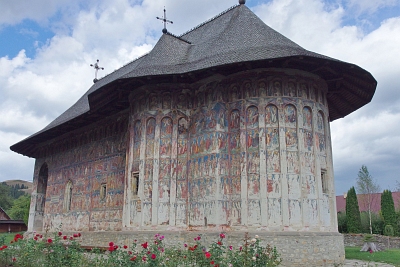 The church in Humor's monastery, our first exposure to the painted churches of Bucovina. We arrived in Gura mid afternoon and spent the rest of the day exploring the place, checking the bus station and other facilities. The town is not a beauty and suffers under the flow of rumbling lorries driving through the centre heavily loaded with wood. However it makes a perfect base for visiting the painted monasteries of Humor and Voronet and we have good memories of our stay there. We visited both monasteries leisurely the following day, walking most of the way and still had much time on our way back to explore Gura's October Fest which was just opening with a display of old cars, motorbikes, horses, people in traditional attire and much folk music.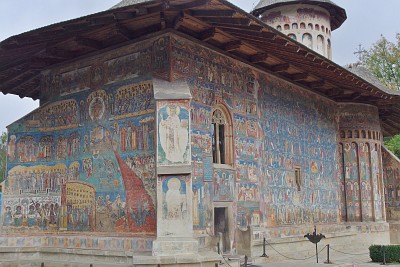 The church in Voronet's monastery and its breathtaking exterior murals. On the right, The Tree of Jesse depicting the ancestry of Jesus. On the left, the Last Judgement.We visited Humor first, which we think with hindsight was a good move as we found Voronet much more impressive.
We took a maxi-taxi to get to Humor (2.5 Lei per person): they depart regularly north of the Best Western Hotel roundabout at the start of the road to the monastery. The weather was nice and since there was hardly any traffic we decided to walk back on the road to Gura and from there continued to Voronet Monastery: a 12 km walk in total, quite pleasant as the second part from Gura to Voronet was off the main road, going through a park and side roads of Voronet village.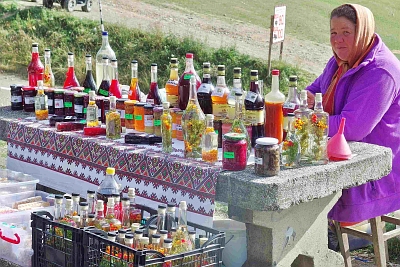 Woman selling self-made liquors and glasses of preserve and jam at Ciumârna Pass. Suceviţa and Moldoviţa Monasteries, Ciumârna Pass
Our next destination from Gura was Suceviţa. Getting there was quite easy: we took a minibus from Gura to Marginea (13 Lei per person) from where we hailed a minibus to Suceviţa (4 Lei per person). We had booked a room at Pension Letitia, at the western end of Suceviţa and as it happened the end stop of our bus: it could not have been better! Actually, it is perfectly possible to visit Suceviţa Monastery as a day trip from Gura: using the same connection, you just have to make sure to be in Marginea before 3pm to catch a minibus back to Gura, but we strongly advise checking at Gura's bus station for bus schedules before setting off as there are not many connections per day. There is nothing much to do in Suceviţa and as we arrived early we had plenty of time to visit the monastery. The exterior was unfortunately partly hidden behind scaffolding as the roof was being repaired but we could nevertheless admire the famous mural of the Ladder of Virtues. We spent a lot of time inside the church, admiring the paintings and observing the numerous visitors. Most of the Romanian visitors were combining religious and tourist purposes, some of them praying fervently in front of the icons and leaving prayer wishes with the nuns before leaving the church. We also saw many school children and a few tour groups (among others a group of Syrian Christians).
Our plan for the next day was to visit Moldoviţa Monastery and since it was a Saturday, we knew that we would have to hitch-hike to get there. We waited on the road opposite our pension and grew a bit impatient as not a single car of the few passing by would stop. After a while, our hostess who was keeping an eye on us from her front window eventually came out with a thermos flask and some coffee to comfort us. She was just unscrewing the top when as on cue a car stopped in front of us! She was as pleased as we were and quickly took over the introductions entrusting us to our driver after having explained where we wanted to go. They were three people in the car: mother, father and their adult son on their way to Campulung. Ignoring our protests they insisted on driving us to the very door of the monastery instead of simply dropping us at the turnout as we had gestured them to do.
The view from Ciumârna Pass (1109 m). The thin line at the left of the picture is a zipline.
The road from Suceviţa crosses the Ciumârna pass at 1109 m altitude before dropping down to Ciumârna village and Moldoviţa monastery. The first part to the pass goes through forest with no views, but once over the pass the mountains open with very nice views down the valley. We did not dare asking our driver to stop to enjoy the scenery, so we decided instead that we would, on our way back, walk up to the pass and from there try to hitch a ride down to Suceviţa.
Once finished with the visit of the monastery we started walking back in the direction of Ciumârna village. The road followed first the bottom of the valley and made for dull walking so we put our thumbs up with the aim of shortening the distance, hoping to find a car to bring us to the start of the ascent to the pass. However we had not much luck, there were quite a few cars, but none stopping for us until we saw a van emerging from a forest drive, his driver checking the oncoming traffic before engaging on the road in the direction of Ciumârna. We rushed in its direction gesturing frantically for it to wait. It did the trick: after a short discussion the driver invited us to climb in. That was great because it saved us 4 to 5 km, about an hour, of boring walking. There were many men inside, forestry workers driving back home for the week-end. Some of them spoke some German as they had worked in that country for a while and they were keen to know where Thomas came from in Germany, telling us of the places they had visited. They dropped us at the end of Ciumârna village just as we had asked them to do and we started the walk up the road, taking in the views as we gained height.
We spent an hour or so at the pass and there was plenty to observe: people stopping en route to enjoy the scenery and stock up on souvenirs, fresh fruits or preserves sold by enterprising locals; a groom and his bride having their picture taken for memories of the best day of their life; people hiring quads for a drive along the ridge; Romania's longest zipline… The weather was good and we still felt fit, so after a well-deserved picnic we decided to walk all the way back down to our pension in Suceviţa: a total of 26 km for the day.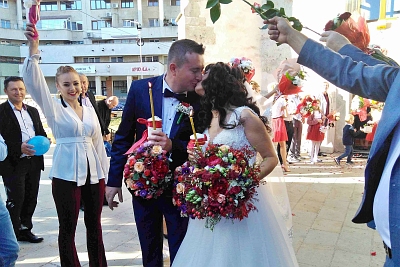 A happy couple leaving the church of Dumitru in Suceava. Suceava
Getting to Suceava the next day was easy. We took a minibus from Suceviţa to Rădăuţi (7.5 Lei per person) and from there another minibus to Suceava (10 Lei per person). We were there on a Sunday and enjoyed strolling through town with many locals out and about enjoying the nice weather. We had a look at the citadel and visited the monastery church of St John the New. Although its exterior murals are much faded its interior is beautifully decorated. Other churches mentioned in our guidebook were closed but we had the good luck to be at the church of St Dumitru right when a wedding was taking place. We were able to go inside, have a look and spent a good time there cheering the young couple and watching the ceremony.
Don't forget to check our photo gallery for pictures of Bucovina's painted churches.
Want to read more? Go back to Maramureş on Foot or go on to Bucovina by Local Bus or go up to Blog
---
$updated from: Blog.htxt Mon 03 May 2021 16:08:28 trvl2 (By Vero and Thomas Lauer)$