Trip Report and Budget
(vero;2019-Nov-13)
Itinerary and overall budget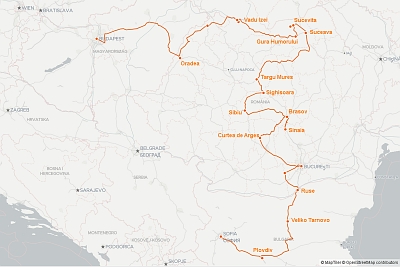 Our itinerary (© MapTiler © OpenStreetMap contributors).Our code name for this trip, Robust19 stands for ROmania, BUlgaria and BudapeST in Hungary: three new countries which we explored using public transport exclusively. We started the journey in Budapest where we spent four days and were delighted by the city. We had booked a flat in the district of Ferencváros not far from the Central Market, a good location as we could explore the city on foot and enjoy Budapest by night every evening as we strolled along the Danube.
Then we left for Romania taking a bus to Oradea (a few kilometers behind the Hungarian-Romanian border), a smooth introduction to this new country. From there we headed North to the region of Maramureş, famous for its wooden churches and rural life. We based ourselves in Vadu Izei and explored the surroundings combining hitch-hiking and walking on country roads with hardly any traffic (we walked quite long distances, up to 30 km on one day!). We continued to Bucovina and toured the painted monasteries again combining hitch-hiking and walking. Northern Romania was definitely a highlight of this trip. Next was Transylvania with its Saxon towns and villages and Sinaia in the Bucegi mountains for great (and strenuous!) hiking. Finally we made a detour to visit the small town of Curtea de Argeş in Wallachia before heading to our last Romanian destination: Bucharest.
Our first stop in Bulgaria was Ruse, just across the border from Romania on the shores of the Danube. From there we moved to Veliko Tarnovo, a medieval city set in the picturesque bends of the river Yatra with an impressive fortress. Next was Plovdiv, European capital of culture for 2019, with Roman ruins, a charming old town and interesting museums. We ended our trip in Sofia, a delightful town with a compact and lively city centre, a great setting at the foot of the Vitosha mountains, a town which we will surely visit again as we fell in love with it.
Budapest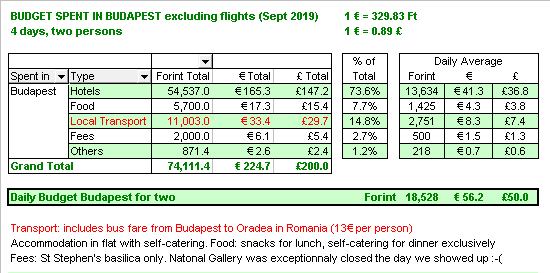 There is not much to say about our budget in Budapest.
The main block was of course accommodation where we paid 13,634 Ft (41€/37£) per night for a flat in walking distance of all sights we wanted to see (don't forget that we are hardy walkers!).
This means that except for the bus from the airport (900 Ft per person) we did not incur any expenses for transportation in Budapest itself (the amount shown is distorted as it includes Flixbus tickets to Oradea in Romania.).
Being in a flat had the great advantage that we could cook every evening, something we prefer to going to a restaurant and is of course much cheaper.
As far as fees are concerned, we wanted to concentrate on the cityscape and only paid entry to St Stephen's dome. We had planned to see the collections of medieval art of the Hungarian National Gallery, but although we were there on a scheduled opening day (Tuesday) it was exceptionally closed, which we found quite disappointing.
Romania
We fared much better than we thought we would in Romania, mostly due to the price of accommodation (59% of our total budget). We reserved our rooms via Booking.com but as we wanted to stay flexible did only so one or two days in advance. This allowed us to stay longer in one place if we felt so inclined or to change the itinerary on a whim. Such short notice sometimes impacted the prices favourably particularly if we booked for the next day, on the other hand some flats or rooms we had pre-selected became unavailable if we waited too long… You cannot always win!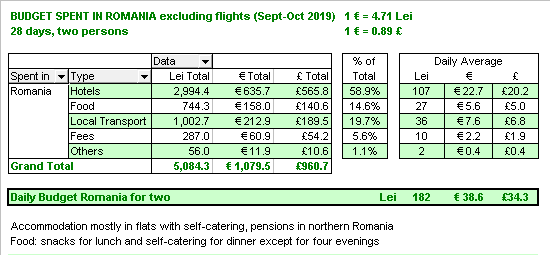 Accommodation: our guidebook fantasised about midrange rooms at the price of 120 Lei per person, we paid an average of 110 Lei for the two of us in good accommodation, mostly in flats with self-catering. We quickly abandoned the idea of staying in hostels: sleeping in a dorm is cheap if travelling alone, but cannot compete with what you get in terms of comfort and privacy for a few more Leis in flats or pensions. We have become great fans of renting flats, we even did so for a single night in Ruse. They were much more comfortable than a room and allowed us to cook at our own convenience. Some had a washing machine, all had wifi and getting the keys was normally an easy and smooth procedure, they were a big plus to our travelling experience. Price-wise, they compared to cheap hotel rooms or pensions. Our most expensive lodging was in Bucharest where we paid 130 Lei per night for a flat in walking distance of the centre (10-15 minutes of the University metro station), and the cheapest was in Vadu Izei where we paid 84 Lei for a room with shared bathroom in a pension.
Food: we only went to restaurants on four evenings, the rest was self-catering, so no surprise that this expense block comes quite cheap. Our eating habits when we travel are quite frugal: we have biscuits for breakfast, snacks for lunch and do not drink any alcohol. During this trip we drank tap water throughout.
Transport: we covered quite a lot of ground (around 2500 km in total) and it is no wonder that this expense block is the second highest of our budget (20%). We travelled mostly by bus and recommend the Autogari website. Although not exhaustive we found it really helpful for connections and prices. We were worried when the site only indicated one connection per day for our destination, or by the fact that many connections are made with minibuses. In fact, except for the leg Curtea de Argeş - Bucharest where all passengers except us had pre-booked (we just got the last seats), we never had a problem getting a ride. Travelling outside of the main season might have helped though. We did a fair amount of hitch-hiking in rural Romania where bus connections are rare or non-existent at week-ends; we never had to wait long and although we always offered money, it was only accepted once.
Fees: museums and monuments are cheap in Romania and we never hesitated to pay an entrance fee. Highlights were the churches of Maramureş and Bucovina, the Elie Wiesel memorial museum in Sighetu Marmaţiei and Bucharest's national gallery.
Bulgaria
Bulgaria is more touristy than Romania and this shows in our daily budget. However we still did quite well.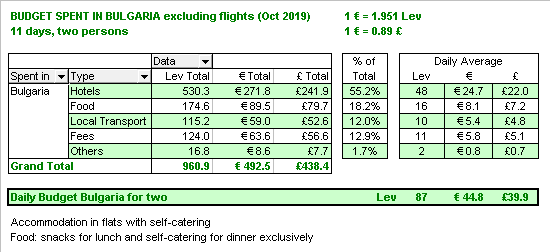 Accommodation: we followed the same pattern as in Romania, staying in self-catering flats which were all of good standard and in walking distance of the city centres. We paid 52 Lev per night in Veliko Tarnovo and Sofia, 43 Lev in Ruse and 41 Lev in Plovdiv.
Food: we ate at the flat every evening but since we were doing so well on the budget, we treated ourselves to some wine or beer before dinner, which explains why the daily average for food is higher than in Romania. As a matter of fact, we confirm that Bulgarians are rightly proud of their wine!
Transport: we were not long in the country and visited only four cities, which means no big transport expenses. We travelled by bus and as in Romania always got a ride without pre-booking even if there was only one daily connection to our destination.
Fees: a bit more expensive than in Romania but still good value. We visited Veliko Tarnovo's fortress and in Plovdiv checked the worthwhile archaeological museum. We really recommend the magnificent icon gallery in Plovdiv but were disappointed by the early Christian basilica where we expected better mosaics: we should have visited the Thrakart cultural center instead. In Sofia, we visited the archeological museum, the museum of Socialist art, the church of Sveta Sofia and the synagogue (which was quite disappointing as the museum is now closed and we could only access the prayer hall).
Want to read more? Go back to Introduction or go on to Maramureş on Foot or go up to Blog
---
$updated from: Blog.htxt Mon 03 May 2021 16:08:28 trvl2 (By Vero and Thomas Lauer)$