Ang Dorjee
(thomas;2010-Jun-13)
Ang Dorjee: Mountain Guide and Everest Summiteer
Ang Dorjee, a strapping, earnest-looking man of 37 years, was the second Everest summiteer we met during this trip, Lhakpa Tenzing being the first. However, Ang is the much younger man and consequently in a quite different mould: where Lhakpa is an old-school climbing Sherpa, Ang Dorjee represents a new breed of mountain guide. He has worked for many years and still works freelance for Adventure Consultants, a New-Zealand-based company which specialises in getting people up high mountains. Adventure Consultants is a company founded by Rob Hall and Gary Ball. Hall was killed in May 1996 on Mt Everest during an AC expedition (for details see Jon Krakauer's book Into Thin Air): Ang Dorjee was actually the climbing sirdar (leader) of this ill-fated expedition.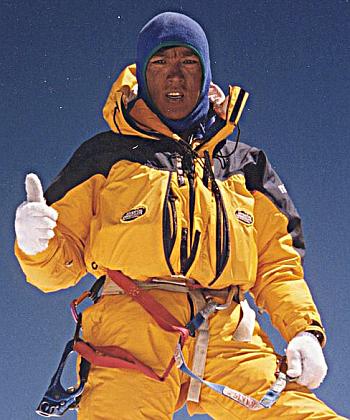 When we met him in March 2010 in Phortse, in his sister Nawang Karma's lodge, Ang had already summited Everest 13 times and Cho Oyu seven times; by the time Thomas is writing this in June 2010, he has 14 Everest ascents under his belt, having summited again on 22 May. (Though Apa Sherpa, whom we had met more than ten years ago in his lodge in Thame village, this year upped the ante to a record 20 ascents.) Ang Dorjee was born and raised in Pangboche, the next village up from Phortse (about two hours of strenuous walking along a precipitous high-altitude trail). Pangboche has one the oldest gompas (monasteries) in the region and was, before the recent tourist boom, the highest permanently occupied village in the Khumbu, at an altitude of 4000m.
Ang Dorjee has worked in the expedition business almost all his adult life and is guiding clients not only up assorted Nepalese 8000ers: he has also been to South America (Aconcagua, among other mountains), Norway (Galdhoepiggen, the highest peak in Scandinavia) and Africa (Kilimanjaro). When we asked him whether he'd done any climbing in the Alps, eg in Switzerland, he answered that this is the one great mountain region he hasn't yet seen but that he would love to visit Switzerland one day (as a rule, the Nepalese love Switzerland).
Ang Dorjee is married to Michelle Gregory, an American research scientist, whom he met during an assignment in Nepal. After falling in love and marrying they moved to the States and they now live with their two young kids, a son and a daughter, in Richland (in Washington state), where Ang, every now and then, climbs Mt Rainier just for fun. However, Ang goes back to Nepal and the Khumbu quite regularly, not only because of his job: he and Michelle want to make sure that the kids see their Nepalese grandparents and the many aunts and uncles.
When we met him in his sister's lodge, Nawang was busy filling his glass with alternating doses of weak black tea and strong whisky (taking advantage of the fact that the colours of the tea and the whisky were very similar). Ang was always protesting that he wouldn't drink any more but somehow his sister seemed to have the upper hand. However, Ang is clearly a man who takes things seriously: he thinks before speaking out and he is not given to exuberance. We also detected some undercurrent of tension in him: living in two utterly different cultures simultaneously is not always easy; nor is trying to combine such a dangerous and demanding job with having a wife and kids half-way round the world: these days, every ascent up Everest is his last — but only until the next season approaches. Luckily, Ang Dorjee is a careful and competent climber. Hopefully, we will see him again, one of these days: when we got up early next morning in his sister's lodge, he was already gone, on his way down to Lukla to catch a flight to Kathmandu, in preparation for this year's Adventure Consultants Everest expedition.
---
$updated from: Interesting People.htxt Mon 03 May 2021 16:08:33 trvl2 (By Vero and Thomas Lauer)$