An Introduction to India
(thomas;2010-Jul-01)
India is a fascinating country. We came back from our first trip in 2004 with mixed feelings and decided to give it another try in 2009. That's when we got really hooked. We returned in 2013, 2015 and 2018 and memories of India are never far away from our minds.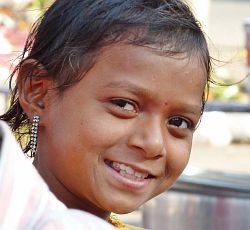 Young girl in Nashik
We have some background information and essays about our trips to India:
Check also our India trips section for blog entries and lots of photos:
Nindia 2013 - We started and finished this trip in Mumbai, travelling via Karnataka, Hampi and Hyderabad to the shores of Orissa before heading North to Nepal where we stayed 2 months, with a long trek in the Everest region. From Kathmandu, we toured Uttar Pradesh and Madhya Pradesh before catching our plane back home.
South India 2015 - A two month trip from Mumbai to Chennai via the southern tip of India: we visited Goa, some sites of Karnataka we had not seen before, toured the Western Ghats, got bored in Kerala before getting our fill of temples in Tamil Nadu.
Hanuman 2018 - After three weeks in Sri Lanka, we took a plane to Mumbai and headed north to Delhi in five weeks. We toured the Saurashtra peninsula in Gujarat and returned to Rajasthan after ten years absence. As we were determined to see Amritsar we undertook the long bus journey from Bikaner to the Punjab stopping en route in Ganganagar and Faridkot. A bit tiring but well worth it.
As ever, there are also the Index and the Map pages for this section.
---
$updated from: Background.htxt Mon 03 May 2021 16:08:34 trvl2 (By Vero and Thomas Lauer)$