Lhakpa Tenzing
(thomas;2010-Jun-10)
Lhakpa Tenzing: Lodge Owner and Everest Summiteer
Lhakpa is a Sherpa from Namche Bazaar, in the Khumbu. He was born in 1940 but he doesn't know the exact date, only that it was on a Wednesday. (Lhakpa means Wednesday: Sherpas, both male and female, are often named according to the day they were born; see https://www.newworldencyclopedia.org/entry/Sherpa#Culture .)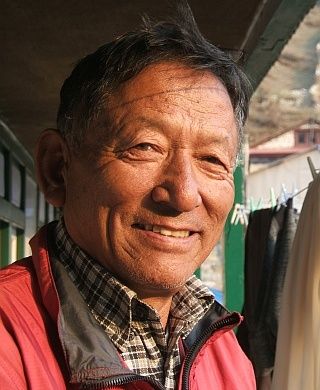 Lhakpa is a strong and, for a Sherpa, relatively tall man. In his youth he worked as a simple porter for many expeditions and slowly built a reputation for being tough and "up to the job". He went up the ranks and finally turned himself into a bona fide high-altitude climber. On 20 October 1970, he summited Dhaulagiri (8167m) with a Japanese expedition (this was only the second successful ascent) and just three years later, he actually stood on top of Everest, with an Italian expedition. In 1987, he summited Cho Oyu (8201m), again with a Japanese expedition. He is very much a mountaineer in the Tenzing Norgay tradition: climbing hard routes on difficult mountains with a professional expedition team.
Like many Sherpas, he and his family have a second source of income: over the years, Lhakpa has converted and enlarged his house in Namche Bazaar, so that now it is a small and cosy 15-room lodge. And throughout his life Lhakpa has kept the Japanese connection: most of the guests in his lodge are still Japanese and the name of the lodge, Sakura, is the Japanese word for cherry blossom. He doesn't climb 8000ers anymore these days, but sometimes he leads his Japanese groups around the Khumbu or even into Tibet.
We met Lhakpa not in his lodge (Namche has scores of lodges and we already know where to go) but on a bridge over the Dudh Kosi, a half day's march below Namche near a place called Jorsale. We had already settled in a basic lodge for the evening and were exploring the surroundings (lodge evenings can be long) when he ambled over the bridge and waited for his wife and niece to catch up. We started talking (he speaks English fluently) and later discovered that we were actually staying in the same lodge. During the evening he told us many interesting stories about his mountaineering years, his lodge business and the changes he (and the Khumbu) has seen during the last 50 to 60 years.
He also invited us to his place, for a tea and "the best homemade tsampa in all of Namche Bazaar". Of course, we paid him a visit (two actually, as the tsampa was indeed very good) and he showed us all the memorabilia of an old-school Everest summiteer, including many sepia'd photographs and heavy, dusty tomes about all the expeditions he had been involved with. He is a serene man with excellent manners and an air of unflappability. And he is a steady source of stories and anecdotes: taking your leave, even after a couple of hours and many cups of tea later, is not easy.
Lhakpa's son works for the family travel business in Kathmandu, basically arranging the stays of Japanese tourists in his father's lodge, designing tours for them around the Khumbu and organising the supplies for the lodge (not as easy as you might think). Lhakpa's daughter lives in France (in Alsace), working there for a local newspaper. Lhakpa himself these days travels a lot more abroad than he used to: he and his wife regularly visit India and Buddhist ashrams, but also touristy places like Agra and the Taj Mahal (in fact, when we met him on that bridge over the Dudh Kosi, he and his family were just returning from a trip to Dharamsala where they had seen the Dalai Lama). Every second or third year Lhakpa goes to France, to visit his daughter. The whole family tries to meet once per year in Namche, but this is not always straightforward to arrange (actually, many Sherpa families share this problem: the family members may be living all over the world and Namche is not exactly an easy-to-reach place).
We very much look forward to seeing Lhakpa again once we're back in Namche!
(And last but not least, here is a web page about him, sporting a picture of the young Lhakpa Tenzing: https://www.everesthistory.com/sherpas/lhakpatenzing.htm (this article wrongly states that Lhakpa's Dhaulagiri ascent in October 1970 was the third successful attempt: actually it was the second).)
---
$updated from: Interesting People.htxt Mon 03 May 2021 16:08:33 trvl2 (By Vero and Thomas Lauer)$