Mukhiya Gurung
(thomas;2010-Jun-09)
Mukhiya Gurung: Hotel Manager (and a good friend of ours)
Mukhiya is 39 years old (spring 2010), married with two sons. His family, of Gurung roots, originally comes from the village of Manang, high up in the Annapurna rain shadow. The Gurung, like the Sherpas, are of Tibetan origin but they migrated to Nepal centuries earlier than the Sherpas. Both groups are Buddhist, so you will find colourful prayer flags, whitewashed stupas and monasteries wherever they live.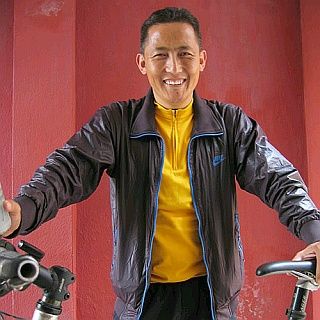 Many years ago, Mukhiya's father went to Kathmandu with his wife and kids, where he bought some land in Chhetrapati, just southwest of Thamel (today the main tourist hotspot in Kathmandu), and built a small house. Mukhiya, the oldest son, later opened his first small hotel in Paknajol, to the north of Thamel, but he realised early on that the family could build a larger and much nicer hotel on a part of the plot of land his father owned in Chhetrapati. And conveniently, the location near Thamel was just perfect for a hotel.
So, after a few years of planning and many a sleepless night, Mukhiya took the plunge and actually built his own hotel (it's owned by the family but he was and is the driving force and the manager). The Ganesh Himal is a modern place, with 30 rooms and though Mukhiya sells it as a budget hotel, the GH these days is a lot more than that. Mukhiya, though he's Nepalese, can be very German in his ruthless search for perfection and this shows in the way he runs his hotel: the big things are of course all okay — but perhaps more tellingly, even the small bits do work.
After opening the hotel in 2001 Mukhiya and his family, like all of Nepal, went through a hard time. During the dark years of 2003 and 2004, he came very near to losing his place. He and his crew worked hard, but if there are no guests at all, what can you do? His luck began to turn in 2006 when the GH was for the first time mentioned in the Lonely Planet guide for Nepal.
We were of course happy for Mukhiya, though for us it was not all good news. We have seen before how hotels we already had known for a while, after getting into the guidebooks, went from cheap and cheerful to expensive and unfriendly: not anymore the sort of place we'd normally go to. In fact, if this happens, it feels a bit like losing an old friend.
Worse, sometimes the owners actually fall into the trap of thinking they are now on the safe side and start to rest on their laurels. Prices explode, services go down — so after a couple of years in the sun they are once again out of the Lonely Planet and back in the rain. (It never ceases to amaze us what power these books wield. It seems the world is full of sheep.)
Fortunately, Mukhiya is not at all like that. He knows that life is fickle and that nothing this side of death is ever certain. So even after the Ganesh Himal received its first Author's Choice accolade in the Lonely Planet for Nepal 2007 edition (more cause for rejoicing), he didn't lose his down-to-earth approach and his common sense. He is as friendly as he ever was, he still cares and worries about every little detail.
The first time we stayed with Mukhiya was in 1998 and since then, we've always come back to him and his hotel. He and his wife Maya have long since become friends and we always look forward to seeing them again. Maya, who is also a Gurung from the Manang area, actually works in the hotel as well, manning the reception desk together with her sister. Indeed, that's another thing we very much like about the Ganesh Himal: in all the years we're now visiting it, the personnel has barely changed. The doorman, a wiry Gurkha, still salutes you with his hearty "Namaste" and even the team of cleaning ladies is all but unchanged.
These days, Mukhiya is slowly starting to realise that there is more to life than just hard work: he and Maya are now travelling a bit around southeast Asia and they are actually thinking of visiting some sites in their own country as tourists. Mukhiya keeps telling us that this is partly due to our influence: we travel so much and without apparent ill effects, so travel can't be all bad;-).
Mukhiya likes mountain biking and is often found on one of the peaks around Kathmandu (the city is at 1340m, but some surrounding summits reach over 2700 metres). Recently, he and his buddies did a longer tour to Daman and back. However, we have so far not been able to convince him to go on a "real" trek with us. However, next time we come to Kathmandu, we will insist. Mukhiya, you have been warned!
---
$updated from: Interesting People.htxt Mon 03 May 2021 16:08:33 trvl2 (By Vero and Thomas Lauer)$