A Moroccan Addiction: Bissara Soup
(vero;2018-July-31)
Our eating pattern while travelling is to have a light snack or a picnic during the day (biscuits or bread and fruit) and eat a bigger warm meal in the evenings, a time at which you can well imagine that we are pretty hungry. Since we have been too often left frustrated by overpriced restaurants with too small portions we are always on the look-out for street stalls or small joints which we know by experience to be cheap, often good and plentiful.
Morocco was no exception to that rule: we found the food there really good. We loved the Friday's couscous, the ubiquitous tajines and got quickly accustomed to start our dinner with a bowl of soup and some round bread. For sure, we did not lose weight during our seven weeks in the country (which is not alway the case when we visit India, for instance)!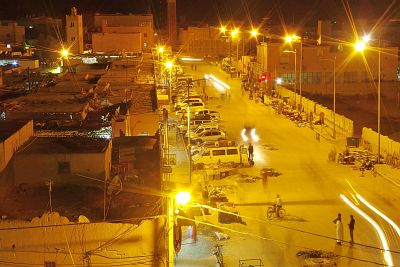 Rissani by night.It took us 20 days before we stumbled, purely by chance, over THE culinary discovery of this trip: Bissara soup. We were in Rissani and the choice of street food was quite slim and not very engaging until we discovered some carts parked along the market building with makeshift benches and tables offering tea and soup. We were used to Harira soup, a soup made with mutton, chickpeas, lentils and spices which until then used to be our starter, but had never come across what our cook called Bissara soup. We had a go and it was a revelation, we loved it.
Bissara soup is made with split fava beans, garlic, spices and olive oil. It is quite rich and tastes wonderful. The finishing touch is a dash of olive oil and if the cook is not stingy he will give you a good shot of it and it will taste even better.
Our first stop after Rissani was Tinerhir and of course we were keen on finding a place serving our new discovery. We toured all the restaurants around the public square on Avenue Hassan II but could not find anything. Among all the restaurants we asked was the Café Restaurant Centrale. As we were strolling once again past its doors, his friendly owner recognised us and came out to ask us whether we had been successful. As we said no he told us that he was not really surprised: Bissara is a winter soup, mostly eaten in the mornings when the temperature is still low. We were now in October and it was still warm which meant it would be difficult although not impossible to find Bissara at this season. And he kindly offered to lead us to some joints where there may be some Bissara. So off we went, following him through small lanes and opening doors to joints we would not have seen otherwise. Alas everything in vain: Bissara soup was nowhere to be found. So we separated after thanking him profusely and made do with a bowl of Harira soup at a café in front of the mosque which was nice as well.
We stayed three nights in Tinerhir and on our last evening as we were strolling along Avenue Hassan II, we heard somebody running after us. It was the owner of Café Centrale: he told us that he had found one shop offering Bissara soup. Unfortunately he was on his way to prayer and could not bring us there but he gave us precise directions and indeed, we found the joint he referred to and indeed, they served a delicious Bissara. We were really impressed by the kindness of the man; he must have enjoyed the challenge of finding Bissara himself.
Afterwards we looked for Bissara soup everywhere we went but October was obviously not the right season and we were only lucky in Ouarzazate and Taroudannt (where we had the best Bissara ever). As you can imagine we brought some split fava beans back home and have found a supplier in England so now Bissara soup is a regular dish on our table, much appreciated by our guests in winter.
If you want to cook your own Bissara soup, here is what you'll need (for 4 people): 500 g split fava beans, 3 to 4 cloves of garlic, 2 tsp cumin, 1 tsp paprika, 4 tsp olive oil, salt, additional olive oil, cumin and paprika for final seasoning.
Rinse the fava beans with water until the water runs clear
Put the beans in a stock pot and add enough water to cover them by approximately one centimetre
Bring to the boil and strain off froth with a slotted spoon if some appears on the surface
Lower heat, add the olive oil and the spices and simmer the beans until very tender (45 to 60 minutes), adding water as it disappears to keep the beans covered
When the beans are tender, put them into a blender (sometimes this is not even necessary as the beans slowly disintegrate on their own)
Add the crushed garlic and blend until the mix is smooth
Very important: add the salt only after blending (the soup will turn sticky otherwise)
Re-heat in the pot and ladle into bowls when you are happy with the consistency
Add a generous dash of olive oil to each bowl and sprinkle with cumin and paprika
Want to read more? Go back to Take it Easy in Taroudannt or go up to Blog
---
$updated from: Blog.htxt Mon 03 May 2021 16:08:28 trvl2 (By Vero and Thomas Lauer)$