Take it Easy in Taroudannt
(vero;2018-July-31)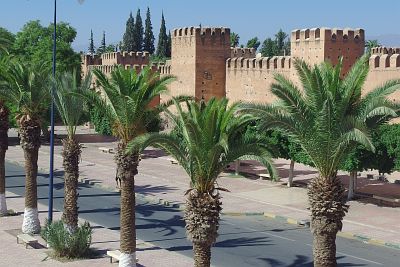 A stretch of the city ramparts.When we arrived in Taroudannt, the bus dropped us in what seemed to be a big parking lot, dusty, without any obvious structure and not very welcoming. The road where we came from was busy and uninviting, but when we turned round we were immediately facing a stretch of the famous ramparts and two of the city gates, Bab Zorgane to the right and Bab Benyara to the left and we thought, that's better! With their crenelated top, the walls seemed quite impressive and we headed to the town centre through Bab Benyara.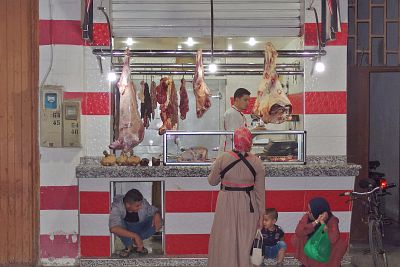 Shopping at a butcher's shop in the evening.Our hotel (el-Warda) was located on Place an-Nasr (also called Place Talmodate). The building has seen better days and felt a bit strange. It was run by women, there was a hammam in the basement and the main customers seemed to be long-term residents. But we got a good room featuring a tiny balcony overlooking the place: this was a great location and we spent a lot of time there, munching on olives, observing the flow of people going to the souk Berbère and spying on the many street sellers of the square. They were often disturbed by the police who tried to hush them away, but they kept coming back, always watchful for the next alert. A young man selling earphones made a brisk business, another one selling cards and stationery was not so successful and we could not but feel happy when he got a sale. We stopped at his cart on our way out to dinner and bought a notebook to serve as a diary for our next trip.
There are two souks in town: the souk Berbère south of Place An-Nasr, our favourite with its spices and dried fruits, clothes and household goods and the souk Arabe on the north side, more touristy as it is focused on crafts and jewelry. Compared to the ones we saw in other cities, the souks did not seem very big but they were lively enough and it was pleasant to wander around and check their wares.
But as far as sightseeing is concerned, that's about it: after the ramparts and the souks Taroudannt has not much else to offer. There is a mosque, of course closed for non-Muslims, a neglected kasbah with its narrow lanes and dead-ends, streets lined with shops, nothing really exciting but quite laid-back and pleasant. And we loved the place. It is relaxed, quiet, perfect for people watching with its two busy squares, many shops and friendly inhabitants. Not to mention a restaurant serving the best Bissara Soup we had during our whole stay in Morocco!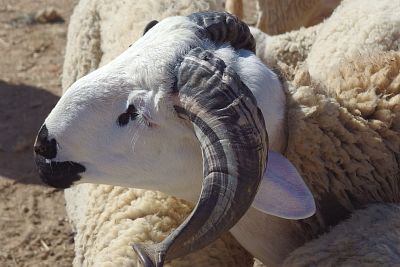 A star of the cattle market.We were lucky as our second day was a Sunday, the day of the big weekly morning souk held outside Bab al-Kehmis north of the kasbah. We followed the flow of people going in that direction and eventually arrived at a large bustling area. First came the cattle market full of sheep, goats, cows and calves. The animals were brought in with trucks and pick-ups, summarily grabbed by the legs or the tail with their head hanging (except for the cows of course) and were either gathered together behind flimsy fences or kept standing with their forelegs hobbled together to prevent them from running away. The sheep seemed quite unbothered by those proceedings but many goats lay panting and pitiful on the naked and dusty soil. We asked a farmer how much a sheep would cost and he told us anything between Dh3000 and Dh5000. The place was very busy and very dusty; potential buyers went through the alleys checking mainly three things: the jaws, the amount of fat and the udders. Once the negotiation was over, the purchased animals were then loaded onto the buyer's pick-ups in quite the same way as they got unloaded.
We spent a lot of time observing everything and then continued to the other sections of the souk where vegetables, fruits and all kind of household goods were being sold. Don't forget to check our photo gallery for pictures of the souk.
We slowly went back into town and spent the afternoon lingering on Place al-Alaouyine (also called Place Assarag). It is full of people, mostly men reading papers or resting in the shade of trees. Some had gathered in compact groups listening to the sales patter of enthusiastic street sellers or watching street artists. Others were surreptitiously engaged in what seemed to be confidential conversations. There were also families around but they tended to walk up and down the street; men sat at the terraces of cafés, but families and groups of girls patronised food or ice parlours, often sitting inside, not in full view of passers-by.
We discovered a small tannery outside Bab Targhount where we hung around for a while; it was closed (Sunday) but a friendly guy showed us around. We just about resisted buying a leather pouf, settling on a pair of leather slippers instead. Disappointment for our host, relief for us!
Want to read more? Go back to A Taste of Desert in Merzouga or go on to A Moroccan Addiction: Bissara Soup or go up to Blog
---
$updated from: Blog.htxt Mon 03 May 2021 16:08:28 trvl2 (By Vero and Thomas Lauer)$