Trip Report and Budget
(vero;2017-Nov-30)
Itinerary and overall budget
Because Vero had this romantic vision of crossing the Strait of Gibraltar and arriving in Tangier by sea, we actually started that trip in Gibraltar.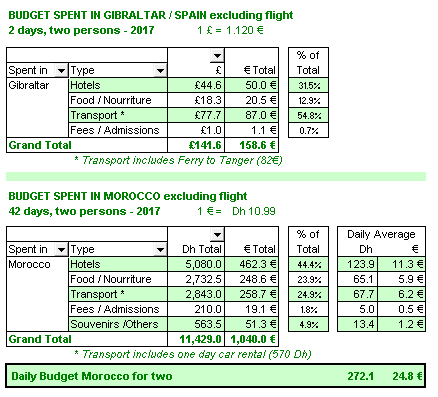 We stayed in nearby La Línea de la Concepción in Spain, which is a much cheaper place than Gibraltar and in walking distance to the rock (we stayed in the La Esteponera guest house for 25€ per night). It was a good decision and crossing the airfield or waiting for the planes to land or take-off just in front of you is not something you do everyday.
All in all, we enjoyed Gibraltar and seeing Africa so near was quite an experience. It was good fun to explore the Upper Rock Nature Reserve and hike all the way up the rock and around its southern tip on the Mediterranean Steps trail.
However, the sea crossing from Tarifa to Tangier was quite disappointing (and expensive at 41€ per person). The ferry was a closed catamaran and we had bad luck with the weather: foggy skies and no great views.
We spent 42 days in Morocco, starting in the north with Tangier and Chefchaouen then went on visiting the imperial cities from Rabat to Fez before moving south to Merzouga to see the sand dunes of Erg Chebbi. From there, we took the Route des Kasbahs before heading to Taliouine and Taroudannt, continuing to Essaouira and spending a few days trekking in Imlil. We eventually finished our trip in Marrakesh to fly back to the UK. We used public transport throughout, except one day when we rented a car to explore the Drâa Valley from Ouarzazate.
Hotels
Ville Nouvelle or Medina?
In big cities, except in Marrakesh and Tangier, we preferred to stay in the Ville Nouvelle: we found them more appealing with fewer tourists around, with locals enjoying the evening sipping their tea or watching a football game in crowded cafés (almost only men) and families having an evening stroll. Great for people watching.
Route des Kasbahs with public transport. Where to base oneself?
When preparing the trip and studying the guidebooks, we found the descriptions of the Todra, Tadès and Drâa valleys mostly directed at people with their own cars or committed to stay overnight in guest houses in the respective valleys. We had reservations about this: without our own transportation we feared that we would be limited in the things we wanted to see and being bound to a guest house for food did not appeal to us as we like shopping around for our meals and tend to prefer local joints. So it was quite unclear how things would work out on the ground… At the end, we decided to base ourselves in the towns along the N10: Tinerhir for Todra, Boumalne for Dadès and Ouarzazate for the rest. This worked very well for us: hotels and food are cheaper than in the valleys and we travelled with grand taxis or local buses to our destinations every day, sometimes hiking part of the route and had no problem at all seeing everything we wanted to see in the gorges and the palmeraies.
Review of our hotels
During the season in which we travelled (Sept 27th to Nov 8th 2017) we had no problems finding a room in our price bracket (below Dh200); we simply showed up and checked one or two hotels before finding a suitable one. Prices are fixed and advertised in hotel lobbies with very little room for bargaining which we did only in Boumalne and Marrakesh. Due to our budget constraints, we had many rooms with shared (clean) bathrooms, which was not a big issue as most rooms have a sink for basic washing. All hotels had WiFi (except one) and their prices excluded breakfast. We always chose non air-con rooms and were surprised that Moroccans obviously do not like fans as none of our rooms had one. Our most expensive room was in Chefchaouen at Dh180 (this with private bathroom), the cheapest at Dh100 in many places.
Nearly all hotels we stayed in are not in the guidebook (Lonely Planet in our case) and would rank in the category which the authors tend to describe as shabby. This annoys us mightily. Just because the rooms are bare and the paint dated, the bathroom shared and the toilets squat or neither soap nor toilet paper are supplied does not mean that they should be avoided and not recommended. All of them were clean, friendly and at a price well below the so-called budget hotels in the guidebook's listings.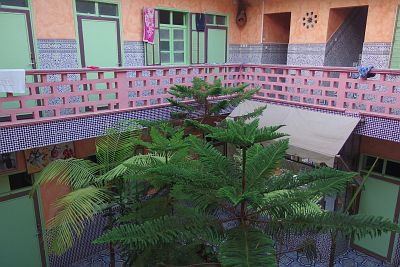 The inner courtyard of our hotel in Rabat, a peaceful place in the Medina.
Tangier: Hotel Fuentes, Dh100 with shared bathroom/WC and sink inside the room. Our first hotel in Morocco was also one of the most atmospheric. Leaving the harbour, we made our way to the medina and arrived quickly to a busy place with a few hotels around. The price was so surprisingly low when we asked that we did not bother looking for something else. It is after settling in and looking out of the window that we realised that we were bang in the middle of it overlooking the Petit Socco! The hotel has seen better days, but we like being in such old buildings with high ceilings and a lot of history, a bit run-down but still pleasant. The location above the Petit Socco could be a problem for some, but the noise at night was a constant background noise (there is no traffic) and did not prevent us from sleeping (with open windows!).
Chefchaouen: when we arrived in Chefchaouen, the place was packed with Chinese tourists and room prices in the medina were high. We stayed just outside the medina in Hotel Rif on Avenue Hassan II where we paid Dh180 for a room with attached bathroom/WC and a nice view down the valley below us.
Rabat: we stayed in the medina in the Rue Sebbahi, Hotel Al-Kasbah and paid Dh120 for a room with sink and shared bathroom/WC (extra Dh10 for a shower). It was quiet, the rooms looking into an inner courtyard with plants. There were many other cheap hotels around, charging Dh150 for similar accommodation.
Meknes: we stayed in the Ville Nouvelle in the Hotel Touring, Avenue Allal Ben Abdellah near the El-Amir Abdelkader train station. This was again one of those old hotels a bit aged with nice rooms (and a lift!). We chose a room looking on the back with shared WC which we paid Dh130. Only drawback was that there was no shared shower, so we made do with the sink in the room. But a few more Dirhams would have given us a room with attached bathroom/WC (below Dh200).
Fez:.we arrived by train and found Hotel Royal not far from the station in the Rue du Soudan, off Avenue Lalla Meryem. This was the only hotel without WiFi and we paid Dh150 for a quiet large room with attached bathroom/WC.
Merzouga: warned by the guidebook that finding a place could be wearying as hotels are quite scattered around, we decided to book ahead online (the warnings turned out to be wrong as there are many hotels near the centre of the village). We picked Auberge Africa with shared bathroom/WC for Dh110 (no sink). We were very satisfied, the location was good, near the big dune and the town centre, which means we were not stuck in our hotel in the evening and could have a meal outside.
Rissani: we spent a night there as we wanted to explore the area. We stayed at Hotel Panorama and paid Dh140 for a room (without sink) with shared bathroom/WC. Maybe the only hotel which we would not recommend, as the owners were not very friendly and the room didn't offer good value for the money.
Tinerhir for Todra Gorge: we strongly oppose Lonely Planet's description of Tinerhir as a town where (sic) charm falls a distant third to dust and hustle. As far as we are concerned we loved Tinerhir, a pleasant town with a nice palmeraie where we found good food, a market and friendly people. We stayed at the Hotel Tichka on the N10 midway between the bus station and top of town (post office). A very good place where we had a room (without sink) with shared bathroom/WC for Dh100.
Boulmane du Dadès for Dadès Gorge: Boumalne is not a place to remember but it served us well as a base to explore the gorges. We stayed at the Hotel Bougafer on the main road opposite the entrance to the bus station and paid Dh100 for a quiet room with sink and shared bathroom/WC.
Ouarzazate: it is a dreary town with nothing much happening before 16h30 but which becomes pleasant enough at night when people leave their homes to stroll through the night market and have a chat with friends around a pleasant square. We stayed four nights and used the place as a base to visit Ait Benhaddou, Skoura and hire a car to explore the Drâa Valley for a day. We stayed in the Hotel Atlas in the Rue du Marché and paid Dh110 for a room with sink and shared bathroom/WC (extra Dh10 for a shower)
Taliouine: we spent one night there and stayed at Hotel Al Atlass Bourdeaux, right in front of the grand taxi stand. We had a quiet room with attached bathroom/WC on the roof terrace for Dh120.
Taroudannt: we stayed in the Hotel el-Warda recommended by Lonely Planet but would like to correct their erroneous description. There is no first floor café anymore and no issue at all with the alley entrance. We paid Dh120 for a quiet room with shared bathroom/WC. A great feature of our room was the tiny balcony overlooking the Place an-Nasr and the entrance to the souk: we had a great time drinking tea and munching on olives while watching life unfolding below us. The souk closes early so there was no noise problem at night.
Essaouira: we were a bit nervous about Essaouira as it was described as an expensive place. But not for us: we stayed in Hotel Eddaize at the beginning of Avenue Zerktouni (right side) and paid Dh100 for a quiet nice big room overlooking the main street with high ceilings and attached bathroom/WC. We guess the hotel was newly re-opened and eager for customers which might explain the incredibly good deal, one of the best hotels we stayed in.
Imlil: we arrived in Imlil quite late and did not feel like looking for a place, so we simply stayed at Hotel Aksoual the first one we saw after leaving the grand taxi. We paid Dh100 for a rather dark room which had a pretty good attached bathroom/WC with really hot shower and good ventilation.
Marrakesh: we were expecting to have difficulties to find an adequate budget room to our liking but it turned out to be a breeze. Coming from the Imlil taxi stand, we kind of naturally ended up in Rue Agnaou, followed some hotel signs into Rue de la Recette and had a choice of accommodation to chose from. We stayed in Hotel El-Farah and paid Dh160 for a quiet room with attached bathroom/WC.
Transport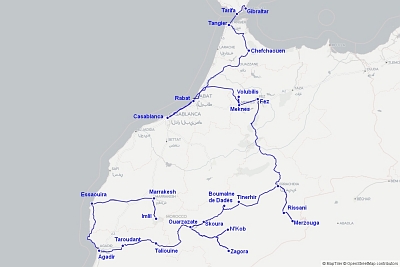 Our itinerary: with the ferry from Tarifa to Tangier, finishing in Marrakesh for our flight back to the UK (© MapTiler © OpenStreetMap contributors). In Morocco we used a mix of buses, grand taxis and trains. We did rent a car for one day to explore the Drâa Valley from Ouarzazate as distances were too big and time too short and because we wanted to enjoy for once the flexibility of being able to stop and explore where and when we wanted. You can view the map shown on the right in detail on the Travellers Point Website.
Local buses:
As far as buses are concerned, there are CTM and Supratours buses and the rest. The former often have separate bus stations of their own, an Internet presence and tickets can be booked on-line. They are more expensive than the other companies which you can find at central bus stations but they are also better in terms of punctuality, reliability and comfort. Note that whatever bus company you use, there is usually a Dh5 charge/tip for the man lugging your bags into the luggage compartment of the bus.
In the north, we used normal buses to go from Tangier to Chefchaouen and then to Rabat. Nothing to report, they left on time and delivered us safely to destination although they were a bit dated. For the journey from Fez to Rissani we decided to take a night bus and went with CTM for more comfort and convenience as the CTM station was nearer to our hotel. This was a good trip, we left a bit late but this was not an issue as we were travelling by night.
However, from our experience in the south and along the Atlantic coast (Route des Kasbahs, Essaouira), we strongly advise to use CTM or Supratours on long distances if they serve your destination or consider travelling with grand taxis instead as we had some unpleasant experiences with normal buses. In Rissani, the city's bus station was eerily empty and everybody we asked had a different opinion on when buses would depart. We showed up very early in the morning to catch a supposed bus to Tinerhir which did not materialise, so that we ended up rushing back into town (not far) to catch the scheduled Supratours bus at their office. The same thing happened in Taliouine where we ended up taking a grand taxi instead of the expected bus. Also, our journey from Essaouira to Marrakesh made us dearly regret that we took a normal bus: we left on time but the bus was very slow, stopping often and, unlike the CTM & Co buses, did not take the motorway which made the journey even longer. We thought we would never arrive, the few Dirhams more for CTM would have been well invested.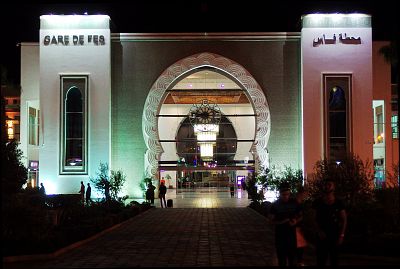 Fez' new modern train station by night. A few prices (per person):
Tangier to Chefchaouen = Dh40 - Chefchaouen to Rabat = Dh80 - Fez to Rissani = Dh115 (CTM night bus) - Rissani to Tinerhir = Dh80 (Supratours) - Boumalne to Ouarzazate = Dh 30 - Inezgane (for Agadir) to Essaouira = Dh50 - Essaouira to Marrakesh = Dh60.
Train:
We took the train from Rabat-Ville to Casablanca for a day trip and to travel from Rabat-Ville to Meknes and from Meknes to Fez. The connections are good and the trains comfortable. However, there are currently big problems with punctuality as the Moroccan Railways (ONCF) are building a brand new high speed line (due to open in 2018) which causes many delays on the stretch between Casablanca and Rabat. At the end, it was not such a big problem: all trains were delayed by 1 hour 30 to 2 hours, but since trains between Rabat and Fez are numerous, we simply caught the 8:30 train at 10:00 instead of waiting for the late 09:30… This is a problem which will hopefully disappear soon and should not prevent people to include train travel in their itineraries.
A few prices (per person and second class):
Rabat to Casa = Dh37 - Rabat to Meknes = Dh69 - Meknes to Fez = Dh22.
Grands taxis:
These turned out to be our preferred means of transport for day trips and in the south along the N10 (Route des Kasbahs) and we can only recommend them. Thanks to a government scheme running until 2030 which helps drivers to replace their old taxis with new MPVs (multi-purpose vehicles) by financing half of the new vehicle, the time of crammed travels in old-style Mercedeses is nearing its end. There are now many new taxis around, mostly Dacia Lodgy (manufactured in Tangier) or VW and Peugeot 7-seaters and travelling in them is a world of difference (although many drivers are silently mourning their good old trusty and indestructible Mercedes cars). They are comfortable and spacious, all passengers have a good view, the only limiting factor could be a restricted space for luggage. But we never had any problems and soon used them even to cover longer distances as they proved quicker and as comfortable as normal buses with the added flexibility of dropping you in the centre instead of a bus station on the outskirts of town. They are more expensive than local buses but often well worth the extra money.
A few prices (per person):
Meknes to Moulay Idriss = Dh10 - Fez to Sefrou = Dh11 - Rissani to Merzouga = Dh15 - Tinerhir to Boumalne = Dh20 - Ouarzazate to Taliouine = Dh30 in two legs (Dh15 to Tazenakht and Dh15 to Taliouine) - Taliouine to Taroudannt = Dh41 - Taroudannt to Inezgane = Dh29 - Marrakesh to Imlil = Dh28 in two legs (Dh20 to Asni and Dh8 to Imlil)
Car rental
We decided to rent a car for one day in order to explore leisurely the Drâa valley from Ouarzazate. We have done an exhaustive research of the local car rental agencies and ended up booking a car with Tiflite Car, Avenue Mohamed V next to Dimitri Supermarket and opposite Hotel Royal. They were the cheapest and the only ones to offer a complete waiver of the insurance excess (other companies all had a minimum excess of 20% of the damage value). They gave us a nearly new Dacia Logan and we definitely recommend them. We paid Dh280 for the day rental plus Dh70 for the insurance excess waiver.
Food
Food is good and cheap in Morocco. We spent an average of Dh65 (6€) per day for the both of us. Following are a few prices as indication but bear in mind that we have snacks for lunch and hardly go to tourist restaurants in the evening but favour local eateries: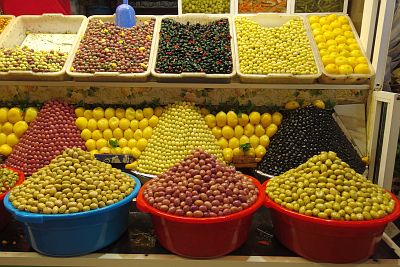 Our favourite snack: tasty olives with bread.Evenings:
A bowl of soup (harira or bissara) without bread: Dh4 to Dh5
Tajine: we usually had a chicken or beef tajine for Dh25-30 in eateries. Prices are higher in restaurants, around Dh60.
Basic couscous (served Fridays only in local eateries): around Dh35-50
Full grilled chicken: Dh70 to Dh90
Side plate of fries or salad: Dh5
Three eggs omelet: Dh15
A loaf of bread: from Dh1 to Dh3 depending on size
Snacks:
1 kg olives: from Dh16 to Dh22 depending on seasoning and type, we often had a bag at Dh3 with some bread for lunch. Delicious.
1 kg clementines: Dh3 to Dh6. We loved them, juicy and easy to peel.
1 kg apples: Dh8 to Dh12
1 kg biscuits at the market: Dh20 - Dh50
A slice of cake: Dh4 to Dh8
1.5 liter local branded coke: Dh6.5
Entry Fees
Not really worth mentioning, most entry fees are cheap (Dh10 to Dh20). However we did not visit the Hassan II Mosque in Casablanca as we found the entry price of €12 per person a bit steep, same for the Jardin Majorelle in Marrakesh which charged Dh70 plus Dh30 for the museum. We might have gone in but the queue was so incredibly long that we decided to skip it.
Want to read more? Go back to Introduction go on to Crossing the Strait: Gibraltar to Tangier or go up to Blog
---
$updated from: Blog.htxt Mon 03 May 2021 16:08:28 trvl2 (By Vero and Thomas Lauer)$