Email Updates
Ever since we hit the road for our first long-term trip in 2003, we have sent emails to our friends and family, to keep them up-to-date, to amuse and entertain them (or so we hope;-) and to share what we did and saw. We still do that, sending out two emails (one in English, the other in French) every eight to twelve days.
In fact, these two lists have grown steadily over the years, so that we now send our messages to more than 160 people. Anyone who wants to be included in one of those lists should send us a short note with their full real-world name, a few words about themselves and of course their email address.
Okay, back to SEA 2014. We have two rather long pages, one for the English mails, the other for the French stuff, with all the messages and photos (plus a few more) we sent during that trip.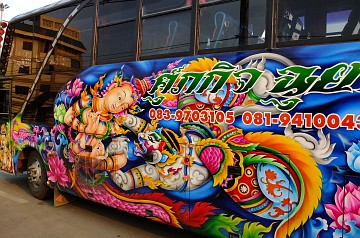 Colourful tourist bus in Ayutthaya, Thailand
---
$updated from: Email Updates.htxt Mon 03 May 2021 16:08:30 trvl2 (By Vero and Thomas Lauer)$