John Denver in Buddha Land
(vero;2016-April-28)
Since we had enough time on our hands, we decided to stop in Bago on our way from Yangon to the Golden Rock. Bago (also known as Pegu) was founded in 825 AD by Mon people and served as capital between 1369 and 1757, date of its destruction by Burman king Alaungpaya. An important religious centre for Theravada Buddhism, many monasteries and pagodas escaped the sack of the city and are still standing, making Bago definitely worth the detour.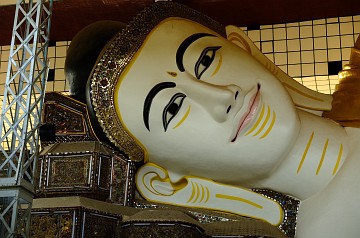 Shwethalyaung Buddha, built in 994 AD. Height: 16 m, Length: 55 m from head...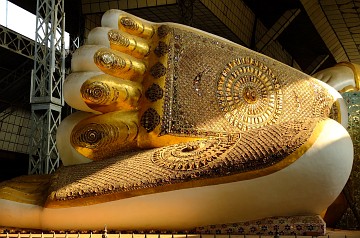 ... to toes. Restored in the 15th century, fallen into oblivion after the 1757 sack of the city, it has been rediscovered by the British in 1881, as they were clearing the jungle for the railway construction.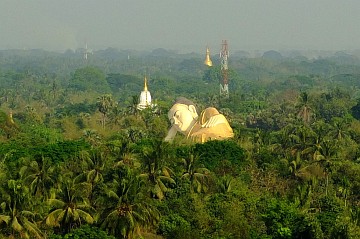 The Mya Tharlyaung Buddha, built in 2006. Height: 21m, Length: 90m. Looking down from the Mahazedi Pagoda, we could not help but feel like Gulliver in Brobdingnag.For us, Bago will remain the town of Buddhas. It was very hot, humid, we were sweating profusely, and after having visited the Shwemawdaw and Hintha Gon Pagodas, we remember dragging ourselves across town to the western part, home of the most imposing reclining Buddhas we had seen so far: the Shwethalyaung Buddha (picture above) and a bit further on, our preferred one, the Mya Tharlyaung Buddha. Resting in a pleasant park with shadow and sitting benches, this huge reclining Buddha, exhaling peace and serenity, was balm for body and mind.
We stayed a long time there, enjoying the solitude of the place when we were greeted by a friendly young man.
He presented himself: Myo Win Aung, 18 years old, postcard seller. But he was not here to sell us postcards, and indeed, he never tried. In fact, he was on his way to some shrubs next to our bench and wanted to retrieve a few English study books he had hidden there. So we started a conversation, his English was good, he told us he learnt a lot from listening to English music which he loved particularly. Would we mind listening to some of his preferred songs? And he began to sing, among others, this song from John Denver, and believe us, listening to Myo singing in this spectacular setting made this encounter the best of our memories of Bago and one of the best of all Burma.
Thomas made this video of Myo, do listen until the end for a great sweeping view of the surroundings! We also found a video on YouTube made by another tourist, obviously as charmed by Myo as we were.
Want to read more? Go back to Impressions of Mandalay or go on to Burma Budget or go up to Blog
---
$updated from: Blog.htxt Mon 03 May 2021 16:08:30 trvl2 (By Vero and Thomas Lauer)$