Final Travel Budget
(vero;2014-Aug-25)
Once again we managed to bring some money back home and spent 26% less as was planned in our pre travel budget.
The first table below shows a detailed list by country and expenses of our final total budget, with a daily budget by country as information for those planning a trip in those regions (please note that the final figure under "Total" of £36/€42 includes the money spent in the UK for flights, transport to the airport, insurance and other minor stuff). The second table shows the planned total budget for comparison.
We have also a table showing the individual final in-country budgets excluding visas, transport to get there and UK expenses (Spring 2014)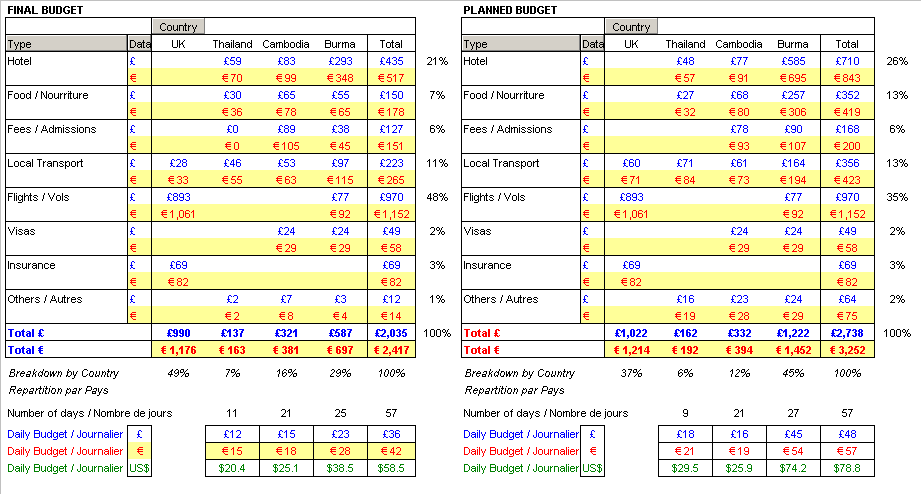 Here is a short overview of how we fared on the road:
Burma: incredible 52% savings
As can be seen from the table, we made significant savings in Burma where we budgeted way too high compared to what we found on the ground. The reports we used from diverse blogs while planning were quite frightening in terms of pricing, so we were prepared for the worse: better safe than sorry.
In the end, we spent half as much as expected with a daily budget of 23£/28€/38.5US$ for two persons. We were in the country at the tail end of the season, so this probably made an impact, but we believe that even in the high season, we would have fared pretty well. This of course is also due to the fact that we are committed budget Back-Packers, content with much less than most Flash-Packers expect nowadays.
We have prepared a separate Burma page with detailed price information and travel tips.
Cambodia and Thailand: no surprise
We ended up spending pretty much as expected which is no mystery as we have been so often in those countries already. Hotel rooms are still very good value in Cambodia: we paid 5$ in Kampot, 6$ in Phnom Penh and had a wonderful room in Siem Reap for 8$.
Big hitter in our Cambodia budget was the seven day pass for Angkor at 60$ per person, but nothing unexpected here.
UK: unexpected saving
Returning to the UK, we were happy to get a seat on the next National Express back to our home town. Since timing was tight, we had raced through Heathrow, praying for quick immigration checks and fast luggage delivery to catch the last bus, so we were feeling really good about making it in time. Alas, when the bus arrived, we heard that we had to wait for a disabled passenger to join our bus, he would be coming from London supposedly on his way to Heathrow in an other NE bus. In the end, we waited for 2 hours for this guy, which meant we missed our last local bus and had to hike the last 3 miles home. Of course, we were not that pleased, but in the end, we got a refund from National Express, an additional unexpected saving.
That's it for SEA2014. For information, we have included some more charts below showing first the in-country budgets excluding visas, transport to get there and UK expenses and some pies showing the type of total expenses as percentage of the total value.
In-country
budgets excluding visas, transport to get there and UK expenses (Spring 2014)

: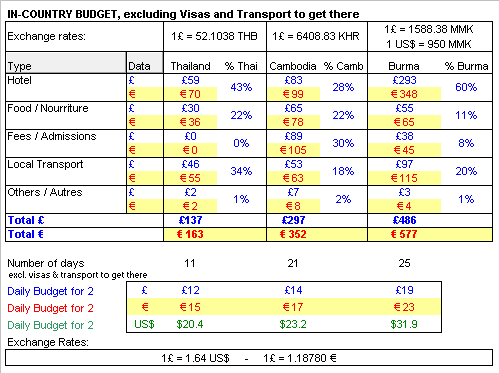 Final total budget structure (the second pie shows the Planned Budget):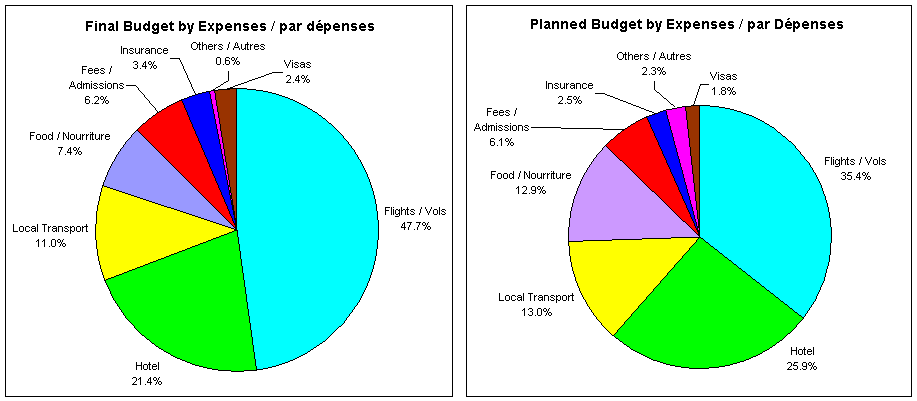 Want to read more? Go back to Pre Travel Budget or go on to Email Updates or go up to Blog
---
$updated from: Blog.htxt Mon 03 May 2021 16:08:30 trvl2 (By Vero and Thomas Lauer)$