Pre Travel Budget
(vero;2014-Jan-25)
Compared to previous ones, this trip will be an expensive one. We are planning to spend about £2700/€3200 in two months, this is what we spent last year in India and Nepal in four and a half months!
Well… it seems that's the price to pay if we want to enjoy Burma. After researching travellers' blogs and guidebooks, it transpires that prices have soared up since tourists have started flocking to the country. Hotel rooms are reported to be particularly expensive and of very poor value… we'll see and report ourselves.
Flights make for 35% of our budget, which is a bit high but this includes a flight from Bangkok to Mandalay in order to save time. In short, that's what it is.
Hotels are what really hurts, with 26% of our total budget. We budgeted 40$ (24£/29€) per night in Burma and have tried to favour night travel to go from one place to the other in order to save time and money. For the two other countries, we plan 6$ in Cambodia (in 2011 we were averaging at 5$) and 300 Bhat for Thailand, bearing in mind that we will not spend many nights there, so impact is minimal.
Local transport is quite high with 13% of total budget but we hope to reduce this if we can get a lift to Heathrow. Burma is here again quite expensive.
The rest is more or less in line with what we expect from previous experience in South East Asia.
As already mentioned, it will be interesting to see how we fared on our return. We will be in Burma at the end of the high season, so we hope to make some savings there, but who knows…
Planned Budget details by country and type of expenses: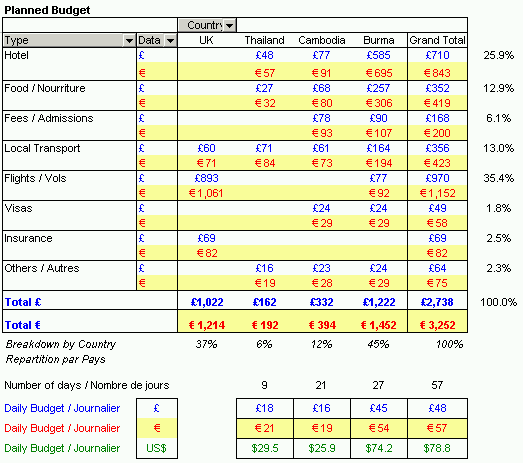 Budget structure showing type of expenses as percentage of the total value: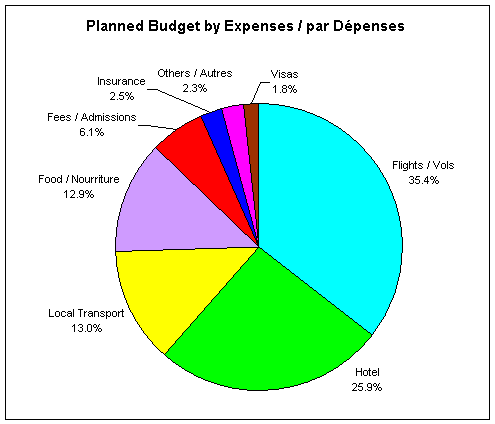 Want to read more? Go back to Burma Budget or go on to Final Travel Budget or go up to Blog
---
$updated from: Blog.htxt Fri 15 May 2020 14:57:27 trvl2 (By Vero and Thomas Lauer)$