SEA 2014 Itinerary
(vero;2014-Jan-25)
We decided to embark on SEA 2014 to discover Burma. Being in the region, we could not resist the temptation to return to Angkor and thus combine the two major temple sites of South East Asia (Bagan and Angkor) in one trip.
this time, Thailand was just a stepping board to both countries
we first went to Cambodia (3 weeks)
before heading to Burma (4 weeks)
Some More Detail
Our plan was to catch a night bus to Trat upon our arrival in Bangkok and dash to the Cambodian border on the following day. Alas, the gods of flying were not with us: we got delayed in Muscat (Oman) as a freak rain storm hit the country just as we wanted to land there, drowning the tarmac under floods of water and preventing us to land. So we had to fly to Dubai to wait for three hours before being able to return to Muscat. To make a long story short, we landed too late in Bangkok to catch a night bus and had our first night in the baggage hall of the airport, waiting for dawn before we could head to the airport bus terminal. Nevertheless, we caught a mini bus to Trat, continued to the border and spent our first good night sleep in Koh Kong, Cambodia as originally planned.
We departed the next day for Phnom Penh where we applied for our Burmese visas. While waiting for them to be issued, we went south to visit Kampot and surroundings. Back to Phnom Penh we collected the visas and took a northbound bus to Sra Em, a small town near the Thai border from where we visited the temple of Prasat Preah Vihar, a fitting introduction to our next stop: Angkor. This time again, we splurged on a 7 day pass and had a tremendous time there.
From Angkor, we rallied Bangkok to catch our plane to Mandalay in Burma. Since this is was our first visit, we had decided to concentrate on the four major tourist sites (Mandalay, Bagan, Inle Lake and Yangon) before spending some ten days in the South, a bit away from the main tourist trail on our way out of the country. We re-entered Thailand in Maesot before heading back to Ayutthaya and Bangkok for our plane back home.
The SEA 2014 Map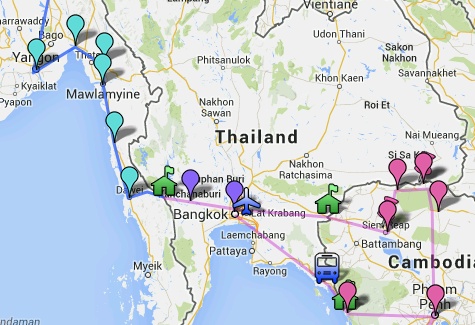 If you want all the details, you could simply follow our actual journey, place by place and day by day, on the rather elaborate Google map done by Vero.
This map (see a small snapshot left) shows our itinerary. While browsing the map, please note that the listings on the left hand side are in chronological order and that clicking on the relevant marker will bring up some information on each item.
Want to read more? Go on to Impressions of Mandalay or go up to Blog
---
$updated from: Blog.htxt Mon 03 May 2021 16:08:30 trvl2 (By Vero and Thomas Lauer)$