Panoramas 2010 Khumjung and ABC
(thomas;2010-Jul-14)
Kunde, Khumjung and Ama Dablam Base Camp (10 panoramas)
(Clicking on a panorama will open a larger version in a separate tab.)
After crossing into the Thame valley we went to Kunde and Khumjung, two quiet and authentic Sherpa villages about 400m above Namche (yes, authentic places still exist, even in the Khumbu Disneyland…). We stayed a few days there, to recuperate a bit, before we went up again, towards Pangboche and Ama Dablam Base Camp.
This shot was taken from the top of the ridge separating Kunde (3800m) from the Thame valley. The village in the left foreground is Kunde, while in the background you can see the houses of Khumjung (3730m). The airfield of Syangboche (3730m) is the bright strip right of the middle; Namche Bazaar is even lower, to the right of the airstrip.

Same place, but a 180-degree-turn towards the valley of Thame. The big village down at the river is Thamo; Thame (3800m) is further up on its plateau (below the red dot).

Still the same ridge, now again with a view towards Khumjung. The dominating mountains in the background are Kang Tega (literally Horse Saddle) and Thamserku. Ama Dablam is on the far left, but hidden behind the clouds.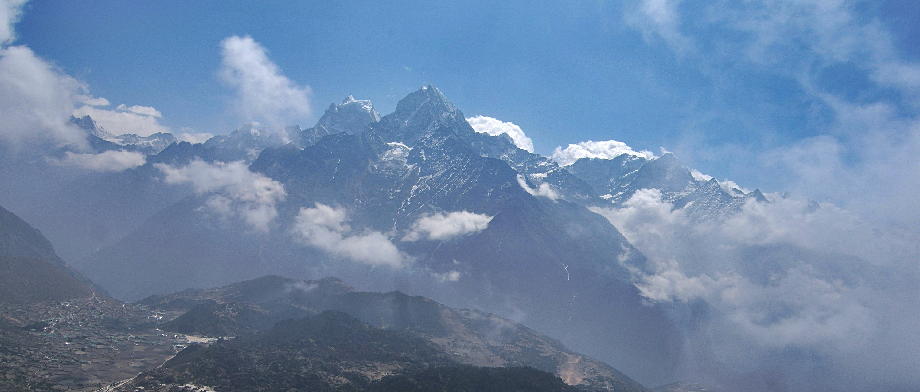 Same day, but at 4.30pm in the afternoon, after a surprise snow fall. The village in front is Khumjung, the mountains behind are once again Kang Tega and Thamserku.

Next day, on the high trail between Phortse and Pangboche. On the ridge in the foreground is the monastery of Tengboche (below the red dot).

A close-up of Kang Tega and Thamserku. From this perspective it is obvious why the first is called Horse Saddle.

We're now on our way up to Ama Dablam Base Camp. This view shows the Lobuche valley and the wall between Lhotse and Nuptse from an unusual perspective. The path leading up to Lobuche is clearly visible in the lower middle (to the left of the river), while the major mountains in the background are Pumo Ri (red dot), Nuptse (7896m, blue), Everest (red) and Lhotse (blue).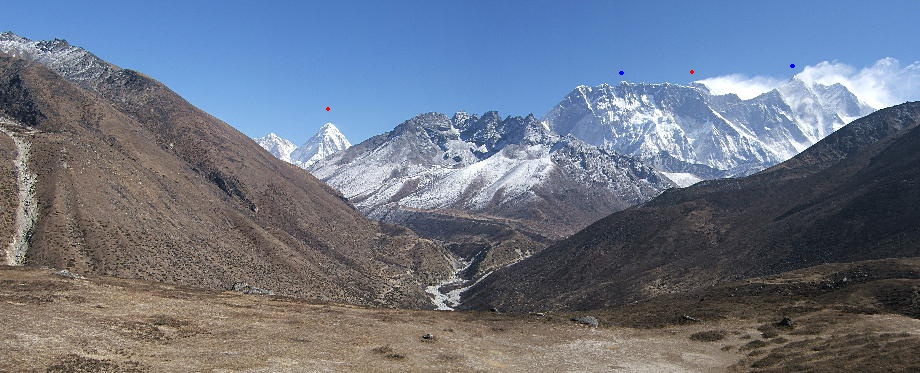 Ama Dablam from her base camp (around 4800m). The climbers' route mostly follows the right-hand ridge. They normally establish three camps above base camp: an advanced base camp at 5400-5500m and two others at about 5800 and 6100m.

However, this "climber's ridge" is pretty easy to follow even for non-climbers until a breathless 5800m, so we scrambled up for a while. And this is where we ended up: behind Ama Dablam, in the middle of a veritable cirque of mountains. The two mountains dominating the middle are our two old friends, Kang Tega and Thamserku, but from a quite unusual perspective.

Same spot. The ground rising towards the left leads further up to Ama Dablam and culminates in the climber's ridge seen earlier.

Go to Panoramas 2010 Chukhung Valley or up to Panoramas 2010.
---
$updated from: Panoramas 2010.htxt Fri 09 Aug 2013 14:18:03 trvl2 (By Vero and Thomas Lauer)$