Panoramas 2010 Walk-out
(thomas;2010-Jul-17)
Walk-out to Jiri via Pike Peak (12 panoramas)
(Clicking on a panorama will open a larger version in a separate tab.)
After so much time in the cold, surrounded by snow and ice, returning to the greenness and the balmier (not to say hot) climes of the middle hills is always a lovely transition. We decided not to walk back to Jiri along the usual trail but to visit Pike, a mountain of 4070m. This detour meant leaving the beaten track for some six days — although if you're in the Nepal mountains, all tracks are beaten;-).
The views across the valley of the Dudh Kosi (with the thatched roofs of Waku in the foreground), a day's walking south of Kharikhola. There are no lodges there, so we stayed with a shopkeeper, in her rustic loft.

Next day, we stayed in a place called Budhidanda. This is the early morning view down the Dush Kosi.
An hour further on, we rested with a train of mules. Below, there's still the Dush Kosi river.

As we reached a small pass between Budhidanda and Salleri, a surprising view towards the white giants we had, just a few days ago, left behind.

Same mountain view, just zoomed-in a bit.

The view down valley, about an hour before reaching Salleri.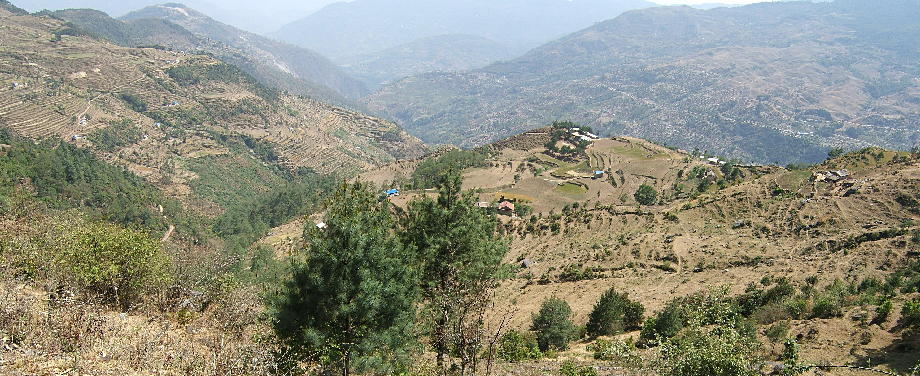 Again this almost ethereal impression of a far-distant mountain chain: this time from Chialsa, a ramshackle Tibetan refugee camp near Salleri. (Most Tibetan camps are emphatically not ramshackle, so we were wondering why this one would be so down-at-heel.)

When we started climbing up to the top of Pike, the weather kindly changed from sunny mode to a cold fog which brought regular afternoon rains. Some consolation for the (reportedly amazing) views we missed was provided by the walls of blooming rhododendrons which surrounded us on all sides.

Still among the rhododendrons.

Seemingly endless walls of them.

One day down from Pike and the weather accommodatingly decided to get better: a view to the mountains in the north.

This is a high plateau above Bhandar, where we met the usual trail to Jiri. Not far from here, the first cheese factory in all of Nepal was established in 1959, with Swiss assistance. (Nepalese cheese still looks and tastes like Swiss mountain cheese.)

Go to Panoramas 2010 Annapurna Sanctuary or up to Panoramas 2010.
---
$updated from: Panoramas 2010.htxt Fri 09 Aug 2013 14:18:03 trvl2 (By Vero and Thomas Lauer)$