Panoramas 2010 Walk-in
(thomas;2010-Jul-12)
The Walk-in from Jiri to Namche Bazaar (9 panoramas)
(Clicking on a panorama will open a larger version in a separate tab.)
Walk-in was from Jiri to Namche on the standard route via the Lamjura La and Junbesi. It took us nine days though it can be done in six or seven (our first and last days were half days).


Our second day of walking, 4 March: beautiful weather (in fact, it was like this almost all mornings) with a great view towards the mountains further north. This shot was taken from a ridge east of Shivalaya (literally Abode of Shiva), the village where we had stayed after coming from Jiri the day before. The river is the Khimti Khola.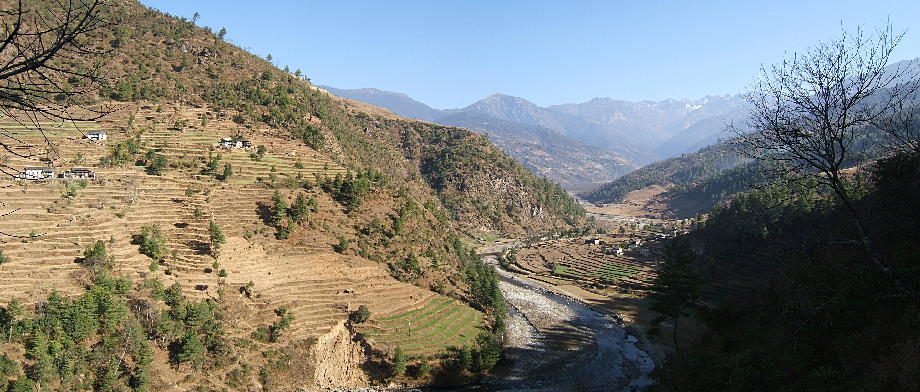 Same day and same ridge, but a good 600 metres higher. This snap was taken shortly before the path leaves the ridge and veers towards Deorali, a pass and our highest point for the day.

On our way to the Lamjura La, 6 March: we're high on the ridge above Sete, looking back southwestwards to the pass at Deorali (the pronounced dip in the background ridge, below the red dot).

The same ridge, a few minutes later: this is a view to the mountain chains further up north. To the far right, the first really high mountains glisten in the sun.

The following day, 7 March: view back towards the Lamjura La, the highest of the three passes between Jiri and Namche Bazaar. The actual pass is below the red dot.

Same day, perhaps an hour later: the view from a place called Everest View Lodge. And indeed, this place is the first to offer a half-decent view of Mt Everest and the mountain chain along the Dudh Kosi valley. Everest is the small, half-hidden triangle in the far left (below the blue dot). Our destination for the day is the lowest point on the dark foreground ridge (below the red dot): that's the houses of Trakshindo La, the last pass to climb before reaching the Dush Kosi.

The following day, 8 March: on the other side of the Trakshindo La, near a big village called Nuntala. We're now halfway down to the bridge over the Dudh Kosi which is about 1600 metres lower than the pass.

Kharikhola, above the Dudh Kosi, 9 March: Kharikhola is the drawn-out village in the foreground (where we've spent the night before); we are now pushing up towards Namche. The lowest point in the background ridge (below the red dot) is the Trakshindo La.

Arrival in Namche Bazaar, 12 March: after a long and sweaty climb, the houses of Namche (3435m) greet the wary traveller. The snow-covered mountain in the background is the Kongde Ri (6187m); the valley in front leads further north, first to Thame and then to the Nangpa La, a high pass that forms part of the Nepalese/Chinese border.

Go to Panoramas 2010 Lobuche Valley or up to Panoramas 2010.
---
$updated from: Panoramas 2010.htxt Fri 09 Aug 2013 14:18:03 trvl2 (By Vero and Thomas Lauer)$