Along Brittany's Coastal Path
(vero;2019-March-30)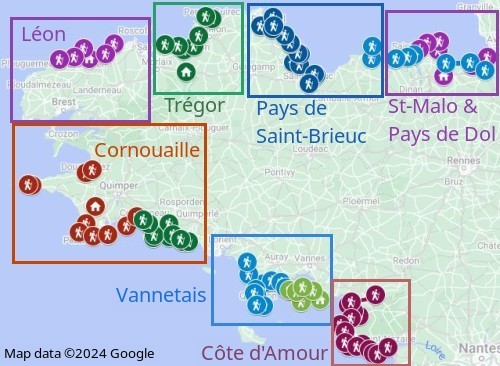 The GR34 is a 2000 kilometres walking path, starting in Mont St Michel and skirting Brittany's coast until the mouth of the river Loire in St Nazaire. It follows the course of the old customs path in places and passes through a very diverse landscape such as the salt marshes of Mont St Michel and Guérande, wild rocky coasts, cliffs, sandy bays, picturesque harbours, granite churches and chapels, light houses, river estuaries and many historic towns.
With such a length, not many people hike the GR34 in full and in one go. Many prefer by far to pick an area and hike a smaller portion of it. In fact, the part skirting the Morlaix's bay between Locquirec and St Pol de Léon has been elected le sentier préféré des français in 2017 against high competition from other scenic GRs in France.
Hiking the GR34 is by no means something to do in the warm season only. We love Brittany in the winter and have so far done most of our walking in that season with many great and sunny days. We have taken to the habit of renting a gîte for a week and exploring the coast around it in the form of one-day walks during our stay. As far as we can see, the only real drawback of hiking in winter are the shorter days, the lack of flowers and the improbableness of having a swim. But as a compensation, we hardly meet a soul on the way… You can't have it all!
The Google map below shows the areas we have already explored and as you can see, we are far from having seen it all, so it is work in progress, with more pictures to be added as we discover new spots.
You can learn more about the GR34 on the website of the FFRP, the French Hiking Organisation (unfortunately only in French language), with descriptions and guidebooks.
Go back to Landscapes or go on to GR34: The North or go up to Photos
---
$updated from: Along Brittany's Coastal Path.htxt Mon 03 May 2021 16:08:34 trvl2 (By Vero and Thomas Lauer)$