Gap and Around
(vero;2018-August-31)
Gap is a pleasant and very sunny city located on the southern fringes of the Alps in a wide valley between the mountains of the Dauphiné and the hills of the Provence. Its houses have a southern feel while the mountains backing it to the north rise up to 2500 - 2800 metres. It is perfect for scenic summer hikes and many smaller ski resorts are in short driving distance with many opportunities for snowshoe hiking, cross-country and downhill skiing.
Gap is not big on the tourist map and we hope it will stay like that for a while. You'll find mostly French or Belgian hikers on the paths or on the slopes of the small resorts around town. As it is often the case in France, English is rarely spoken and this is particularly true here. This starts for example with the tourism office website which is only in French (although you can choose your language, but nothing happens when you select EN!)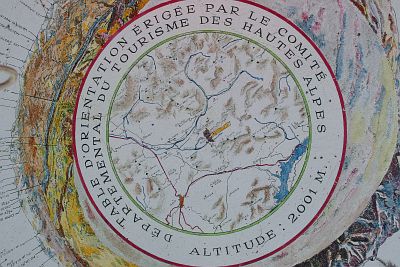 The orientation table on the summit of Cuchon above Ancelle.The prime summer activity is of course hiking and we recommend this website (unfortunately only in French) if you are looking for hikes around Gap. Simply click on the Je cherche une rando button and on the next page enter "Gap". You'll get a full list of hikes, each with a map and a description to choose from.
For the winter, Orcières-Merlette is the resort offering the highest ski opportunities, we personally like the village of Ancelle very much.
We have some pictures to whet your appetite:
Go back to GR34: The Côte d'Amour or go on to Panoramas around Gap or to Landscapes or go up to Photos
---
$updated from: Gap and Around.htxt Mon 03 May 2021 16:08:34 trvl2 (By Vero and Thomas Lauer)$