Cemeteries of Paris
(vero;2020-Nov-12)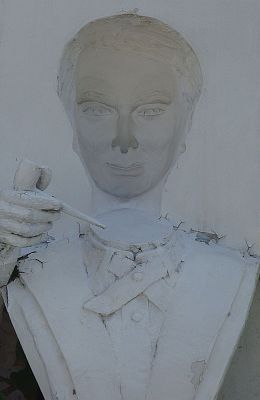 An unusual monument on a grave of the Cimetière Montmartre.Once you've seen the Eiffel Tower, the Louvre, Montmartre and other must-sees, make sure to take a stroll in one of the Parisian cemeteries. They are a welcome break from the busy sight-seeing coupled with a bit of celebrity hunting and the discovery of some beautiful, creative or even eccentric tombs.
Cimetière du Montparnasse: this is my favourite one, an important feature of my youth. When I walked to school with my best friend, we had two choices: either take the (at the time)

quite seedy Rue de la Gaîté

or go through the cemetery. The latter option was a bit longer so we usually took the Rue de la Gaîté on the way to school and the cemetery on the way back. I have great memories of it, specially on snowy days when we frolicked between the tombs and had snowball fights, it was so much fun. Obviously we walked mostly the same way every day, so I am an expert in the section between the main entrance and the porte Froidevaux, the one with Baudelaire, Gainsbourg, Sartre, Maryse Bastié, just to name a few… Click here to access some information such as access and opening times.
Cimetière du Père Lachaise: this is the most famous one and has become a tourist highlight featured in every guidebook. Something you can feel in this description found on the cemetery website: the Père Lachaise is the most famous cemetery in France. Inside are not only the graves of major figures in the arts, sciences, politics and many other fields, but also those of thousands of anonymous people because, far from being an "open-air museum", Père-Lachaise is an active cemetery in which more than 3,000 funeral operations take place each year. In other words: do not forget to be respectful of the place you are visiting… Click here to access some information such as access and opening times.
Cimetière de Montmartre: this one is located on the hill of Montmartre and is smaller as the two above. Many illustrious personalities are buried there. Home to over 20,000 burial places, it is a little "Père-Lachaise". Click here to access some information such as access and opening times.
Those are by no means the only cemeteries in Paris: there are sixteen of them inside the boundaries of the Boulevard Périphérique. You can find them on the website of the City of Paris: click here to access the relevant page, then under the field "Filtrer par type de lieux" click on the link "Afficher la liste complète" and tick "Cimetières".
Go back to Parisian Impressions or go on to Montparnasse
---
$updated from: Cemeteries of Paris.htxt Mon 03 May 2021 16:08:34 trvl2 (By Vero and Thomas Lauer)$