Parisian Impressions
(thomas;2018-Sept-12)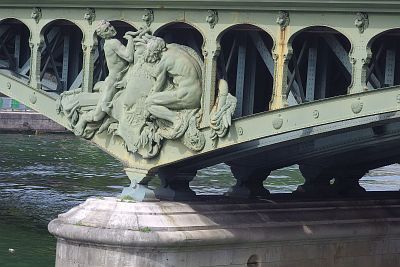 A bridge over the Seine bearing the motto of the city of Paris: Fluctuat nec Mergitur, meaning "Tossed but not sunk".We have many pictures of Paris but never manage to sort them out. We have created a few photo galleries so far, but this section of our website is much a work in progress. So do come back and check for new pages.
Cemeteries of Paris: take a stroll in the cemeteries of Montparnasse, Montmartre and Père Lachaise and learn about the persons buried there.
Summer 2014: some shots from 2014 when we stayed for a good week in Paris. Mostly we did long walks, visited all sorts of museums and also checked some corners tourists are unlikely to see.
Go back to Photos or go on to Cemeteries of Paris
---
$updated from: Parisian Impressions.htxt Mon 03 May 2021 16:08:34 trvl2 (By Vero and Thomas Lauer)$