Planning the Trip
(vero;2013-Jan-06)
Mapping the Route with Indian Rail
As usual, Vero has been busy for long hours, planning our trip, deciding on the route, finding connections from one place to the other. This is an activity she enjoys very much, and it has been particularly enjoyable this time thanks to Indian Rail.
Once you get used to it, their website is easy to use. Browsing through it is like looking up a word in a dictionary: you open the page, land somewhere interesting and jump from word to word until you eventually remember the one you were actually looking for. Here it is the same: you look for a train connection between two places (say from Bhubaneshwar towards Nepal), type the first name and the system will display all kind of possibilities. You pick yours and then comes a display of all available trains between those two stations.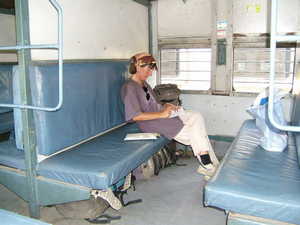 Typical sleeper class compartmentThen you click on a suitable train, select schedule and discover that the train you want to book will be running for three days, covering 1862 km (we will be travelling on it for only 811 km, from Bhubaneshwar to Gaya). We have booked two sleepers (the cheapest class on night trains) and have paid 646 Rupees, which are £7.80. Unbelievable!
No wonder that train travel is so popular in India, buses over long distance are much more expensive.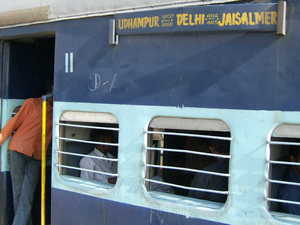 Same carriage from the outsideDid you know that the train covering the longest distance in India is the weekly Dibrugarh-Kanniyakumari Vivek Express (no 15905)? It connects Assam to Kerala and covers 4279 km in about 82 and a half hours, stopping in 54 cities on the way. One seat/berth in Sleeper Class would cost you 683 Rupees (£8) for a quite unforgettable experience:-).
Tempted? If you are still hesitating, we can recommend another very inspiring website: India Rail Info. Here, you can find connections, but also see Google Earth views of stations or inquire about the live status of trains, following them on a map. For example, once checked on the site, our train 15905, having departed Kerala had accumulated one and half hour delays after 30 hours ride: not too bad!
If you finally decide to entrust yourself to Indian Rail, we strongly advise you to refer to the Man in Seat 61 for details and valuable tips on how to register with Indian Rail and purchase your tickets online.
Other than that, compared to our first trip to the sub-continent ten years ago, there is now a wealth of sites to help you set your itinerary. Most of the State bus companies have their own website, and other sites such as Make My Trip or redBus provide ample information about private bus companies, their services and prices all over the country.
Other links
We found the UNESCO and the Archeological Survey of India websites useful to get a good impression of what we wanted to visit on our way.
Last not least, we recommend India mike's site dedicated to travelling in India, where we have found reliable answers to most of our questions.
Want to read more? Go on to India-Nepal Itinerary or go up to Blog
---
$updated from: Blog.htxt Mon 03 May 2021 16:08:30 trvl2 (By Vero and Thomas Lauer)$