India-Nepal Itinerary
(vero;2013-Jan-04)
India and Nepal 2013
Total trip duration was four and a half months, from Jan 15th 2013 to May 29th 2013:
about five weeks in the middle part of India, starting in Mumbai (India part 1)
roughly nine weeks in Nepal
and finally, another five weeks or so, from the Nepalese border down to Mumbai (India part 2)
Some More Detail
Particularly exciting for us was — although this was our third time in India and (we-ve-stopped-counting) time in Nepal — that this trip brought us to quite a few places we had never visited before.
In the first part of the journey (from mid January to end of February), we crossed the Deccan Plateau from the west to the east. Once landed in Mumbai, we went straight to the town of Nasik[1] where we spent a few days acclimatising before moving on to Aurangabad. We used this interesting city as a base to visit two major Indian sites: the caves of Ellora and Ajanta. We headed then south to Hampi stopping en route in Bijapur for its Islamic heritage and Badami for the ancient Hindu temples of Pattadakal and Aihole.
Hampi, famous for its Hindu temples and beautiful surroundings was our most southern point. From there we turned north to Bidar before reaching the historic city of Hyderabad where we stayed a while before continuing to the shores of the Bay of Bengal, stopping first in Visakhapatnam, then Bhubaneshwar.
And then… with Nepal just around the corner (yes, it's all relative!), we simply did what we had to do: moved north to Kathmandu via Bodhgaya and Patna.
We did a long trek to the Everest Region first, then crossed to the Arun Valley before meeting the road in Tumlingtar. We spent some time in Janakpur before rallying Kathmandu and going back to India via Pokhara and Tansen.
The second leg of our Indian journey brought us through Uttar Pradesh and Madhya Pradesh. We stopped en route in Varanasi and Allahabad[1] for Hindu pilgrims, then Lucknow for Raj history, before heading to Bhopal for Sanchi and its great stupa. Next was Indore for the holy city of Ujjain[1] and finally Mandu and its Afghan ruins.
We spent the last days of this trip in hot and humid Mumbai before flying back home.
[1] Nasik, Allahabad and Ujjain are three of the four great Kumbh Mela cities (the fourth is Haridwar which we have already visited in 2004). The 2013 Kumbh Mela took place in February in Allahabad… with upwards of 60 million (!) Indians attending;-)
The Nindia Map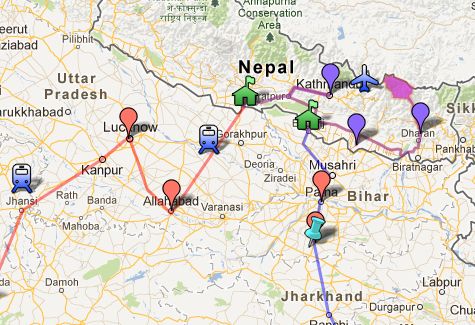 If you want all the details, you can simply follow our journey, place by place and day by day, on the rather elaborate Google map done by Vero.
This map (see a small snapshot left) shows our itinerary. While browsing the map, please note that the listings on the left hand side are in chronological order and that clicking on the relevant marker will bring up some information on each item.
Want to read more? Go back to Planning the Trip or go on to Pre Travel Budget or go up to Blog
---
$updated from: Blog.htxt Mon 03 May 2021 16:08:30 trvl2 (By Vero and Thomas Lauer)$