Final Budget
(vero;2014-Jan-15)
Once again we managed to bring some money back home and spent 12% less as was planned in our Pre Travel Budget
The first table below shows a detailed list by country and expenses of our Final Budget, with a daily budget by country as information for those planning a trip in those regions (please note that the final figure under "Total" of £21/€25 includes the money spent in the UK for flights, airport hotel, insurance and other minor stuff). The second table shows the Planned Budget for comparison.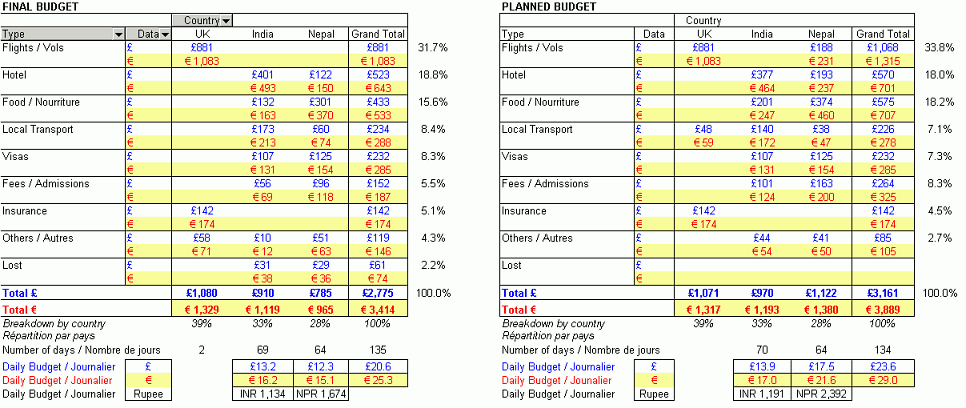 Here is a short overview of how we fared on the road:
Entry Fees: £112/€138 spent less than planned (43% savings).
This is a significant saving. Because of the bad weather conditions in Nepal, we were not able to trek to the Makalu base camp and thus did not have to pay the national park entry fees and permits. The passes were still covered with snow and not crossable for simple trekkers: even expeditions had to fly equipment and men to Base Camp.
We also had some savings in India: we decided to skip the temples at Pattadakal near Badami, and focused on the ones at Aihole instead of rushing both sites. Amazingly enough, we were able to dodge the entry fees at Hampi and a strike prevented us of visiting the Kornak temple in Orissa. Finally, we did not stop in Rajgir as planned and thus did not visit the Nalanda university. So all in all, this added up to quite a sum.
Food: £142/€174 spent less than planned (25% savings).
Our second highest saving is easy to explain once you know our eating patterns while travelling:
Off trek, in Nepal or India, we take our breakfast in the room: we have an electric heating spiral to make our own tea and we eat some local biscuits, this is quite cheap. During the day, we have some snacks and fruits, all local stuff bought on markets and we watch our pennies, ie no imported foreign goodies such as Mars bars, McVities cookies or Pringles, which are always expensive. We like to indulge with Coke, but then again, we always go for the local brand. And the fact that we do not drink any beer or alcohol makes a big difference. In the evening, we stick to local stalls: first because the food there is tasteful and cheap, and second because portions in restaurants never quite match our appetite for the price we have to pay ;-)
On trek, our diet consists mainly of biscuits for breakfast and during the day. (We eat tons of them, all local brand, the coconut biscuits are particularly tasty and have a great calories/price ratio) . In the evening, we stick to Dhal Bhat, the only meal we know which can sustain us after a long day walking. We like the taste and never grow tired of it: each lodge has a different way of seasoning and preparing it. And most important: you get refills and can really eat to your content. Here again, no alcohol, no Mars bar, no apple pie.
Planning the food budget is always tricky as indications in guide books always assume breakfast, restaurant at least once a day, regular beers, etc… We take this into account while planning and decrease the recommendations accordingly, but we always end up spending less as planned… This time we had a good idea of the price levels in India and Nepal as we had travelled often in those countries before, but it is always difficult to estimate the impact of inflation (and the greed of Khumbu hoteliers in Nepal), so we budgeted comfortably: better safe than starved ;-)
Flights: £187/€231 spent less than planned (18% savings)
In Nepal, we had planned to start our trek in Lukla, which would have meant flying in from Kathmandu. But once there, we were concerned about arriving in the Everest region without preliminary training and honestly, were not so keen on flying anymore (the landing in Lukla is a bit scary). So we decided to walk in from Jiri again, this was of course much cheaper and we arrived fit and well trained in Namche.
Accommodation: £47/€58 spent less than planned (8% savings).
No big saving there. We were slightly over budget in India but compensated with Nepal (not trekking the Makalu trek meant less expensive nights at altitude). In India, compared to previous visits, we found it quite difficult to find some real budget hotels willing to take foreigners. Many pretended to be full, specially when Vero was hotel hunting alone. Thomas had some better luck, but there again, we hardly found anything below 400 Rs, landing mostly somewhere between 450 and 600 Rs (non AC). On the cheap side, we had a very good guesthouse in Varanasi for 200 Shared and a very hot one in Mandu for 300 Attached. On the expensive side, we spent 700 in Patna or Lucknow (both Attached) before finally splurging for an AC Shared room in Bombay near Victoria Terminal (1675 Rs).
Two unplanned items impacted our budget:
First, snowy and icy weather in the UK forced us to leave home earlier than expected: we decided to spend the last night near the airport to make sure that we would catch our plane on time. So we booked a hotel at Heathrow with extra dinner and transport, some £58/€71 which were totally unplanned.
Second, was our own stupidity and carelessness: the equivalent of £30/€37 got stolen from Thomas' pockets as we were watching a religious procession in Kathmandu. We should have known better than to believe that a zipped pocket would be enough to protect our cash in such a pressing crowd. And then, we mysteriously lost a 50$ note (£30/€37) while changing money in Varanasi. Vero thinks that the guy counting the money was a con artist, and somehow managed to make one note disappear from the bundle we gave him while counting it in front of us: we thought we had x amount of notes and he counted one note less as we expected (of course, it had to be a 50$ one!). Thomas is not so sure and thinks we might have lost the note somewhere in a moment of inattention. Whatever happened, we'll never know, but we have learnt one thing: keep control of your money till the end and count the notes yourself one by one in front of the money changer.
That's it for NINDIA2013. For information, we have included some more charts below comparing final and planned budget as well as a final budget structure showing type of expenses as percentage of the total value.
Final vs Planned Budget details by country and type of expenses: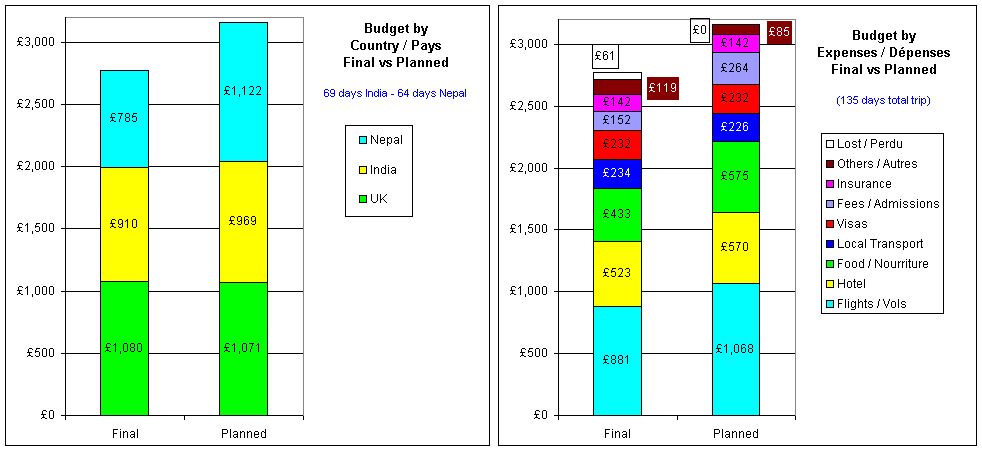 Final Budget structure showing type of expenses as percentage of the total value (the second pie shows the Planned Budget):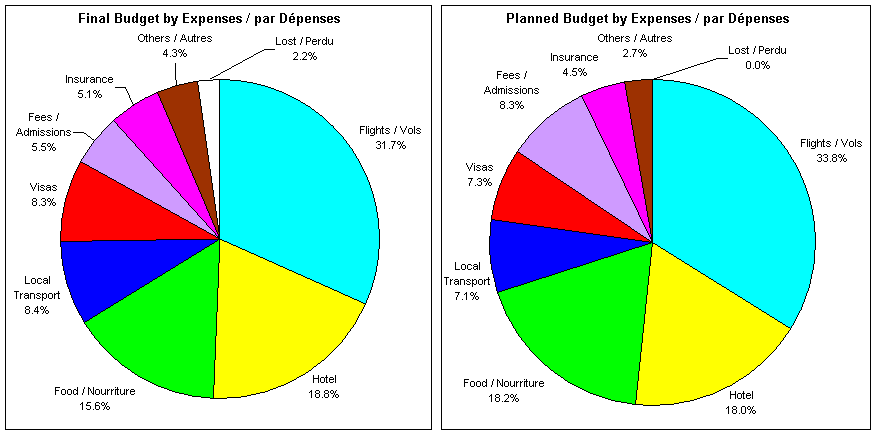 Want to read more? Go back to Pre Travel Budget or go on to Indian Bureaucracy or go up to Blog
---
$updated from: Blog.htxt Mon 03 May 2021 16:08:30 trvl2 (By Vero and Thomas Lauer)$