Pre Travel Budget
(vero;2013-Jan-05)
As usual, Vero has been preparing our budget, making assumptions for hotel stays and food, collecting information about entry fees and transportation.
Flights and Local Transport
Flights make for the biggest share with 34% (!) of the total budget: they include the return flights to/from Mumbai (with Turkish Airlines) and one additional flight in Nepal from Kathmandu to Lukla.
Bearing in mind the long distances we will cover in India, local transport is surprisingly cheap (7%); however, this is mostly explained by the incredibly low prices of train travel (in sleeper class).
Accommodation and Food in India
Our assumed cost for (budget) hotels in India is 450 Rs per night, except in Hyderabad and Mumbai where we have budgeted 1,000 Rs per night. For food, we have assumed 250 Rs per day, bearing in mind that we breakfast on self-brewed tea and some biscuits, have a few snacks for lunch and generally eat a solid diner at local markets or food stalls in the evening. No chocolate bars, no meat and above all no alcohol.
Accommodation and Food in Nepal
Fifty of our 64 days planned in Nepal will be spent on trek, so we budgeted 1,600 Nepali Rupees per day in the Everest region and the higher reaches of the Makalu trek plus 600 NRs in the lower, untouristy regions. This might look a bit tight, but we are quite frugal, preferring basic lodges to the flashier ones which tend to be overcrowded and full of groups. Foodwise, we can't get enough of the hearty Nepalese Dal Bhats, the only food we know which can sustain us in the mountains, and by far the cheapest. Here again, no chocolate bars, meat or alcohol.
Entry Fees
For Nepal, these include the various permits and red tape required to visit the national parks and conservation areas of Everest and Makalu.
Here are some actual numbers
Planned Budget details by country and type of expenses: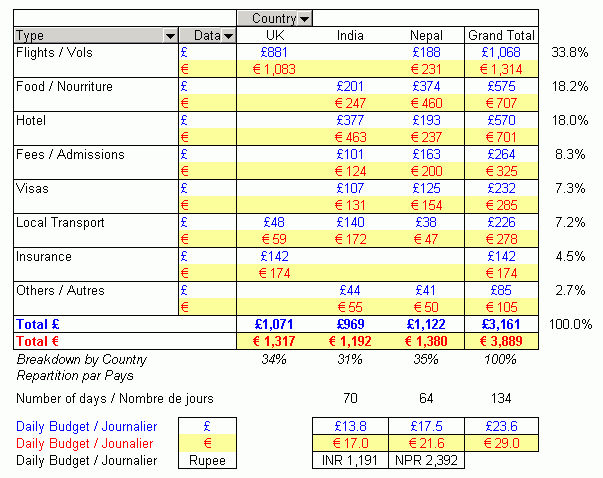 Budget structure showing type of expenses as percentage of the total value: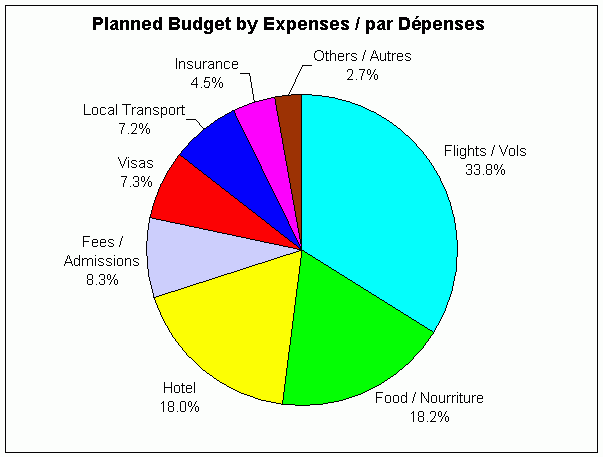 Want to read more? Go back to India-Nepal Itinerary or go on to Final Budget or go up to Blog
---
$updated from: Blog.htxt Mon 03 May 2021 16:08:30 trvl2 (By Vero and Thomas Lauer)$