Pembrokeshire
Pembrokeshire is located at the western end of Wales and is a walker's paradise. It has an impressive rugged and convoluted coastline with many protruding headlands and also an engaging mountaineous area in the Preseli Hills with Foel Cwmcerwyn culminating at 536 m above sea level.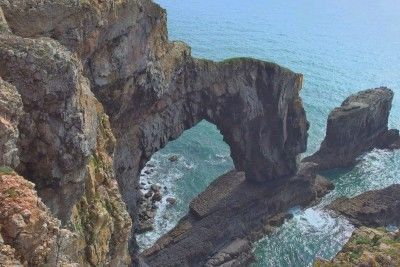 The Green Bridge of Wales on the South Pembrokeshire Coast Path, near Stack Rocks in the Castle Martin firing range.
We have been there twice so far:
In South Pembrokeshire in April 2019 based in Sageston near Carew Castle, walking the southern coastal path from Saundersfoot to Angle and
In North Pembrokeshire in April 2021 based at the foot of the Preseli Hills walking the northern coastal path from Strumble Head (west of Fishguard) to Mwnt (east of Cardigan).
In addition to its natural treasures Pembrokeshire has many castles and pleasant towns, not to mention the impressive cathedral and bishop palace of St David's at its western most peninsula.
The area was also an important centre of Bronze and Iron Age culture and its north western part, including the southern slopes of the Preseli Hills, is especially rich in megalithic remains: dolmens, alignments, standing stones and stone circles.
Go on to South Pembrokeshire or go up to Wales
---
$updated from: Pembrokeshire.htxt Mon 03 May 2021 16:08:34 trvl2 (By Vero and Thomas Lauer)$