Wales
Wales is a very diverse region with an impressive coastline and great mountain scenery, it is not too far away from Basingstoke and it is our destination of choice for a holiday in the UK.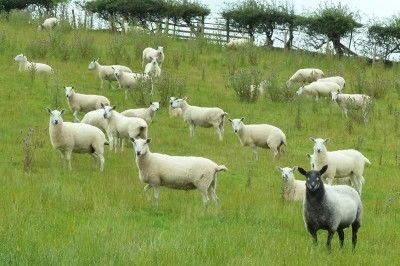 What would be Wales without all the sheep?
Pembrokeshire: this county has a wild, rugged and convoluted coastline. We have been there twice lately, the first time in April 2019 walking the coastal path from Saundersfoot to Angle and the second time in April 2021 walking the coastal path from Strumble Head (west of Fishguard) to the Mwnt (east of Cardigan).
Mid-Wales: we spent one week in Newtown (Powys) in August 2012 and visited the English town of Ludlow on the way. Being so near to the Welsh border, we thought we might include it in our gallery.
The Welsh mountains, with two main areas so far:

The Brecon Beacons in the South and of course
Snowdonia in the North.
As ever, there are also the Index and the Map pages for this section.
Go on to Pembrokeshire or go up to Photos
---
$updated from: Wales.htxt Mon 03 May 2021 16:08:34 trvl2 (By Vero and Thomas Lauer)$